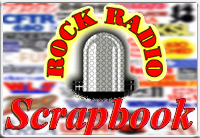 Airchecks: 1992

Talent: CHUCK CHANDLER
Station: CKDA Victoria
Date: August 31, 1992
Time: 8:51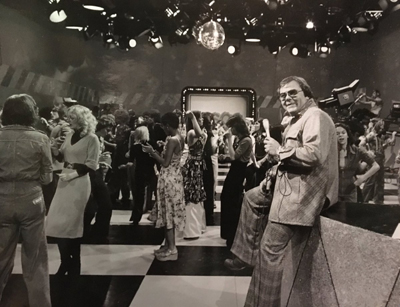 He was one of Canada's most colourful and well-travelled jocks.
Chuck Chandler jocked all over Canada - from Halifax in the east to Victoria in the west - and many points in between. Perhaps the biggest coup of his four-decade career came in 1969 when he and fellow CFOX deejay Roger Scott broadcast live from the John Lennon/Yoko Ono bed-in at Montreal's Queen Elizabeth Hotel (that's him slapping a table-top on "Give Peace a Chance").
The man born Charles Paul Rodney Nahumko got his media start in 1964 as a cameraman at CJDC-TV in Dawson Creek, B.C. Before long the native of Northhampton, England, switched over to the radio side at CJDC-AM. After that, he jocked at a dizzying array of stations, including CJCH Halifax, CJCA Edmonton and CFOX in the '60s, to CFRW Winnipeg (as PD-DJ), CKGM Montreal and CHED (with Homemakers Hitline) and CFRN Edmonton in the '70s. The '80s saw him back at CFRN with other Edmonton gigs at CKXM-FM, CKNG-FM and CITV (with Four O'Clock Rock). He ended the '80s and began the '90s at CKST Langley, B.C., then moved to CKDA Victoria where you can hear him below. Chandler transitioned into the new millennium at CFRN, before moving to CHQT Edmonton then finally closing out his radio career at one final Edmonton stop, CKRA-FM in 2008.
Chandler moved to Spain, returning to Victoria when an identity theft wiped out his life savings. He died November 28, 2017 of lung cancer at the age of 73.
Enjoy Chuck Chandler at CKDA here.

(Courtesy Ted Wendland/radiowest.ca)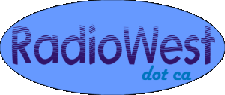 Be sure to visit radiowest.ca, a superb radio site hosted by Ted Wendland. Airchecks, jingles, photos, logos, history and forums - radiowest.ca has it all. Rock Radio Scrapbook thanks Ted for sharing this aircheck.
---
Talent: BRIAN MASTER
Station: CHFI Toronto
Date: September, 1992
Time: 16:41
Oldies shows have been a mainstay on Toronto radio literally from the time when they were "newies."
One of the earliest - if not the earliest - of these shows was Bob Laine's Golden Galaxy. Debuting in 1958, this one-hour program aired weekdays from 3-4 a.m. as part of Laine's all-night show on CHUM. Interestingly - in a departure from normal station practice - the show was taped. The Golden Galaxy disappeared when Laine moved from the all-night show to middays in 1968.
Brian Skinner was a Saturday night oldies mainstay on CHUM for years. His Grooveyard
show on CHUM began around early 1964, initially running from 10 p.m. to midnight on Saturday nights. By the end of '64, the Grooveyard was expanded to 9 p.m.-to-midnight. It stayed in that time slot until at least 1967. In 1967, a Wednesday night 9 p.m.-9:30 p.m. segment was added.
In the wake of the popularity of the 1973 movie

American Graffiti,

CHUM started

Canadian Graffiti.

This show - hosted by Scott Carpenter - ran every Sunday from 9 p.m. to midnight and not only featured '50s and '60s tunes, but old CHUM jingles as well. It continued until at least 1976, and guest hosts included the legendary Wolfman Jack.

One of the most revered nostalgia programs in Toronto radio was Roger Ashby's Sunday Morning Oldies Show. It debuted November 20, 1980 on CHUM-AM went through many changes. Some years it aired on CHUM-AM, some years on CHUM-FM. The hours varied too - most of the time it has been on from 9 a.m.-noon but for a while was 10 a.m.-noon. and some years was repeated from 9 p.m.-to midnight. The Sunday Morning Oldies Show disappeared completely in 1999, though Ashby did continue with
Sunday Seventie
s and then
Sunday Sou
l at CHUM-FM. In 2003, The Sunday Morning Oldies Show was revived and returned to its familiar 9 a.m.-to-noon slot on CHUM-AM. It left the airwaves in March, 2009 when CHUM switched from oldies to a simulcast of the all-news TV station CP 24. In 2020, Ashby resurrected the show as a syndicated program, calling it "The Roger Ashby Oldies Show."

Saturday night oldies came to CKFM after Don Daynard's arrival at the station in 1975. Daynard's 6-10 p.m. show was called Lookin' Back and when Daynard moved to CHFI in 1987, the show went with him but without the name. At CHFI, the program was retitled Saturday Night Oldies and featured two hosts, with Daynard from 6-10 p.m. and Brian Master from 10 p.m.-1 a.m. Master's involvement ended when he left the station in 1999. Daynard, who had left CHFI's morning show in 1999, did his final
Saturday Night Oldies
in 2003 and was replaced by Bob Magee. Mike Cooper took over the show after he moved to CHFI from CJEZ in 2005.
Hear Brian Master on CHFI's
Saturday Night Oldies
here
.

(The Gary Heighington Collection)
---
Talent: TARZAN DAN GETS "CURED"
Station: CFTR Toronto (in studio only)
Date: 1992
Time: 14:33
This clip of Tarzan Dan has be fully heard from beginning to end to be fully appreciated. It's well worth it!
Hear it here.

(The David W. Productions Collection)
---
Talent: STAN CAMPBELL
Station: KLAC Los Angeles
Date: November 23, 1992
Time: 12:33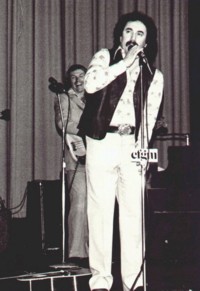 (Photo courtesy Stan Campbell)
There was a time you could walk off the street into a radio station, get hired despite no previous experience in radio, and be on the air virtually the same night. That's exactly what happened to Stan Campbell at CHER Sydney, Nova Scotia. Within six months he was the morning man! The rest is history as he went onto a long and successful career in radio and music.
The first big radio market Campbell appeared in was Toronto, via country music giant CFGM. He picks up the story from there...
"I came to CFGM in September of 1974. A spiritualist medium in July of that year predicted that I was going to leave my station manager's job in Grand Falls, Newfoundland, and go to work for 'GM. Well, I didn't believe in that hocus-pocus anyway ... but 'GM? Boy, if she was channeling, she was getting some bad interference. No way was I going to get out of radio. I had only been in it for three years and I was having a blast!
In early September, Program Director Bill Anderson of CFGM asked if I would like to come to Toronto to do a swing shift at CFGM. Toronto?! ... well that was like Hollywood to any Canadian DJ. The Newfoundland ferry couldn't go fast enough. Shortly after arriving at CFGM in Richmond Hill, I met Dave Johnson the second day and he smiled, stuck out his hand and said "welcome to GM buddy." That old medium lady was on the right channel after all. She's probably with Dave right now.
I stayed at CFGM from '74 to January, 1980 to make the worst decision of my life, getting into the record business. Of course, it was time for me to go anyway. I had turned into somewhat of a renegade at CFGM and general manager Greg Slaight and I were not seeing eye to eye. In fact, I heard much later, that the night I won the Big Country Top Country DJ award in 1979, there was a pink slip waiting for me. Thanks to the award at just the right moment, I think Greg held off and likely would have shown me the door eventually if I hadn't quit. Once I was gone, Greg and I mended fences. In fact, I asked him to be the best man at my wedding a year later. I came back to work part-time for about 18 months before packing up for good and moving down the road to Nashville, Tennessee.
My years at CFGM were memorable. There are stories and events that I would rather not share here but wonderful people that I wish I had the time and space to tell you about. My favourite was Dave Johnson who signed off far too early."
Campbell later went on to become Shania Twain's first producer in 1984. He wound up producing 10 albums and singles before becoming "very hungry" after good reviews but poor sales. So he returned to radio at stations like WSIX Nashville, WBVE Cincinnati (as operations manager) and KLAC Los Angeles (as morning man and PD). He left radio in 2001 and now owns an audio production and graphic design company, ZIPSPOTS, and Travel Media Network, a tourism media marketing company. He and his wife Marta live in northern Michigan.
Enjoy Stan Campbell at KLAC here.

(The Stan Campbell Collection)
---
Talent: JIM HARLAN
Station: WNEW-AM New York
Date: December 10, 1992
Time: 12:36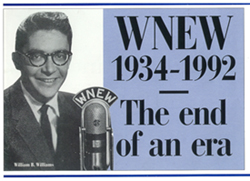 "There'll never be another station like WNEW", said the station promo near the end. And there hasn't.
WNEW-AM - The Station of the Stars - was born in 1934 from the merger of pioneering New Jersey-based stations WAAM and WODA. For the next 56 years, WNEW-AM provided high quality, full-service personality music radio first at 1280 then at 1130 on the New York AM dial. Gracing the WNEW-AM mike over the years were top program hosts like Martin Block, William B. Williams, Gene Klaven, Dee Finch, Jim Lowe, Mark Simone and Jonathan Schwartz. They were complemented by a superb news staff and what may have been the largest radio station music library in the world.
The rich history of WNEW-AM included a number of broadcasting milestones. WNEW-AM had one of radio's first disc jockey shows, Martin Block's Make Believe Ballroom which debuted in February, 1935. They were the first station to regularly remain the air for 24 hours a day, starting with Stan Shaw's Milkman's Matinee in August 1935. In 1942, WNEW-AM became what is believed to be the first station with hourly newscasts. And with the pairing of Gene Rayburn and Jack Lescoulie in 1946, the era of zany morning teams began.
Enjoy Jim Harlan on WNEW - one day before the end - here.

(The Bill Dulmage Collection)
---