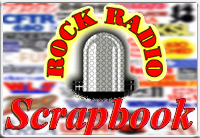 The Boy on the Couch: B. Mitchel Reed

By DALE PATTERSON
"He kept his mind open and his spirit free" - Los Angeles Times columnist James Brown
He was the Fastest Tongue in the East - and for a time the west - a rapid-fire entertainer backed by a cacophony of bells and horns. But he also had an alter-ego, a slow-talking, introspective persona that made him a pioneer in FM underground radio. B. Mitchel Reed, whether he talked fast or slow, remains one of the great legends of rock radio.
Born Burton Mitchel Goldberg in Brooklyn on June 10, 1926, Reed originally planned a career teaching political science. But, as he admitted years later, the glamour of the radio business seemed more appealing to him than life in the classroom. Education's loss was radio's gain.
After getting his radio start in Baltimore, Reed got his first major job when he landed the all-night "Birdland Jazz Show" at New York's WOR-AM. In 1957, he moved to KFWB Los Angeles and did another jazz show called "Boy On A Couch", the name deriving from the fact he was undergoing analysis at the time.
On January 2, 1958, Reed became part of Chuck Blore's legendary "Color Radio". one of the earliest Top 40 formats. Holding down the 6-9 p.m. shift, he entertained southern California listeners with a high energy show that included a fast delivery, a tooting horn and cowbells. Once, he was asked why he talked so fast. His reply: "you're listening too slow."
In 1963, Reed took his act to his hometown of New York and the "Home of the Good Guys", WMCA. Reed spent two colourful years holding down the 7-11 p.m. shift, further establishing himself as one of America's top Top 40 radio personalities. While there, he played a major role in introducing the Beatles to the Big Apple (not that they needed any help).
Reed left New York in 1965 (4,000 saw him off at the airport) and returned to KFWB for the "The Wide, Wide Weird World of BMR." But music was changing, and Reed's approach changed with it. Soon, the horns and bells disappeared from his show, as did the Top 40 delivery. In its place was album rock, with less (or at least more meaningful) patter and more platter.
In the late '60s, Reed helped FM rock pioneer Tom Donahue launch KPPC-FM in Pasadena, Calif., one of the first so-called "progressive rock" or "underground" stations. He and Donahue provided four hours of taped album rock daily to get the station started. By 1971, it would evolve into a 24-hour live assist operation.
Former Reed producer Ted Alvy tells us more:
"At KPPC-FM 106.7 Pasadena:
BMR was on 4PM-9PM (I was his producer and board op). Tom Donahue was on 9PM-Midnight (sometimes on tape from San Francisco where he was on KMPX-FM Live; and sometimes vice versa, when he was in Pasadena, a taped for KMPX show was flown north).
KMET-FM 94.7 Los Angeles:
KMET was still automated in June 1968 (with female voices and middle of the road music) when the Stereo station first played Rock Music. It all began with legendary deejay B. Mitchel Reed playing a Beatles song on a pre-taped in Hollywood two-hour B. Mitchel Reed show (programmed and produced by Ted Alvy, who acted as producer for B. Mitchel Reed from Summer 1967 until June 1976), followed by a two-hour pre-taped at KSAN-FM San Francisco Tom Donahue show. B. Mitchel Reed then became the voice of KMET 24/7 before the suits finally allowed the deejays to broadcast live. If not for the strong broadcast signal and the creative dedication of B. Mitchel Reed, the glory years of KMET would not have happened (as a Top Forty format was to be used without Album Rock)."
In the '70s, the "Beemer" moved on to Los Angeles stations KRLA, KMET and KLOS, his legend growing and evolving just as rock music was doing the same.
In 1972, Reed was asked to recreate his old WMCA show for Watermark Productions, which was putting together the now-famous "Cruisin" series. As legend has it, the "Beemer" needed 18 cups of coffee to get his energy level back to where it was in the early '60s, when he actually did the show.
Reed was plagued by health problems during his later years. He had a cornea transplant in 1974 and in 1978 had successful coronary bypass surgery. But he refused to let it slow him down, even doing his show from a hospital bed.
In 1981, BMR became the first host of ABC's Rockline program, his first guest being Joe Walsh. His lingering heart problem overtook him, however, and he died March 16, 1983. B. Mitchel Reed was 56.
---