Rock Radio Scrapbook

CHUM 50th anniversary
Talent: BOB LAINE with PHIL STONE
Station: CHUM Toronto
Date: May 23, 2007
Time: 42:23 (unscoped)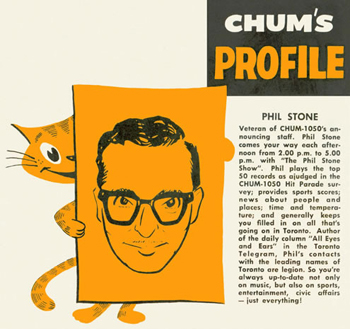 CHUM took a trip down Memory Laine, and left no Stone unturned.
To celebrate the station's 50th anniversary as a Top 40 station in 2007, CHUM brought back many of its former air personalities including former jocks Duff Roman, Scott Carpenter, Mike Cooper, Jim Van Horne, Chuck McCoy, Duke Roberts, Donnie Burns and the former morning team of Bob Magee, Samantha Houston and Robbie Evans. Bob Laine did a couple of shows and during one of his segments he interviewed Phil Stone, one of the first-day jocks when CHUM switched to a Top 40 format May 27, 1957. Stone, who left the CHUM airwaves in 1959 to go into the station's management, was 93 years young when he did this interview with Laine. Sadly, he died less than a year later, on May 1, 2008.
Enjoy Bob Laine's interview with Phil Stone here.
(The Tom Howard Collection)
Check out The CHUM Archives
here!





Rock Radio Scrapbook pays
online streaming fees to the
Society of Composers, Authors and Music Publishers of Canada (License 22-F)


Download your free RealPlayer to hear our airchecks

Click here for technical help

---