While in high school Don started as an operator at CKPR-FM in Thunder Bay in 1965 while FM radio was in its infancy. At that time, the FM station simulcast the AM signal, 580 CKPR, for part of the day. Being the only FM station they aired separate programming for only part of the day, signing off at midnight.
It was while working at the FM station that Don entered the Broadcasting and Television course at Confederation College and became one of the first graduates of the course in 1970. It was during this time that Don started to do announcing at CKPR and live programming took over most of the voice-tracked shows. Don's duties expanded and he became producer of the morning talk show on 580 CKPR as well as his duties on the FM side of the programming. He eventually became Program Co-ordinator of CKPR-FM which changed its call letters to CJSD-FM. Don looked over the music library and the pre-recorded shows that were aired for part of the day.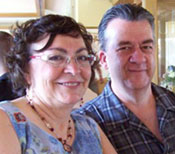 Don and Charlene
In 1979, Don decided to make a career change and worked on the bookmobile for the Thunder Bay Public Library. In 1981, Don got a job at the Post Office as a postal clark and retired from there in 2007.
Radio was always in his blood and the collection of radio airchecks became one of Don's hobbies. He began collecting radio shows while taking the Radio and Television course.
The passion of radio kept Don busy getting radio shows from all over the world. This hobby continues and Don has contributed many wonderful hours of radio shows to Rock Radio Scrapbook.
Talent: CHARLIE GREER
Station: WAKR Akron, Ohio
Date: June 5, 1959
Time: 32:41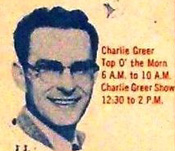 Three of the Big Apple's biggest radio personalities all got there via the Rubber City.
Alan Freed, Scott Muni and Charlie Greer worked at WAKR in Akron, Ohio prior to moving on to North America's biggest radio market. Freed jocked at WAKR from 1945 to 1949 before starring at WINS and WABC in New York in the '50s. Muni replaced Freed at WAKR in 1955 and later followed Freed to New York, beginning a nearly 50-year radio career in the Big Apple at WMCA in 1958 (he also worked in New York at WABC, WOR-FM, WNEW-FM and WAXR).
Greer was at WAKR before becoming one of WABC's "Swingin' Seven on '77" when the station became a full-time Top 40 outlet in December, 1960. He was at WABC until August, 1969, spending the bulk of his time on the all-night show but also serving two stints in middays.
If you like 1950s radio, you'll love this aircheck. Lots of classic '50s commercials (Tetley Tea, RC Cola, Sunoco, Pall Mall, Firestone, Rayco, Camel, Goodyear, Vaseline Hair Tonic) together with the personality and fun that is sadly lacking in today's radio.
Enjoy Charlie Greer on WAKR here.

(The Don Shuttleworth Collection)
---
Talent: DICK BIONDI
Station: WLS Chicago
Date: June 7, 1960
Time: 28:47 (unscoped)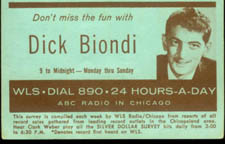 Day parting ... at night?
Day parting is usually thought of as a day-time thing, but it appears to be happening at night in this 1960 aircheck of Dick Biondi. It's the 11 p.m. hour - the kids are most assuredly in bed - and WLS is playing Bobby Darin's Won't You Come Home Bill Bailey, Frankie Avalon's Tuxedo Junction, Andy Williams' Do You Mind, Ella Fitzgerald's I'm Through With Love and even a Percy Faith tune. Not exactly teenage fare, but stuff the adults would probably like. Even Biondi seems a little subdued (for him) on this interesting aircheck from the early days of WLS as a Top 40 station.
Enjoy Dick Biondi on WLS here.




(The Don Shuttleworth Collection)




Rock Radio Scrapbook pays
online streaming fees to the
Society of Composers, Authors and Music Publishers of Canada (License 22-F)

---
Talent: NICK NICKSON
Station: WBBF Rochester, New York
Date: January 28, 1963
Time: 26:58/18:43 (unscoped)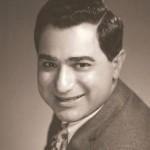 "The Ole Professor" was a Rochester institution for 60 years.
Nick Nickson debuted in Rochester at WARC (now WROC) in 1947. He moved to WBBF in time to be the station's first afternoon drive announcer when the station went Top 40 in 1955. Nickson regularly commanded high ratings throughout his time on air at WBBF, which ended in 1967 when he went into management. He later worked at WHAM, and did promos and commercials until his retirement in 2007.
Nickson died January 26, 2016 at the age of 93.
Enjoy Nick Nickson on WBBF (UNSCOPED) here.

Enjoy Nick Nickson on WBBF (UNSCOPED) here.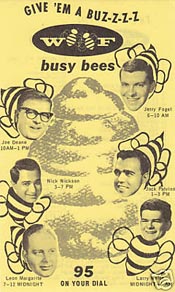 (The Don Shuttleworth Collection)



Rock Radio Scrapbook pays
online streaming fees to the
Society of Composers, Authors and Music Publishers of Canada (License 22-F)

---
Talent: DICK BIONDI
Station: WCFL Chicago (via the Mutual Radio Network)
Date: August 16, 1964
Time: 27:01

He was known as The Screamer, The Wild I-tralian, The Big Mouth, and The Supersonic Spaghetti Slurper. He was wild, loud, unconventional, fast-talking and possessed with enough energy to light up a small city. And while he caused his bosses to pull out their hair at times, the kids just loved him. He was Dick Biondi, one of Top 40 radio's most beloved and versatile talents and a true radio rebel.
Biondi got his start in 1951 at WCBA Cornell, New York, working a split shift. After a few other radio stops, he made it to the big time at the 50,000-watt WKBW in 1958. The shrieking, high-octane, rebellious Biondi was an instant hit and did much to cultivate his bad boy image. He invited listeners to throw rocks at his boss's car, fought with program directors and while ignoring formats and rules at his own whim. And while that won him listeners, it cost him jobs. According to Wes Smith in The Pied Pipers of Rock 'n' Roll, by one count he was fired 22 times in 32 years.
In 1960, Biondi helped launch the WLS Top 40 format with a highly-rated 9 p.m.-midnight show that was heard in 40 states and in Canada. By 1963, it was on to another legendary station, KRLA Los Angeles. The following year Biondi went national with a show on the Mutual Broadcasting System. More than 125 stations carried the show, including the station he would work at from 1967 to 1973 - WCFL Chicago.
Biondi spent a decade at WNMB Myrtle Beach, South Carolina, beginning in 1973 before returning to Chicago in 1984 to launch the oldies format at WJMK-FM. He was on the air there for 21 years before WJMK dumped oldies in 2005. He continued as the nighttime jock at WJMK-FM's high-definition station (WJMK-FM HD-2), also carried on the Internet. He was released from that station in June, 2006 before resurfacing at WZZN Chicago "True Oldies 94.7" in November of that year (the call letters were changed to WLS-FM in 2008.)
Enjoy Dick Biondi on WCFL - via the Mutual Broadcasting System - here.

(The Don Shuttleworth Collection)
---
Talent: CHARLIE GREER
Station: WABC New York
Date: November 27, 1968
Time: 8:56
Charlie Greer was the deejay most associated with the all-night show on WABC, but he was far from the only jock to work the "third shift" at the New York station. In fact, there were many.

When WABC started playing Top 40 music December 7, 1960, the overnight period was occupied by Big Joe's Happiness Exchange. This was a time-brokered talk program hosted by Joe Rosenfeld that began on WABC in 1959. Previous to WABC, Big Joe's Happiness Exchange was on New York stations WOR, WINS and WMGM. After WABC, he took his show to WHBI Newark, New Jersey. Big Joe passed away a few years after his WHBI gig ended in 1964.

When Rosenfeld's contract ended in September, 1961, Fred Hall took over the all-night show with a show called The All-Nite Satellite. A puppeteer who starred in children's shows, he went on to WNEW-TV after leaving WABC in 1962. He had done 4-6 a.m. at WABC prior to taking over the all-night show. Hall died in 2008 at the age of 88.

Bob Lewis was WABC's all-night jock from June, 1962 to August, 1963. He later had a progressive rock show on WABC-FM (later WPLJ) and also jocked at WCBS-FM, WNEW-FM and WYNY. Prior to WABC, he was at WNHC New Haven, Connecticut, and New York stations WMGM and WINS. A top voice-over artist, Lewis died in 1987 at age 49.

Charlie Greer did the all-night show at WABC from August, 1963 to August, 1965 and again from May, 1966 to August, 1969 (Ron Lundy handled the all-night duties from September, 1965 to April, 1966 while Greer did middays.) Before WABC, Greer was at WAKR Akron, Ohio. After WABC, he was at WIP Philadelphia, WRKL New York and WHAM Rochester, New York. He died in 1996, aged 73.

When Greer left in August, 1969, he was replaced by Roby Yonge who was fired in October and succeeded by Les Marshak, but the latter's tenure was also short. Jay Reynolds (pictured above) took over the all-night show in February, 1970 and stayed until February, 1976 - the longest continuous stint ever for a WABC all-night jock. Reynolds came to WABC from WIFE Indianapolis. After WABC, he jocked at WGRR Cincinnati before passing away in 1996 at the age of 61.

Bob Cruz was WABC's all-night jock from March, 1976 to November, 1979. Hired because he sounded so much like WABC afternoon personality Dan Ingram, Cruz took over the former's afternoon slot in 1979 while Ingram moved to mornings. Cruz, who came to WABC from WLCY St. Petersburg, Florida, left WABC in 1981. He worked for ABC-TV as a voice-over person and was successful with commercial voiceovers. Cruz died in 1995 at the age of 42.

Mike McKay took over the all-night show briefly after Cruz went to afternoon drive in November, 1979. Sturgis Griffin became WABC's all-night jock in December, 1979 but in October, 1980 he flipped shifts with evening deejay Howard Hoffman (pictured.) Mike McKay returned to the all-night show in October, 1981 and held it until the end of the WABC's music days in May, 1982. NOTE: Starting in January, 1982, McKay and Marc Sommers split the all-night weeknight duties, with McKay doing Monday, Tuesday and Wednesday and Sommers doing Thursday and Friday.
Enjoy Charlie Greer on WABC here.

(The Don Shuttleworth Collection)
---
Talent: ALISON STEELE
Station: WNEW-FM New York
Date: February 11, 1969
Time: 54:13 (unscoped)
19:23 (scoped)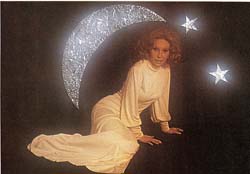 "I think the night has a mysterious quality. I never get lonely." - Alison Steele
She possessed one of radio's sultriest voices, and combined that with a masterful programmers touch. At a time when female announcers were almost unknown on rock stations, Alison Steele not only earned a shift on one of America's top progressive rock stations, she became a star, and became known as the First Lady of Rock 'N' Roll. When she passed away September 27, 1995 of cancer at age 58, radio lost one of its freest spirits and most creative talents.
Alison Steele was born Ceil Loman in Brooklyn on January 26, 1937. She got her start in radio in 1966, when, as a 19-year-old, she was chosen as one of four 800 applicants to be a presenter on WNEW-FM. At the time, the station featured middle-of-the-road tracks. When WNEW-FM switched to a progressive rock format in late 1967, Steele was the only announcer kept on.
An admitted night person, Steele took over the all-night show at 'NEW (moving to late nights in the early '70s) and soon acquired a large and loyal following. Calling herself "The Nightbird," she chose all the music herself, from the opening reciting poetry over Andean flute music, to saying her goodbyes over the Beatles' instrumental Flying. In between, she played many of the top album cuts of the day - and many lesser-known ones - while seamlessly tying together songs, themes and sets together with a minimum of talk and hype.
Steele left WNEW-FM August 30, 1979 but not before becoming the first female to be named Billboard FM Personality of the Year (in 1976), and also serving as the station's music director. She had a show on WNEW-AM from July, 1980 to around March of 1981 and again from October, 1984 to December, 1986. From 1989 until her death in 1995 Steele returned to the all-night New York airwaves at WXRK-FM. She was also at WPIX New York in weekends in 1987 and 1988. Steele also did radio and television voice-over work and late in life ran a cat boutique with her sister.

Enjoy Alison Steele in this fascinating 1969 aircheck (UNSCOPED) here.

Enjoy Alison Steele in this fascinating 1969 aircheck (SCOPED) here.




(The Don Shuttleworth Collection)
---
Talent: STEVE CLARK
Station: WOR-FM New York
Date: November, 1969
Time: 7:16 (Upgraded 10-19-08)

He was one of the first jocks in WOR-FM's Drake format in 1967. But that's just one of many feathers in the hat of Steve Clark.
Prior to WOR-FM, this very talented deejay was a weekend "Boss Jock" at KHJ Los Angeles. After a couple of years at WOR-FM, Clark moved to WCBS-FM New York and later to such leading stations as WRNO New Orleans, WCFL Chicago, WQXI Atlanta, KSTP Minneapolis, KMPC Los Angeles and KYA San Francisco. According to Don Barrett's Los Angeles Radio People, he became a commodity/stock broker in the '80s and decided to do radio "only as a hobby."
Enjoy Steve Clark on WOR-FM here.

(The Don Shuttleworth Collection)
---
Talent: DARYL B.
Station: CKLW Windsor, Ontario
Date: June 20, 1970
Time: 12:05

Any deejay would have been honoured to work at just one of CHUM, CFUN or CKLW - but Daryl B. jocked at all three!
Daryl B. was at Windsor's CKLW (1969-70), had three separate stints at CFUN Vancouver (1965-67, 1973-77 and 1979-87), and two go-arounds at Toronto's CHUM (1977-79, 1987-92). In addition, he also rocked the airwaves at such stations as CKLG Vancouver, CKRC Winnipeg and CFQC Saskatoon. It was quite a radio resume for Daryl B., who died February 27, 2001.
Enjoy Daryl B. on CKLW here.

(The Don Shuttleworth Collection)
---
Talent: JAY REYNOLDS
Station: WABC New York
Date: December 26, 1970
Time: 19:02

He was far from the best-known of the WABC jocks, but Jay Reynolds does own his special part of Musicradio history.
Reynolds' six consecutive years on the all-night show (1970-1976) is the longest non-broken tenure of anyone who worked the midnight shift at WABC in the Top 40 era. He's also the all-time leader for total time spent on the all-night show. Reynolds spent nine more total months on the all-night show at WABC than Charlie Greer, who had two separate stints doing midnights at Musicradio 77.
Prior to WABC, Reynolds was a highly-rated afternoon drive announcer at WIFE-AM - he was part of the original air team at the Indianapolis station in December, 1963. He returned to WIFE after leaving WABC in 1976 and bounced around the Indianapolis market before passing away in March, 1996.
On this aircheck, you'll notice Reynolds doing live reads for Dennison, a men's clothier located in Union, New Jersey. These iconic ads - which were written in iambic pentameter like Shakespeare - started in 1966 during Greer's tenure on the all-night show and continued until the early '70s with Reynolds. The tag line "where money talks, nobody walks" is one of the most well-known signatures in New York radio history.
Enjoy Jay Reynolds on WABC here.

(The Don Shuttleworth Collection)




Rock Radio Scrapbook pays
online streaming fees to the
Society of Composers, Authors and Music Publishers of Canada (License 22-F)

---
Talent: PAT RILEY
Station: CHUM Toronto
Date: September, 1975
Time: 20:17

(Photo credit/Bill Dulmage)
Pat Riley landed in Toronto in 1975 after a career that included stops at several California stations, along with KISN Portland, Oregon, and WMYQ Miami. After leaving CHUM, he moved to Indianapolis (KZZY, KXOK, WIBC) before his final radio stop at KROY-FM in Sacramento, California.
Riley is one of a long string of top jocks who have done afternoon drive at CHUM. Preceding Riley in that shift were Pete Nordheimer, Phil Stone, Mike Darow, Bob McAdorey, J. Michael Wilson, John Rode, Duke Roberts, Terry Steele, and Tom Rivers. After Riley, it was Scott Carpenter, John Majhor, Bob Magee, Dan Michaels, Russ McCloud, Bruce Marshall, Gord James and Charlie O'Brien.
Enjoy Pat Riley - along with newscaster Bob Kennedy and a very young Nanci Krant with traffic.
Here it here.

(The Don Shuttleworth Collection)
---
Talent: YVONNE DANIELS and BOB SIRROTT
Station: WLS Chicago
Date: December 12, 1976
Time: 1:01:45 (unscoped)
30:40 (scoped)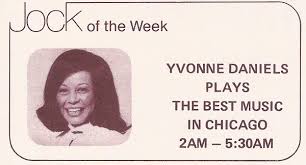 On a cold Chicago morning in December, 1976, we drop on on some hot Top 40 radio. And a pretty cool-sounding jock.

Yvonne Daniels - the First Lady of Chicago Radio - was a mainstay on WLS on the all-night show in the '70s and early '80s.

Daniels - whose father was jazz singer Billy Daniels - got her start at an R&B station in her home town of Jacksonville, Florida. After a stop at WBBR in East St. Louis, Illinois, she jocked at Chicago stations WYNR, WCFL and WSDM.

Daniels became the first female deejay at WLS when she arrived at the 50,000-watt Chicago powerhouse in 1973. She stayed there nine years - all of it on the all-night show. After leaving WLS in 1982, Daniels had stints at Chicago stations WVON, WGCI and WNUA.
Yvonne Daniels died of cancer June 21, 1991. She was inducted into the Radio Hall of Fame in 1995.

Also on this aircheck, we have a few minutes of Bob Sirrott, filling in for Larry Lujack on the morning show. You'll also hear a newscast by Chicago radio legend Lyle Dean.
Hear Yvonne Daniels and Bob Sirrott on WLS (UNSCOPED) here.

Hear Yvonne Daniels and Bob Sirrott on WLS (SCOPED) here.

(The Don Shuttleworth Collection)
---
Talent: RAY DEE
Station: CKPR Thunder Bay, Ont.
Date: April 1, 1981
Time: 20:49
Many radio stations tend to forget about their history. But not CKPR - they celebrated their 50th anniversary not once but twice within a two-month period.
The history of CKPR can be traced back to 1920, when 14-year-old Ernie Swan got his first operators license and started amateur station 3HU. In 1926, 3HU became CKPR, operating out of the King Hotel in Midland, Ontario, and owned by a group of local businessmen. Patterson Steamships bought CKPR and moved it to Port Arthur (now Thunder Bay) and began broadcasting out of the northwestern Ontario city on February 3, 1931.
CKPR celebrated its 50th anniversary on-air February 2-3, 1981 then did it again in April with what was billed as a 50th anniversary "encore." Highlighting the festivities was this show hosted by Ray Dee, who played many '50s and '60s songs from his personal collection.
Enjoy Ray Dee on CKPR here.

(The Don Shuttleworth Collection)
---
Subject: DON PERCY
Station: CFRN Edmonton
Date: June 7, 1982
Time: 12:55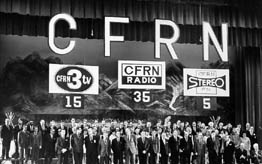 (Photo credit/Canadian Communications Foundation)

How do you arrive at work after being laid up for several months after an accident in a taxicab? In a cab, of course! That's how Don Percy returned to the morning show at CFRN Edmonton following injuries suffered in a cab accident several weeks earlier.
Percy is in fine form in this aircheck, which showcases the style and humour that has made him one of Canada's top morning men. From his early days at CKPR Thunder Bay, Ontario, to stops in Winnipeg, Toronto and Vancouver, Percy has always made people laugh.
Hear Don Percy here.

(The Don Shuttleworth Collection)
---
Subject: PETER DOWNEY interviews aircheck collector KAL RAND
Station: CBC Radio (Fresh Air Show)
Date: November 14, 1992
Time: 16:43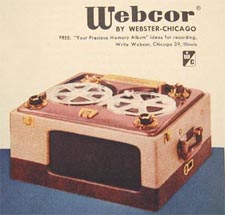 (Kal Rand used a Webcor tape machine to record these airchecks. A 1953 model is shown).
It's an aircheck about airchecks with airchecks.
In 1992, aircheck collector Kal Rand was interviewed by Peter Downey on the CBC Radio show Fresh Air. Featured on the show were some rare 1950s Toronto airchecks from Rand's collection.
Some listening points on this aircheck:
2:26: Joel Aldred on CKEY from December, 1955. Aldred reads a commercial for HFC (Household Finance Company) and plays Moments to Remember by the Four Lads.
6:06: Harvey Dobbs on CHUM from July 17, 1957. Dobbs plays Teddy Bear by Elvis Presley and With All My Heart by Buddy Greco. The latter is interrupted by a news bulletin - read by future CTV news anchor Harvey Kirck - that deals with the ouster of two cabinet ministers by Ontario premier Leslie Frost.
11:16: CHUM news bulletin from February 3, 1959, on the Iowa plane crash that claimed the lives of rock 'n' roll stars Buddy Holly, Ritchie Valens and the Big Bopper, J.P. Richardson.
14:11: CFRB newscast from December, 1956. Includes story on the big news of the day: the Suez Crisis.
Hear this rare glimpse into 1950s Toronto radio here.

(The Don Shuttleworth Collection)
---