FM 108 Gold 'N Great
History

By DALE PATTERSON
PROLOGUE
This is the story of one of the greatest radio stations of all time. Long before oldies radio became commonplace, CING-FM in Burlington, Ont., had the art mastered. Beginning in 1978 under programmer Glen Darling, and continuing in the '80s and early '90s under the legendary Norman B., FM 108 played oldies when no one else in the Golden Horseshoe dared. This page looks back on those wonderful years, and the people who helped make FM 108 Golden Great!
---
INTRODUCTION
The first time I ever heard FM 108 was on a snowy night in December, 1978. I had just arrived home after completing an evening shift at the news agency where I worked and was spinning the FM dial as usual to see if anything interesting was there. Well, much to my surprise, there was! The station at 107.9 was playing oldies - not wimpy '70s "oldies", but the real stuff from the '50s and '60s. I couldn't believe it! They were playing songs I hadn't heard in years, the stuff that none of the other stations in this era of disco and album rock would ever consider playing. Beatles, Elvis, Herman's Hermits, Roy Orbison all wafted through my speakers for the first time in years. There had not been an oldies station in this market since CKFH Toronto and CJJD (now CHAM) Hamilton, Ont., did it in the mid-70s. Better yet, this was in FM stereo.
I was hooked on FM 108 from that night on. The great music of the '50s and '60s could once again be heard in the Golden Horseshoe listening area. As time went on, I started to get familiarized with the incredible collection of on-air personalities at the station. And much later, I too would achieve an incredible dream when I got my own show on FM 108.
The FM 108 era was a special time both for those who worked there and the loyal band of listeners who tuned in. This is the story of FM 108, Golden Great.
---
THE FM 108 STORY
FM 108 HITS THE AIRWAVES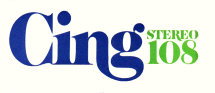 The mid-seventies were a time of radical change in radio. The 50,000 watt AM powerhouses that had dominated the scene for so long were being pushed aside, primarily by FM. The music had changed. Gone from the charts and airwaves were the Beatles, Supremes, Temptations and many of the other great groups and artists of the '60s. Roy Orbison, Lesley Gore, the Wall of Sound, doo wop were all being forgotten by radio programmers. It was the era of disco, album rock, glitter rock and light rock. Rock 'N' Roll may not have been dead, but they were digging the grave.
Into this mix came a new FM radio station licensed to Burlington, Ont., at 107. It's call letters were CING, it's slogan Stereo 108, and its format "beautiful music" (called "elevator music" its detractors). The first song played at the new station, fittingly, was "Sing" by the Carpenters. That was as close to rock 'n' roll as CING got at the time. Most the musical fare consisted of Mantovani, the Living Strings and James Last. Good music to be sure, but not rock 'n' roll.
Change was in the offing, however. In September 1978, CING began an experiment, with oldies in the all-night period from midnight to 6 a.m. No other station - not one - in the entire Golden Horseshoe market - was playing oldies at this time. The nearest thing we had to an "oldies" station in this market was WGR 550, an excellent station, but one which watered down its oldies programming with a lot of current and recent stuff.
The first regular oldies announcer on FM 108 was Dave Terryberry, the all-night man. Later that fall, the format was expanded to include the late evening period (10:30 p.m.-Midnight) with host and program director Glenn Darling. His show sounded like something out of the '60s with his own booming voice, combined with an echo chamber effect, and of course great '50s and '60s music. The music sounded so good after NOT being heard anywhere on radio for years. And so the oldies era began at FM 108.
As the years went by, more and more people discovered FM 108 and the great oldies. Promotion was mostly word-of-mouth, people almost whispering to each other ("hey, have you heard that great oldies station on FM?"). Slowly, the listening audience grew (though never much past a very hard core). But, more important, a legend had started.
Slowly, as listener awareness and appreciation grew, FM 108 began expanding the hours it devoted to oldies programming. The evening start time was pushed back to 10:00 p.m., then 9:30 p.m., then 9 p.m. Before long, the oldies programming spread to the all-important morning show and the evening start had been pushed all the way back to 6 p.m. By 1980, oldies were running 19 hours a day on weekdays, the only gap (and a rather glaring one) was between 1-6 p.m. when the station ran a jazz show and a German show back-to-back. On Saturdays, oldies ran from 8 a.m. to 4 p.m. and again Saturday night. Sundays was devoted (as it would always be) to ethnic and religious shows.
---
ROBIN ARRIVES
Shortly after FM 108 inaugurated its oldies programming, an musician-turned-car dealer-turned appliance salesman in Burlington noticed for the first time what the station was doing. He approached station management, and basically saying "I can do better", urged the station to put him on the air. They did, and the rest is history. "Rockin' Robin" became a southern Ontario legend. His 10 p.m.-midnight shift featured two elements long missing from rock radio (1) great upbeat oldies of the '50s and' 60s (2) an on-air persona that led at least one observer to dub him the "Cousin Brucie of Canada". The '50s and '60s were very much alive again on FM 108, and Robin would entertain listeners there for a decade.
---
THE NORMAN B. ERA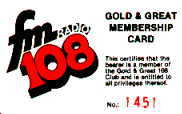 Throughout the many years of FM 108's oldies format, there was one man who held it all together. Sacrificing much of his own personal time, this man programmed, promoted, sold and developed FM 108, all the time battling those less visionary than himself. His name was Norman B., and without him FM 108 would not have been the legendary station it was.
Norman Blakely went on the air at FM 108 on May 1, 1979 after a long career at Ontario stations like CJIC Sault Ste. Marie, CJWA Wawa, CKBB Barrie and CHOW Welland. He was in fact returning to radio after an absence of about four years, mostly due to disenchantment with the industry.
Golden Horseshoe listeners perhaps best remembered Norm for his "Where It's At" all-night show on CKFH in 1967. He would leave a much more lasting mark at FM 108.
When he first arrived, Norm worked the evening shift at FM 108 Tuesday and Thursday nights; he would later do mornings. Norm didn't just play the hits. Hardly. He dusted off everything from rare Fats Domino to little-known doo wop to "B" sides to answer songs to outtakes to R&B to country crossover to sixties pop. If it was on vinyl, and had a rock 'n' roll feel, Norm probably played it. But only once. He rarely played a song twice, once hosting the morning show for an entire year without ever repeating a song. In short, he knew his music, he knew radio and he knew what he wanted for FM 108.
Over the years, Norman also produced such wonderful theme shows such as "Personality Profiles", "The Wax Museum", "The Late Show" and "Normanbelia." With literally thousands of hours of Norman's taped interviews with rock and pop artists to draw on, the shows were always fascinating.
---
ALL-NOSTALGIA RADIO
In 1981, FM 108 decided to go for a 24-hour nostalgia format, the first station in Canada to do this on FM. It was divided into two parts. The Music of Your Life format - featuring favourites from '40s and early '50s - ran from 9 a.m. to 7 p.m. weekdays and featured such well-known Golden Horseshoe personalities as Earl Warren, Elwood Glover, Gil Christie and Pat Murray. The oldies format ran from 7 p.m. to 9 a.m. with Rockin' Robin in the evening, Norman B. in the morning and a variety of hosts in the all-night period. Weekends were a mixture of oldies, nostalgia, religion, jazz, reggae, religion and heritage or ethnic programming.
There were problems of course. First and foremost was the station's signal, which would boom into Scarborough in the eastern part of Metro Toronto, but was tough to pick up at times in parts of Mississauga and Etobicoke (which were CLOSER to the transmitter). The transmitter site, originally on Hamilton mountain, would eventually be moved to north Burlington but the problems persisted.
Another problem was fragmentation of the audience. Those who liked music of the Big Band era never tuned in at night. Oldies buffs generally ignored the station in the daytime. Neither tuned in on Sunday, when the format was ethnic or religion. The casual oldies fan would be turned off - and would tune out - by hearing a Rosemary Clooney song in the middle of the day. You had to know when to listen, and not everybody did. Also, having a dial position at the very end of the FM spectrum made the station a little tough to find.
---
THE CHARM OF FM 108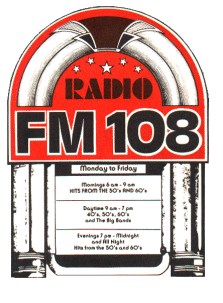 The real charm of the station actually lay in its diversity. Since the oldies deejays programmed their own music, you could hear all kinds of musical styles and beats without changing the dial. Saturday afternoon announcer Bert Thombs tended toward pre-1963 stuff like doo-wop and Johnny Mathis. Weekend overnight man Julius Brown was more likely to play late '60s soft-rock artists, like the Association. Pre-dawn Saturday announcer Dave Whatmough played rare stuff of all genres that barely dented the top 60. Mark Panopoulos preferred doo-wop and straight ahead rock 'n' roll. Mark Eustace was more into album rock, and late '60s-early '70s pop, and Ritchie Yorke was there for the British invasion. Wes Atkinson covered all the bases, but with a leaning to country music of the '50s and '60s. Russ Horton, one of the best announcers the station ever had, played a wide variety from the '50s to the '80s. And we can't forget the straight-ahead Top 40 offerings of Don Biefer.
All the announcers had their own style, too. Listening to Burt Thombs was like listening CHUM or WINS in the daytime circa 1958. When J.B. was on, it was more like WGR or WBUF. Eustace's programming resembled CHUM-FM, late '60s. Atkinson - who HAD worked at CHUM - had a show that resembled that station's programming in the early '60s. Robin could have fit in at any of the major top 40 powerhouses of the late '60s, and Norman B. - well, Norman was Norman.
Another charm of FM 108 was the fact that it was decidedly NOT slick. It had a roughness, an unpredictability to it that set it apart from all the other stations. For most of its existence, computers didn't program the music, people did. The announcers sounded real and knew their music, not like your average Top 40 time and temperature jock. It was truly a throwback to the way radio used to be, where deejays programmed their own music and worked without a format. And, for the most part, it sounded great.
---
THE GOLDEN YEARS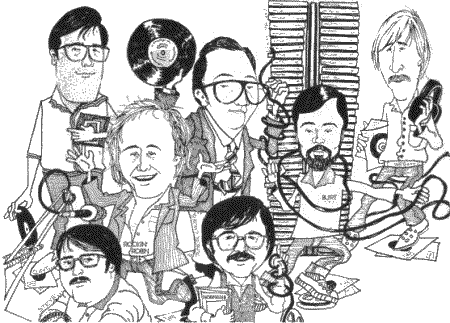 Back row (left to right): Clint Trueman, Rockin' Robin, Junior Chung, Burt Thombs, Wes Atkinson
Front row (left to right): Steve Richards, Norman B.
(Graphic courtesy Rob Muir)
The Golden Years of FM 108 were 1978 to 1988. Many people graced the 108 airwaves during that period, and some of the shows they did were legendary.
- The "Shadow", whose real name was Larry Bunda, played nothing but straight ahead '50s and '60s on the all-night show in the early '80s. Larry never spoke, except on his last show.
- Ralph and Dave had a popular Friday night trivia show that was way ahead of its time.
- Mark Panopoulos and "Friday Night at the Fifties" was a tremendous show ... who else was playing doo-wop/rockabilly in the Golden Horseshoe in the late '80s?
- Norman B. gave up the morning show to concentrate on his PD duties, but his specials like the Wax Museum proved to be fascinating listening, and it was always a treat when he filled in for somebody.
- Fran Roberts and the Elvis Hour aired monthly. This Saturday afternoon show was a treat for all Elvis fans and a great addition to the programming lineup.
- Larry Smith had a pre-dawn weekday show in the early years of FM 108 that long-time fans of the station still talk about. The show featured rock 'n' roll rarities, and this veteran collector had plenty of 'em.
- Clint Trueman, mid-morning show host for a time, had a relaxed style perfectly suited for his time slot - and he knew his music.
- Rockin' Robin had "Beatles and Friends" every weeknight at 10:05 p.m.
---
CHANGING TIMES
As time went by, FM 108 began streamlining its programming. By 1985, many of the early announcers had left the scene to make way for a new breed. The morning man now was Jim Paulson, veteran of Toronto radio stations CKEY and CHFI-FM, who succeeded Wes Atkinson on AM drive in the mid-80s. Pete Jaycock was the early evening announcer (6-10 p.m.) with Rockin' Robin holding down the 10 p.m.-midnight spot as usual. Russ Horton started the year as the all-night man, but was gone by spring (he would return as production manager and music librarian). Horton's departure was followed by the arrival on the all-night show of Mike Spicer, Cliff Mason, Catharine Jay and Scott Regan (real name Dale Patterson). All had various announcing and programming styles. Spicer tended toward the '60s and '70s, as did Jay. Cliff Mason used a straight ahead Top 40 approach, with a '60s focus. Regan used a softer sell, and his Gold Mine show was a well-prepared series of features and music from the '50s to the early '70s.
In 1986, there were several on-air changes. Pete Jaycock, who had succeeded John Mitter in AM drive in late 1985, left for CKLH Hamilton in early 1986. Wes Atkinson, FM 108 morning man 1982-84, returned and would spend the next four years as 108's morning man. Jaycock's departure left Rockin' Robin with a longer evening shift. Instead of 10 p.m. to midnight, he now was on from 7:30-11:30 p.m. Also the all-night staff completely changed. In March, 1986, Julius Brown, Dave Whatmough and Cliff Mason all lost their regular timeslots. The new overnight rotation consisted of Mike Spicer Monday-Tuesday-Wednesday overnight, Catharine Jay Thursday-Friday, Mark Eustace on Saturday and Scott Regan's "Gold Mine" on Sunday, moving from Wednesday. That would change again in fall, 1986 when the station decided to go with syndicated programming Monday-Saturday overnight with Mark Panopoulos producing. That left Scott Regan's Gold Mine on Sunday nights as the only remaining non-syndicated all-night show.
In 1986, Russ Horton returned as production director, and was responsible for updating and cataloguing the music library in addition to operating duties. This dedicated and hard-working man never received the credit he was due for helping make FM 108 the station it was.
Little change was made in the weekday schedule in 1987, except for the addition of more syndicated programming. At that stage - in order to increase foreground - the period from 7-8:30 p.m. and 11 p.m.-12 midnight was devoted to shows like Personality Profiles, Dick Bartley's Solid Gold Scrapbook and the Top Ten Hits of All Time. Dick Clark's syndicated show was carried during the all night period after Gary Owens ran its course.
There was another major change in 1987. In accordance with Canadian broadcast regulations, FM 108 started playing 50% non-hits during the 6 a.m.-12 midnight period. "Non-hits" are songs that did not chart higher than the 40th position on the national charts. That created a different sound on 108, with more lesser-known songs being played. Also around this time, FM began programming its music by computer for the first time, the all-night period excepted.
In early 1988, the station decided to drop most of the syndicated material and gave the midnight to 6 a.m. time slot to Mark Panopoulos five days a week. That became six nights a week when Scott Regan left the Sunday night all night show in March, 1988. The Saturday night overnight period was taken over by Dick Bartley's Solid Gold Scrapbook. Also in 1988, Bert Thombs added Saturday night 8 p.m.-midnight duties to his existing 1-3 p.m. shift. This would also prove to be Don Biefer's last full year on the Saturday 8 a.m.-1 p.m. shift, where he had held the fort since the early '80s. Clint Trueman took over the shift by early 1989, followed by Len Jones later that year.
In many ways, 1988 was the last gasp for the oldies at FM 108. In March of '88, the station attempted a 24-hour oldies format, dropping its daytime CHR format for oldies. But it proved to be a temporary move, and by the fall CHR had returned to the weekday programming with Saturdays, as usual, devoted to oldies.
---
THE BEGINNING OF THE END
Nineteen-eighty-nine was a big year of change for FM 108 - and the beginning of the end for the oldies period. First, Rockin' Robin - a mainstay of FM 108 for a decade - left the station for the new satellite-delivered Canadian Radio Network. Then, the station dropped Mark Panopoulos' all-night oldies show - and his excellent Friday Night at the Fifties show - for the Canadian Radio Network all night. In the early morning hours of Friday, March 2, FM 108 played oldies on the all-night show for the last time - ending a tradition of 10 and-a-half years. Later that year, the station instituted a new format called "Daytime Lite and Rhythm at Night". This entailed playing light favourites from 6 a.m. to 7 p.m. and a new dance music format - forerunner of Energy 108 - from 7 p.m. to 6 a.m. Oldies were restricted to between 8 a.m. and 3 p.m. on Saturday.
In 1990, its last year as an oldies station, the Saturday morning shift (8 a.m. to noon) was shared by Dave Smith, Pat Porter and Jay McPhail. The afternoon (noon-3 p.m.) shift went to Dale Patterson, who - as Scott Regan - had done the all-night Gold Mine show from 1985 to 1988.
---
AN ERA ENDS
When Dale Patterson arrived for his noon-3 p.m. shift on Sat., Sept. 29, 1990, he had no way of knowing for sure this would be an historic day.
"There had been talk, sure, about the last remnant of the oldies format being scrapped, but nothing concrete," says Patterson. "I knew it would end eventually, but thought it would last a few more months. On the other hand, I had a hunch that today - September 29, 1990 - would be it."
Patterson wrapped up his show that afternoon by playing "Girl On A Swing" by Gerry and The Pacemakers and then "Stompede" by the Marketts. He reminded his listeners to tune in next week when the feature artist would be "The Beatles: The Early Years."
But as he left the station that chilly fall afternoon, and headed toward his car, Patterson knew next week's show would never be heard. As he prepared to drive away, he shed a silent tear for those who had worked so hard at FM 108, and for the many great memories the station had brought so many people. A great era in radio was over and to Patterson's lasting regret, they never got to say goodbye.
Patterson's hunch turned out to be correct. The last remnant of FM 108's oldies format was scrapped before the following Saturday and Patterson would never do another FM 108 show again.
With the oldies gone, it was just a matter of time before "Daytime Lite" went to the scrapheap and that finally took place August 30, 1991, when the contemporary format was scrapped in favour of 24-hour dance music. Dance 108 (later Energy 108) became a full-time entity Friday, September 1, 1991.
---
NORMAN B. PASSES
In the early morning hours of Sunday, January 19, 1997, we lost a radio legend, a unique personality and one of the most caring, dedicated human beings on the planet. Norman B. died of a heart attack at his home in St. Catharines, Ont. He was 53. So many people attended his funeral three days later that some mourners had to stand. Norm's friend, Bill Nagy, delivered a powerful eulogy that said everything you could possibly say about the man and more. He closed his talk by playing a short aircheck of Norm playing his sign-off song, "So Long" by Fats Domino.
---
POSTSCRIPT
While Norman B. and FM 108 are gone, his spirit and that of the station he helped build will remain with us always. FM 108 was a pioneer when it played oldies back in the '80s. And with the advent of Internet radio stations like Russ Horton's D-Moos, the oldies will live on.
So thank you Norm, thank you FM 108, and so long for now.
---
RETURN TO FM 108 GOLD 'N GREAT
RETURN TO ROCK RADIO SCRAPBOOK