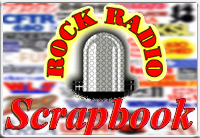 Rock Radio Heaven (K)

ANDY K.
Died: December 5, 2006
Stations: CKNS Simcoe, Ontario, CFRQ Dartmouth, Nova Scotia, CKOC Hamilton, CFOX, CKGM, CHOM-FM, CFCF Montreal, CHUM Toronto, CFFX Kingston, Ontario
Notes: Spent nine years of his 35 years in radio at CHUM (1989 to 1998). Did a brief coast-to-coast stint on the Pelmorex Radio Network. Was doing morning show host at CFFX (Oldies 96), when he died of complications related to pneumonia.
---
CASEY KASEM
Born: April 27, 1932, Detroit
Died: June 15, 2014, Gig Harbor, Wash.
Also known as: Birth name was Kemal Amen Kasem, Casey at the Mike, Krogo the Clown (at WJBK-TV)
Stations: Armed Forces Radio Korea, WDTR, WJR, WJBK, WJBK-TV, WJLB Detroit, WAMM Flint, Mich., KYA San Francisco, KEWB Oakland, KRLA, KTLA-TV Los Angeles
Notes: Co-created American Top 40 with Ron Jacobs, and hosted it from 1970 to 1988 and 1998 to 2004. From 1988 to 1998, hosted Casey's Top 40, Casey's Top 20 and Casey's Countdown. Kasem 39-year career in the radio countdown business ended in 2009 with the final broadcasts of American Top 20 and American Top 10. A popular voice-over artist, Kasem's long list of credits includes being the voice of Shaggy on Scooby-Doo, Where Are You? Awarded a star on the Hollywood Walk of Fame in 1981, and was named to National Radio Hall of Fame in 1992. Hosted American Bandstand-style show Shebang on KTLA-TV from 1965 to 1968. Signature sign-off line on his radio shows was, "Keep your feet on the ground but keep reaching for the stars." Suffered from Lewy body dementia, a degenerative disease similar to Parkinson's.
---
MURRAY KAUFMAN
Born: February 14, 1922, Richmond, Virginia
Died: February 21, 1982, Los Angeles
Also known as: Murray The K
Stations: WINS, WMGM, WNBC, WMCA, WOR-FM, WKTU New York, CHUM-FM Toronto, WHFS, WWDC Washington, D.C., WLIR Long Island, N.Y.
Notes: Kaufman gained fame in the '50s and '60s with his "Swingin' Soiree" show. He was so identified with the Fab Four that he became known as the "Fifth Beatle". Program director at WOR-FM during its early days as a progressive rock station. Hosted NBC's Monitor program and the syndicated show "Soundtrack of the '60s". Married six times. Inducted into the Radio Hall of Fame in 1997.
---
JEFFERSON KAYE
Born: December 12, 1936, Baltimore
Died: November 16, 2012, Binghamton, N.Y.
Also known as: Birth name was Martin J. Krimski; used air names Jeff Krimm and J.K. the D.J. in Providence
Stations: WRIB, WHIM Providence, Rhode Island, WBZ Boston, WKBW, WBEN, WBFO Buffalo, New York, WPVI-TV Philadelphia
Notes: Kaye became WKBW evening "Teenage Underground" host in 1966 after moving to the station from WBZ Boston, where he hosted afternoon drive from 1961 to 1965 and a Sunday night folk music show called "Hootenanny." Was 'KB program director until 1973. Replaced Clint Buehlmann in mornings at WBEN in 1977 where he stayed until moving to NFL Films in 1985. Renowned for his updated production of WKBW's War of the Worlds in 1968 and 1971, and his excellence in producing Buffalo Bills radio broadcasts. The four-time Emmy winner was named to Buffalo Broadcasters Hall of Fame in 2002. Started in radio in late '50s in Providence, Rhode Island. Died of cancer.
---
JERRY KAY
Died: September 25, 2005, Seaside, Oregon
Stations: KOL, KJR, KHR-FM, KBSG, KHIT, KSPL, KYYX Seattle, WLS, WCFL Chicago, KNEW (later known as KJRB) Spokane (PD)
Also known as: Birth name was Jerry King
Notes: Billed himself as "the nice man on the radio." Part of a superb lineup that made KJR-AM a Top 40 powerhouse in the '60s. Died at age 67.
---
MIKE KELLY
Died: August 13, 2005, Encino, California
Stations worked at: CKLW Windsor, Ontario, CILQ (Q-107) Toronto, CFGM Richmond Hill, Ontario
Also known as: Used the air name Jack Daniels at CFGM.
Notes: Did radio and freelance work in Detroit. An accomplished singer, he did some session work in Detroit and wrote and co-wrote several songs. Worked for Clear Channel's Mediacase 24/7 for a dozen years.
---
ART KEVIN
Died: August 15, 2002, Las Vegas
Stations: WAVZ New Haven, Connecticut, KEZ, KFAC, KFI, KMPC Los Angeles, KVI Seattle, KRRI Las Vegas
Notes: Died of lung cancer
---
STU KENNEY
Died: December 7, 2002
Station: CKEY Toronto
Notes: Show was called "Wake Up Ontario." Was also an actor.
---
HERB KENT
Born: October 5, 1928, Chicago
Died: October 22, 2016, Chicago
Also known as: The Cool Gent, King of the Dusties, Mayor of Bronzeville
Stations: WGRY Gary, Indiana, WJOB Hammond, Indiana, WBEZ, WMAQ, WGES, WBEE, WHFC, WVON, WVAZ (V103) Chicago
Notes: Started in radio at age 16 playing classical music in 1944 at WBEZ. Credited with launching the careers of the Temptations, Smokey Robinson, Curtis Mayfield and Minnie Riperton. Mentored "Soul Train" host Don Cornelius. Taught radio broadcasting at Chicago State University. Inducted into the National Radio Hall of Fame in 1995. Died on the same day as his final broadcast.
---
TREVOR KIDD
Born: April 23, 1941
Died: May 20, 2017, Vancouver
Stations: CFRA, CFMO Ottawa
Notes: Spent 37 years in broadcasting. Known for his baritone radio voice, humour and quick wit. Died of cancer.
---
HAL KING
Born: May 3, 1935, Pittsfield, Massachusetts
Died: July 23, 2006, Arlington, Texas
Stations: WBAP, KSCS, WRR, KJIM, KBOX, KVIL, KXOL and others in Dallas-Fort Worth, also worked at stations in Nashville, Key West, Florida., Maine and Rhode Island.
Notes: Broadcasting career spanned 55+ years, including 40+ years in Dallas-Fort Worth. Won many awards, including several Katy awards for both TV and radio and was honored by the Columbia School of Broadcasting for his writing. First person to do traffic reports on TV in the Dallas market, which aired on Channel 8; later worked for Channel 8.
---
FRED KLESTINE
Died: May 24, 1992, Buffalo, New York
Stations: WWOL, WBNY, WKBW, WJYE, WADV-FM, WBUF-FM Buffalo
Notes: Somewhat straightforward on air, the south Buffalo native was incredibly witty away from the mike, his friends say. Died of a stroke at age 68.
---
KEN KNIGHT
Died: 1973
Also known as: His birth name was Adrian Kenneth Knight
Stations: WERD Atlanta, WRHC, WPDQ Jacksonville, Florida
Notes: He was the first black in the south with his own syndicated show on CBS. He played "The Night Train" to open and close every show. The Jacksonville, Florida, street named after him in 1962 - Ken Knight Drive - still bears his name. Was program director in 1949 at WERD, the first-black owned radio station.
---
RUSS KNIGHT
Born: May 3, 1932
Died: October 12, 2012, Connecticut
Also known as: Known on air as "The Weird Beard" at KLIF and KILT; his birth name was Russell Lee Moore.
Stations: KLIF Dallas, KILT Houston, WNEW New York, WXYZ Detroit, WCUE Akron, Ohio, WHK Cleveland, WELI-WAVZ New Haven, Connecticut, WICC-WDJZ Bridgeport, Connecticut
Notes: Featured on "Cruisin' 1962", where he recreates his KLIF show. Programmed "Make Believe Ballroom" with William B. Williams at WNEW-AM in New York. Inducted into Texas Radio Hall of Fame in 2003.
---
TERRY KNIGHT
Born: April 9, 1943, Flint, Michigan,
Died: November 1, 2004, Temple, Tex.
Stations: CKLW Windsor, Ontario, WJBK Detroit, WTAC, WTRX Flint, Michigan
Also known as: His real name was Richard Knight. Known as "Jack the Bellboy" on WJBK.
Notes: Former manager and producer of the legendary rock band Grand Funk Railroad. Also had his own group in the 1960s, Terry and the Pack. According to police, Knight was murdered in a domestic dispute at his home in Temple, Tex., where he lived with his daughter and her boyfriend. The boyfriend was convicted of murder and was sentenced to life in prison.
---
KEN KNOX
Born: July 27, 1925, Texas
Died: August 20, 1988, Dallas
Stations: KLIF, KBOX, KTLC-KMEZ, KCNC Dallas
Also known as: Birth name was Ken McClure
Notes: Did morning drive at KLIF from 1958 to 1960. Also appeared in three movies, The Giant Gila Monster (1959), My Dog, Buddy (1960) and Beyond the Time Barrier (1960).
---
KIDD KRADDICK
Born: August 29, 1959, Napoleon, Ohio
Died: July 27, 2013, New Orleans
Also known as: Birth name was David Peter Cradick
Stations: WRBQ-FM Tampa, Florida, KYNO-FM Fresno, California, KAYK, KLRZ Salt Lake City, KHTZ Los Angeles, KEGL, KHKS Dallas
Notes: Grew up in Dunedin, Florida. Three-time Billboard "Air Personality of The Year." In 1992 and 1997 was AWRO "Air Personality of the Year". Won the Marconi Award for "Radio Personatity of the Year." Won the first annual WB Radio Music Award ad "Best Radio Personality in the Country in 1999. In 2001 was the "Radio and Records CHR/Pop Personality/Show of the Year. Began syndicating his KHKS "Kidd Kraddick in the Morning" show in 2001, and as of 2013 the show was syndicated to over 100 cities and worldwide on AFN (Armed Forces Radio). Also starred on DISH NATION on FOX-TV. Died of cardiac disease while attending a fund-raiser for his children's charity "Kidd's Kidds."
---
NANCI KRANT
Died: March 1, 2018
Station: CHUM Toronto
Notes: Worked at CHUM from 1973 to 2004 first as a traffic reporter and later as a program host . One of five females to host a show at CHUM - the others were Melanie Deveau, Stacey Thompson, Amber Payie and Jeannie Beker. Married to Tom Rivers; they co-hosted the morning show for a time in the 2000s before Tom died in 2004. Krant died of complications from pneumonia at age 65.
---