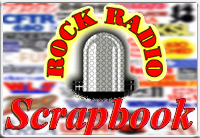 Rock Radio Heaven (R)


JIMMY RABBITT
Died: November 26, 2020
Stations: KGKB, KDOK, Tyler, Texas, KRYS Corpus Christie, Texas, KOLE Port Arthur, Louisiana, KLIF, KLIF-FM/KNUS Dallas, KCBQ AM/FM San Diego, KRLA AM/FM, KMET, KLAC, KBBQ/KROQ, KGBS-FM Los Angeles, KSNO AM/FM Aspen, Colorado, KAFM Grand Junction, Colorado, KOCI-FM Newport Beach/Costa Mesa, California.
Also known as: Fast Eddy Payne (at KGKB) His birth name was Eddy Payne.
Notes: Known for his laid-back on-air style. Recorded several rockabilly-style songs in the '60s. Helped the Five Americans, Jon Fred and His Playboy Band, the Sir Doulas Quintet, B.J. Thomas and Z.Z. Top. Was once named "Radio Personality of the Year" in Texas. Native of Washington, D.C.
---
CLARK RACE
Died: July 27, 1999, New Wilmington, Pennsylvania
Stations: KDKA, KDKA-TV Pittsburgh, KMPC, KBRT Los Angeles, KYUU San Francisco, KYXY San Diego
Notes: Native of Hudson, New York, has been called "The Dick Clark of Pittsburgh". His afternoon show at KDKA - which lasted from 1959 to 1970 - had a 50 share at one point. He had no formula - he simply played what he thought the listeners would like to hear. Also hosted the popular "Dance Party" TV show on KDKA-TV. While on the west coast, hosted ABC-TV's "The Parent Game". He and his wife hosted a bed-and-breakfast in Pennsylvania in his later years. Native of Hudson, New York. Died at 66 of a heart attack after a battle with throat cancer.
---
BOB RALL
Died: January 5, 2010
Stations: WSLI, WJXN, WRBC, WKKE, WJDX Jackson, Mississippi, WKGN Knoxville, Tennessee, WTIX New Orleans, WABB Mobile Alabama, KBOX Dallas
Notes: Started in radio in 1958 while in the 10th grade. Final gig was doing airborne traffic reports at WLBT-TV Jackson. Died at the age of 67.
---
BILL RANDLE
Born: March 14, 1923, Detroit
Died: July 9, 2004, Cleveland
Also known as: Birth name was William McKinley Randle, Jr.; The Pied Piper of Cleveland
Stations: WJLB Detroit, WERE, WBBG, WRMR Cleveland, WCBS-AM New York
Notes: "Time" magazine once called him "the number-one deejay in America". Also ran a nightclub, was a concert organizer, held a doctorate in history, and was a practicing lawyer. In 1955, a musical documentary called The Pied Piper of Cleveland: A Day in the Life of a Famous Disc Jockey. Died of cancer.
---
JOHNNY RANDOLPH
Born: August 7, 1941, Middletown, Ohio
Died: July 22, 2020, Danville, Kentucky
Also known as: Birth name was Johnny R. Aspenleiter
Stations: WAKY-AM, WAKY-FM Louisville, Kentucky, WKLO Danville, Kentucky (co-owner), also worked for stations in Tennessee, Alabama and Indiana
Notes: First jock to play "Behind Closed Doors", launching many years of chart success for Charlie Rich. Inducted into Kentucky Mic Hall of Fame in 2009.
---
MARV RAY
Died: 1968
Stations: WALT, WFLA Tampa Bay
Also known as: King of the Bay Birth name was M.J. Sklute
Notes: One of Tampa's most popular deejays, Ray was only 35 when he died.
---
B. MITCHEL REED
Born: June 10, 1926, Brooklyn, New York
Died: March 16, 1983, West Los Angeles, California
Also known as: The Beamer, BMR, The Fastest Tongue in the West; Birth name was Burton Mitchel Goldberg
Stations: WOR, WMCA New York, KFWB, KPPC, KMET, KRLA, KLOS Los Angeles, original host of ABC's Rockline.
Notes: Featured on Cruisin' 63, Reed was a study in opposites - a fast-talking Top 40 DJ at WMCA and a introspective progressive rock announcer later on in Los Angeles. Such was his popularity that he was cheered by thousands of fans at the airport when he departed New York in 1965, then was greeted by fans a few hours later on arrival at the airport in Los Angeles. Died of heart problems.
---
JIMMY REED
Born: October 2, 1936
Died: June 16, 2017, Red Wing, Minnesota
Also known as: Birth name was James Arthur Rud
Stations: KDWB, WDGY, KRSI Minneapolis, KHJ Los Angeles
---
MIKE REINERI
Born: 1942, Pittsburg, Kansas
Died: January 3, 2003, Miami
Also known as: Mike Holiday (at WQXI)
Stations: WIXY Cleveland, WIOD, WAXY Miami, WQXI Atlanta, WJJD Chicago, WAXY, WIOD MIami
---
BOBBY RENO
Died: October 10, 2015, Slidell, Louisville
Also known as: Birth name was Robert A Guarino
Stations: WTIX AM-FM, WRNO, WCKW (PD), WNOE-FM New Orleans, also worked in Memphis and St. Louis radio
Notes: Began New Orleans radio career in 1965, on the weekend of Hurricane Betsy. Was billed as the singing disc jockey early in his career; he played with Bobby Reno and the Infernos and Bobby Reno and the Heavyweights. Died at the age of 72.
---
PAUL REVERE
Born: November 28, 1941, Toronto
Died: January 3, 2016, Edmonton
Also known as: Nickname was "Records", P. Michael Moore (VOCM), birth name was Paul Dorazio,
Stations: CKOC Hamilton, CKPR Thunder Bay, Ontario, CFGM Richmond Hill, Ontario, CKRM Regina, VOCM St. John's, Newfoundland/Labrador
Notes: Owned 10,000 45s and 5,000 albums. Sign-off was "Thank you for your time, this time until next time ... it's really been a pleasure."
---
JAY REYNOLDS
Died: March, 1996
Stations: WABC New York, WFMS, WNDE, WIFE Indianapolis, WAKY Louisville, Kentucky, WCNT Centralia, Illinois, WGGH Marion, Illinois, KIOA Des Moines, Iowa, WPEO Peoria, Illinois, WMAK Nashville, Tennessee
Notes: All-night jock at WABC from 1970 to 1976 - he held the shift longer than anyone else. Held a number of management positions in Indiana radio. Native of Mount Vernon, Illinois. Died at age 61.
---
KEITH RICH
Born: 1927, Dugald, Manitoba
Died: November 19, 2007, Meaford, Ontario
Stations: CHOB Pembroke, Ontario, CJBI Victoria, CJCA Edmonton, CKWX Vancouver, WNBC New York, CFRB, CKEY, CJCL Toronto
Notes: The Edmonton-raised Rich teamed with Steve Woodman at WNBC in the early '60s. From there, Rich moved to CKEY where he enjoyed a 22-year stint, mostly in mornings. Rich finished a radio career that began in the 1950s with a four-year stay at CJCL that ended with his retirement in 1990. Rich turned to farming and breeding Australian sheepdogs after he left radio. He was also a licensed pilot who wrote and researched Canadian and British aviation history. Died at the age of 80.
---
J.P. RICHARDSON
Born: October 24, 1930, Sabine Pass, Texas
Died: February 3, 1959, near Clear Lake, Iowa
Also known as: The Big Bopper; Birth name was Jiles Perry Richardson
Stations: KTRM Beaumont, Texas
Notes: Was a deejay in the '50s at KTRM in Beaumont, Texas. In May, 1957, he set a world record by staying on the air for six consecutive days and spinning 1,821 records. Biggest hit as a recording artist was "Chantilly Lace" in 1958. Was credited for creating the term "music video" in 1959. Called himself "The Big Bopper" after seeing some teenagers dancing "The Bop". Was also program director at KTRM. Died in the plane crash was also killed Buddy Holly and Ritchie Valens.
---
JOHN RICHBOURG
Born: August 20, 1910, Manning, South Carolina
Died: February 15, 1986, Nashville, Tennessee
Also known as: John R.
Stations: WTMA Charleston, South Carolina, WLAC Nashville
Notes: Hosted evening R&B show at WLAC from late '40s until his retirement August 1, 1973. Credited with getting many black artists airplay in the early days of rock 'n' roll. His listeners thought he was black and outgoing, but he was actually white and shy. More on the gentlemanly John R. here.
---
CHUCK RILEY
Born: July 21, 1940, Kaplan, Louisiana
Died: May 10, 2007, Sherman Oaks, California
Also known as: Birth name was Charles D. Hanks. Used the name Chuck Dann at WKYC and KOMA before using Charlie Tuna and then giving it to Art Ferguson
Stations: WKYC Cleveland, WIBC Indianapolis, KMPC, KZLA-KPOL Los Angeles, CKY Winnipeg, WQWB Fargo, North Dakota, KOMA Oklahoma City, Oklahoma, WQHT (Hot 97) New York.
Notes: One of the leading voice-talents of all-time. Among his many projects, he narrated CHUM's History of Rock 'N' Roll. His voice was used to promote literally thousands of movies for Warner Brothers., Universal, Fox and Paramount. Riley's narration could also be heard in numerous movies, including Oliver Stone's "Nixon". Also narrated hundreds of children's audio books and too many commercials to count. Riley voiced the longest-running produced ID in radio history - nearly 30 years - Radio Indiana (bong) W I B C Indianapolis. Died of renal complications.
---
MIKE RIVERS
Died: September 13, 2004, Antioch, Tennessee
Also known as: Mighty Mouth; Birth name was Ralph Wendel Wright
Stations: CKLW Windsor, Ontario, WIBG Philadelphia, WCAR Detroit
Notes: Was known as Ed Richards at WIBG and Mike Donahue at WCAR. Died at the age of 60.
---
STEVE RIVERS
Died: March 6, 2012, Florida
Also known as: Birth name was Carl Belcher
Stations: WAPE Jacksonville, Florida, KOPA Phoenix, KMEL San Francisco, WZOU/WXKS Boston, KIIS-FM Los Angeles, KBKS Seattle (all as programmer)
Notes: Vice-president of programming for CBS Radio, and held various programming positions for AM/FM, Chancellor, Evergreen and Pyramid. Billboard Program Director of the Year in 1990. Died of cardiac arrest.
---
TOM RIVERS
Born: September 22, 1947, Newberry, Michigan
Died: November 20, 2004, Toronto
Also known as: Shotgun Tom, Big Tom Rivers (he stood six feet, eight inches according to the book Los Angeles Radio People). His real name was Thomas Neil Loughridge.
Stations worked at: WNBY Newberry, Michigan, WIDG St. Ignace, Michigan, WVIC Lansing, Michigan, WKNR Detroit, CHUM (several times), CFTR, CKFM, CJEZ, CFYI Toronto, CKLW Windsor, Ontario, WIBG Philadelphia, KIQQ Los Angeles, KFRC, KYA San Francisco (both stations as Mike Rivers), KFQD Anchorage, Alaska, CKRA Edmonton, CHWO Oakville, Ontario
Notes: Rivers is perhaps best known for his years at CHUM, where he did several tours of duty. Some special remembrances of Tom are gathered here.
---
SCOTT ROBBINS
Born: April 6, 1948 Toms River, New Jersey
Died: June 29, 2002
Also known as: Birth name was Marc Werboff
Stations: Coast 107.3 (WCOF-FM), U-92 (WYUU-FM), Mix 96 (WMTX-FM), WSUN-FM, WHBO Tampa, Florida
Notes: Voted Tampa Bay's favourite deejay while at WHBO in 1989. Died of a heart attack at age 54.
---
ART ROBERTS

Died: March 6, 2002, Reno, Nevada
Stations: KALT Atlanta, KTBB, KDOK Tyler, Texas, KLIF, KLUV Dallas, WCUE Akron, Ohio, WKBW Buffalo, New York, KNBR, KNEW San Francisco, WCFL, WLS, WKQX Chicago, WOKY, WBCS Milwaukee, KBUC, KXTN San Antonio, KWKH Shreveport, Louisiana, KGVM Reno, Nevada
Notes: Legendary late-evening program host on WLS in the '60s and a veteran of many other stations. The New York City native died at the age of 70 after suffering a stroke.
---
KEN ROBERTS
Born: February 28, 1941, Hoboken, New Jersey
Died: May 22, 2014, New York
Stations: KROQ-FM Los Angeles, KSRF Santa Monica, California, KOCM Newport Beach, California
Notes: Started as working as a concert promoter in 1963, representing acts like Harry Belafonte, Johnny Mathis, Sammy Davis, Jr., Andy Williams, the Supremes and the Temptations. By the early '70s was promoting Frankie Valli and Sly and the Family Stone. A radio neophyte, Roberts took over KROQ-FM in the '70s which under his ownership it became one of the country's leading modern rock stations. Sold the station to Infinity Broadcasting for a then-record $45 million in 1986. Later owned KSRF and KOCM which coincidentally were both at 103.1. Died several months after suffering a heart attack.
---
LAN ROBERTS
Born: December 18, 1936, Bonham, Texas
Died: December 30, 2005, Denison, Texas
Also known as: Lanny Lipford
Stations: WTIX New Orleans, KJR, KOL, KYYX Seattle, KORL, KIKI Honolulu, ICRT Taipei, KRQR San Francisco, KBIG-FM Los Angeles
Notes: Is most identified with the golden years of KJR in the 1960s and '70s. One of his side interests was sky-diving, and he recorded his 200th jump by 1971. Suffered from lung cancer.
---
GORD ROBSON
Born: September 9, 1951, Lethbridge, Alberta
Died: March 21, 2008, Edmonton
Also known as: Birth name was Gordon S. Robison
Stations: CKXL Calgary (twice), CFOX Montreal, CHED, CKNG-FM, CKRA-FM, CHQT (Cool 880) Edmonton, CKLG Vancouver, CHAB Moose Jaw, Saskatchewan, CFRV (The River) Lethbridge, Alta.
Notes: Was APD at CKLG, PD at CHAB and PD at CFRV. Acting PD at CHQT, his last gig. Left CFRV with a number-one rating in target audience of women. Also anchored "Sports Page" on CKVU-TV Vancouver from 1978 to 1980. Was 56 when he died. Former PA announcer for the Edmonton Eskimos and ring announcer for the WWF. His father, Ron Robison, had a long career in radio and TV.
---
ROD RODDY
Born: September 28, 1937, Fort Worth, Texas
Died: October 27, 2003, Los Angeles
Also known as: Birth name was Robert Ray Roddy
Stations: WQXI Atlanta, WKBW Buffalo, New York, KXOL Fort Worth, Texas, KLIF, KNUS-FM Dallas, KOMA Oklahoma City, KQV Pittsburgh, KOST Los Angeles
Notes: Roddy was the announcer on TV's "The Price is Right" for 17 years, and also announced the situation comedy "Soap" for four years. Other TV announcing jobs included the game shows "Whew!", "Battlestars", "Love Connection", "Hit Man" and "Press Your Luck", and as Mike the Microphone on Disney's "House of Mouse". Lost close to 200 pounds during his time as "The Price is Right" host. Died of colin and breast cancer.
---
JOHN ROOK
Born: October 8, 1937, Chillicothe, Ohio
Died: March 1, 2016, Couer d'Alene, Idaho
Stations: KASL Newcastle, Wyoming, KOBH Hot Springs, South Dakota, KALL Salt Lake City (as disc jockey), KTLN Denver, KQV Pittsburgh, WLS Chicago (as program director)
Notes: After much success programming KTLN, KQV and WLS in the '60s, Rook moved into consultancy in the '70s, consulting Y-100 (WHYI-FM) Miami-Fort Lauderdale, WIFI Philadelphia, KIMN Denver, WGCL Cleveland, Z-93 (WZGC) Atlanta, KRBE Houston and WBAP Dallas/Fort Worth. Named "Radio Consultant of the Year" in 1977. Moved into station ownership in the '80s and '90s and, after selling off the last of his radio properties in 2000, founded the "Hit Makers Hall of Fame" in 2007. Died of natural causes.
---
DR. DON ROSE
Born: July 5, 1934, North Platte, Nebraska
Died: March 30, 2005, Concord, California
Also known as: Birth name was Donald Rosenberg
Stations: KOIL Omaha, KTSA San Antonio, KRNY Kearney, Nebraska, KWMT Fort Dodge, Iowa, WEBC Duluth, Minnesota, WQXI Atlanta, WFIL Philadelphia, KFRC, KFIS, KIOI San Francisco
Notes: Named Billboard Magazine's "Disc Jockey of the Year" at both WFIL and KFRC. Radio career spanned 33 years, and he also spent a decade hosting TV cartoon shows on four major market stations. Featured on Cruisin' 67. His 20 years of March of Dimes Superwalk raised more than $10 million. An avid sailor. Botched heart surgery in 1972 led to chronic knee problems; eventually his kneecap had to be removed and later his leg was amputated. Died of pneumonia.
---
MIKE ROSZMAN
Born: December 19, 1944
Died: January 11, 1993, Buffalo, New York
Stations: WGR Buffalo, New York
Notes: Worked at WGR in numerous on- and off-air jobs from 1971 until his death in 1993 in a helicopter crash. He was working as WGR's traffic reporter at the time of the crash, which also killed the pilot, retired Lieutenant Colonel Herm Kuhn. Mike did afternoon drive at 'GR after Frank Benny left in the mid'-80s.
---
TOM ROUNDS
Born: June 6, 1936, Stamford, Connecticut
Died: June 1, 2014, Los Angeles
Stations: WAMH Amherst College, Massachusetts, WINS New York, KPOI Honolulu, KFRC San Francisco
Notes: Began professional radio career as a newsman at WINS in 1959. Set a world record of 260 sleepless hours while a deejay at KPOI. Program director at KFRC in 1966-67 at the beginning of the Drake years. Staged and promoted many rock festivals beginning with the KFRC Fantasy Fair & Magic Mountain Festival in California in 1967. Founded Charlatan Productions, which produced some of the earliest music videos. In 1969 Rounds and Ron Jacobs co-founded Watermark Inc., a radio production company whose most widely recognized show was American Top 40 with Casey Kasem. In 1985 founded his independent company Radio Express, which has handled production and syndication for more than 40 shows including American Top 40 with Ryan Seacrest. He was the company's CEO until his death from complications related to minor surgery.
---
MIKE RYAN
Died: November 8, 2010, Buffalo, New York
Stations: CKEY-FM, CFLZ (The River) Niagara Falls, Ontario
Notes: Co-hosted CFLZ's morning show from 2005 to 2009. Was at CFLZ for 13 years including a stint as PD. He was so familiar that Niagara Falls, Ontario, mayor Ted Salci called him "Niagara's Unofficial Son." Worked in debt collection after leaving CFLZ in 2009. Died of a heart attack at age 45.
---
BROTHER JOHN RYDGREN
Born: February 14, 1932, North Dakota
Died: December 26, 1988, Los Angeles
Stations: ABC radio, KRTH, KRLA, KMET, KROQ, KOST Los Angeles, WABC-FM New York
Notes: An ordained minister. Voice of ABC FM Radio's LOVE network in 1968-70. Later produced religious and socially-slanted programs.
---