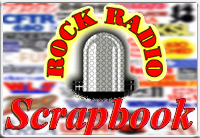 "Quotes"

"The radio craze ... will soon fade."

Thomas Edison, 1922
---
"Freeform radio is an art form. The airwaves are the empty canvas, the producer is the artist, and the sound is the paint."

Julius Lester on progressive radio in the late '60s/early '70s
---
"We're not a service industry. We're a business. Radio isn't an art form, it's an entertainment medium."

KDFC PD Bill Lueth on radio today
---
"I found joy in almost every record."

Gary Owens on his days as a rock'n' roll deejay
---
"My heart ... will always beat just a little faster when the word radio is spoken."

Veteran deejay Mike Sheppard
---
"The important thing was that I was still on the radio."

Dick Biondi, asked why he took a job at a lesser-known South Carolina station in the '70s
---
"More than any other man, he brought us rock 'n' roll."

Billboard's Paul Ackerman, writing about Alan Freed
---
"I loved every minute of it ... It was fantastic."

Los Angeles deejay legend Earl McDaniel on his radio career
---
"Underground radio meant something because it said something ..."

Pioneer FM deejay Charles Laquidara
---
"I didn't have any fear. Fearlessness is a great motivator."

Legendary deejay Joey Reynolds
---
"I dug it very much, just from the first go round."

Detroit legend "Frantic" Ernie Durham on this first time in radio
---
"I feel I have done a day's work after only three hours on the air."

High-energy deejay The Real Don Steele
---
"The playlist is the vocabulary of a radio station."

Cousin Brucie from his book
"My Life in Rock 'N' Roll Radio"
---
"In my day, everything came from my belly button and seat of the pants. Today, everything is done from research."

Early Top 40 radio executive George Wilson
---
"The audience must accept you as a human being before it can accept you as a comedian, newscaster, or announcer."

The late Durwood Kirby
---
"Let people you admire show you the way, then use your own creativity to build on that base."

Don Berns on how to develop your own radio personna
---
"He was legend. There was no other disc jockey in the United States like him."

Sam Riddle on B. Mitchell Reed
---
"Money, music and magic."

PD Buzz Bennett describing his shotgun-like, contest-oriented format at KCBQ in the early '70s
---
"I grew up bold. Survival made me bolder."

Pioneer deejay Martha 'Jean the Queen' Steinberg
---
"Being on the air is and probably always will be the highest point for me."

Dave Marsden
---
"The deejays were hired based on their ability to be entertainers."

KFWB program director Chuck Blore
---
"He was fascinated with radio."

Sandy Hoyt's daughter Alison Hannah on her father, who died in August, 2002
---
"John R. told me you don't work for the radio station. You work for the people out there."

Wolfman Jack
---
"All deejays are crazy."

Andy Travis to Venus Flytrap in a final season episode of WKRP in Cincinnati
---
"Ego is not a four-letter word."

The Real Don Steele, date unknown
---
"It doesn't end with telling the time and introducing records."

Cousin Brucie, 1998
---
"It was exciting to feel the energy rise along with the ratings."

Tom Shannon on the early days of "The Big 8", CKLW
---
"Radio was where I belonged. I could feel it."

Jack Gale in his outstanding book, "Same Time, Same Station."
---
"Everything tight, no dead air ... everything perfect, perfect, perfect."

Bill Drake on the "Drake" format
---
"The devil with stats."

Legendary programmer Tom Shovan
---
"The radio of my youth ... is now a quaint memory replaced by computer hard drives."

Former TV talk show host Phil Donahue
---
"The greatest DJ is one who can live within the formula and make it sound .... as if he producing and pulling the music all by himself."

Legendary deejay Dick Biondi
---
"It stays with you, and it makes life feel so good!"

Wolfman Jack on Top 40 radio
---
"Top 40 remains unique ... in its ability to be the most democratic, the most eclectic, the most lively of all formats - if it only chooses to be ."

Ben Fong-Torres' closing words in his book 'The Hits Just Keep On Comin'."
---
"I wanted to grow my hair long and be the disc jockey who played the Beatles."

Deejay Terry Young
---
"We were radio without contempt for our audience. To us, we were just playing music and talking with our friends."

Progressive radio pioneer Bonnie Simmons
---
"It was a simpler, less sophisticated time, but what a great, fun time it was."

David Carson in his outstanding book "Rockin' Down The Dial: The Detroit Sound of Radio."
---
"The only kind of revolution comparable to underground radio today is the Internet."

Raechel Donahue, from Michael Keith's excellent book, "Voices in the Purple Haze."
---
"I tell you, I'm never going to stop. I'm not interested in rusting away."

Dick Biondi, still on the air at WMJK Chicago, playing rock 'n' roll after 45 years
---
"He made music come to life."

Rick Dees on NY-LA radio legend B. Mitchell Reed
---
"You know the problem with public service? We don't make any money off of it."

Herb Tarlek (played by Frank Bonner) in an early episode of WKRP in Cincinnati
---
"If you're good, you'll always work somewhere. If not, you'll learn to do something else."

Former 'KB and WBUF deejay Fred Klestine
---
"Research rarely gives recognition to originality. It recognizes what's familiar."

Former NBC Entertainment president
Warren Littlefield
---
"I think the network concept is about to explode."

A prophetic programmer Ken Wolt in 1982
---
"The disc jockey sort of lives in the airwaves for the people."

Line - uttered by Howard Hesseman playing fictional deejay Johnny Fever - on the TV show 'WKRP in Cincinnati'.
---
"I always tried to give a positive message: stay in school; don't go near drugs."

The late Douglas "Jocko" Henderson
---
"He had this big gravelly voice and when he talked, you thought he was speaking directly to you on the radio."

Frank Lorenz on his father, George "Hound Dog" Lorenz
---
"I remember one contest that was like a spelling bee. The winner got 15 dimes!"

Detroit DJ Clark Reid on 1950s radio contests (from David Carson's Rockin' Down The Dial)
---
"He just loved radio. And when you listened to him, you could tell that he loved it."

Alan Freed's son, Lance
---
"If I can't be me, I don't want to be in radio."
WMCA "Good Guy" Jack Spector
---
"The magic word is imagination."
Radio pioneer Himan Brown
---
"The key is having a music director with ears, heart, and brains...in that order."

NY radio personality Anita Bonita
---
"No matter how close we got to a station or a disc jockey ... they could disappear into the ether without so much as a wave goodbye or a farewell song."

Ben Fong-Torres in his book "The Hits Just Keep On Coming: The History of Top 40 Radio."
---
"There was absolutely nothing to do but radio."

Lawrence Diggs on his days aboard ship at Radio Caroline
---
"We've turned an art into a science."

Veteran programmer/DJ Tom Shovan on radio in a 1983 interview
---
"There was a bond between the personality on the radio and the listener."

Scrapbook contributor Tim Sykes on Top 40 radio
---
"Be willing to stave for a couple of years."

Well-known air personality Gene Taylor on starting in radio
---
"The guy who makes it ... is the guy people love to hug. They have to love you."

Veteran deejay Terry Young
---
"Radio is full of surprises. Stay tuned."

Rick Sklar's last line in "Rockin' America"
---
"Fill these!"

WKBW's Joey Reynolds farewell note to management attached to a shoe nailed to his PD's door upon departing the station in the mid-1960s
---
"...I started to realize that, hey you can talk over intros."

WIBG legend Joe Niagara
on Top 40 radio's early days
---
"The dimensions of the radio are truly to be treasured."

Commentator Charles Osgood
---
"The station was tight, aggressive ... the deejays at times sounding as if they were broadcasting at gunpoint."

David Carson, in "Rockin' Down The Dial", on CKLW's early days in the Drake format
---
"I'm always billboarding. Coming up, something's always coming up. The curtain's always rising."

Veteran DJ Bobby Ocean on the Top 40 approach
---
"You literally plugged into your own imagination."

Veteran L.A.. deejay Jim Ladd
---
"Attack the market, attack everybody else; be on the offensive all the time."

Long-time WABC PD Rick Sklar
---
"WABC was the most finely-tuned station there was."

WABC PD Rick Sklar on his pride and joy, Musicradio 770
---
"Memory is a benevolent dictator. I've forgotten all the sordid details."

Perry Allan jokingly reflecting on his career
---
"May it rest in peace, love and understanding."

Richard Neer last line in his excellent book FM: The Rise and Fall of Rock Radio. The line refers to WNEW-FM, where Neer worked for 28 years
---
"The art (of radio programming) is in the process."

Bob Paiva in the Program Directors Handbook
---
"It's the ultimate variety format."

Consultant Guy Zapoleon on Top 40 radio
---
"There's nothing I'd rather do than hang around a radio station."

Long-time WGN morning host Bob Collins, who died in February, 2000 in a plane crash
---
"Tom was such a talented performer ... he could read an operations manual for the Toro 206 Weedwacker ... and make you cry."

A fan commenting on legendary deejay Tom Clay
---
"Anyone who says that money cannot buy happiness has had very little success with either one."

Legendary broadcaster Bill Ballance
---
"Just stay on the wheel and you come back on top again."

Legendary deejay Bobby Mitchell
---
"To me a radio station is a person, a living unit, a living organism."

Veteran DJ /promoter Scott Shannon
---
"The freshening of the air sound will be a constant objective."

WOR-FM positioning statement, 1967
---
"But - looking back - it sure was a lot of laughs, wasn't it, man?"

Last line in Allen Ferrell's book " The CHUM Story: From the Charts to Your Hearts". The quote is from Garry Ferrier.
---
"I was able to play and say whatever I wanted."

Richard Neer on late-'70s WNEW-FM
---
"The times, the people, the music, the station all came together to create something bigger than the sum of its parts."

Cousin Brucie on WABC
---
"DJs used to be American heroes. No more. Today, being a disk jockey is generally regarded as being slightly more respectable than snatching purses for a living, or robbing graves."

Larry Lujack in his book "Superjock."
---
"I wanted to be in radio. That was my passion."

Veteran Baltimore deejay Buzz Bennett
---
"When a record was a Bill Gavin pick, everybody listened to it again."

Elma Greer on the influence of radio consultant Bill Gavin and his Gavin Report
---
"Arnie (Ginsberg) managed to bring it all off with a humorous grace."

Writer Pete Johnson on Arnie "Woo Woo" Ginsberg of WMEX and Cruisin' 61 fame
---
"When that hit the fan ... it was like an earthquake."

Bill Ballance on KFWB's birth as a Top 40 station on Jan. 2, 1958
---
"I knew the music was going to be the music of tomorrow."

Porky Chedwick on how he felt about rock 'n' roll's future back in the early days
---
"Tomorrow Sean Casey (PD) will read to us from the book of jobs."

Bob Savage on-the-air comment on WWDJ's last day as a rocker before becoming a religious station
---
"I want to say thanks to a lot of people, but it's impossible, because of the format."

Charlie Tuna accepting the 1970 award for Top 40 deejay of the year
---
"For me, the inspiration behind the emergence of underground radio was in the desire on the part of radio people and music people to share their delight in what they knew and loved with the public."

Progressive pioneer Roland Jacopetti
---
"A keen ear for what sounded good, a true sense of what radio was about."

CHUM-FM's Jeff Howatt on CHUM Production Manager Zeke Zdebiak
---
"It was a style you more or less developed. The thing just kept on growing."

Joe Niagara on the early days of Top 40 rock 'n' roll deejaying in the mid-1950s
---
"I just liked black music, and that's what I played."

Zenas "Daddy" Sears on why he played what was then called "race" music in the 1950s.Zenas "Daddy" Sears on why he played what was then called "race" music in the 1950s
---
"I decided that I had to make good there (WLS) because if I didn't cut it, they might never hire another woman."

The late Yvonne Daniels on her hiring as the first woman deejay on WLS. She went on to becone one of rock radio's best jocks
---
"It was like letting a wild lion out of a cage ... that's when I had the fun"
Russ Syracuse on deejaying the all-night show
---
"It is entirely possible that the medium market program director of today will have to deal with some form of computerization (in the future)."

Bob Paiva, accurately looking into the future in his 1983 book "The Program Directors Handbook
---
"He was the only adult to encourage me to go after my dreams. I will never forget him."

Former NBC Network News reporter-editor Chuck Collins (as quoted on reelradio.com) on legendary deejay Art Roberts
---
"Rock music had become my religion. Radio my church. And these DJs my priests, rabbis and gurus."

Steven Van Zandt in the introduction for Richard Neer's "FM: The Rise and Fall of Rock Radio."
---
"Radio is to TV as a book is to a movie. With the radio and the book the listener and reader uses his imagination."

Legendary baseball announcer Ernie Harwell
---
"It was a wondrous time of learning and adventure without restriction, a time of total and complete freedom on the air."

LA radio legend Jim Ladd on his
early days in the medium in the late '60s
---
"Everything the personality says must, and I emphasize must, relate to the music that's playing."

1969 memo to WPLO-FM staff from operations manager Ed Shane (WPLO -FM was an Atlanta progressive rock station)
---
"He treated each day as a fresh day to entertain."

Bob McAdorey on the late Al Boliska, former CHUM morning man, as quoted in "The CHUM Story" by Allen Farrell
---
"New voices spoke to the young in a language that baffled those too old to listen."

Life Magazine on the emerging progressive radio phenomenon, December 1969
---
"It's like having an electric friend right there."

WWDJ's Steve Clark on Top 40 radio
---
"Listening to the radio should be a pleasure not a routine."

Anonymous poster to the Southern Ontario/WNY Message Board
---
"These guys would leave like they finished their shifts in a coal mine."

Norman Davis describing KYA San Francisco in 1959, where in those pre-cart days operators sometimes juggled 10-11 discs on three turntables for each break. (from Ben Fong-Torres "The Hits Just Keep on Comin'")
---
"Responsive to our listeners was what we were."

Pioneer FM deejay Larry Miller
---
"He was more than the voice of Canada, he was its heart and soul."

McClelland & Stewart chairman Avie Bennett on the late Peter Gzowski
---
"It used to be more show than business. Now it's more business than show."

Jerry Del Colliano, Publisher of Inside Radio
---
"You can't fight hearts and minds with money."

Commentator Bob Lefsetz
---
"One way to make your own breaks is to do things fairly and properly."

CHUM owner and Top 40 pioneer Allan Waters
---
"99% of all radio stations are either owned by one of five companies, or by an indie who also happens to be a psycho."

Legendary deejay Don Berns
---
"He got the news on the air fast and he got it right."

Former CFRB crime reporter Jocko Thomas on 680 News crime reporter Jim Morris
---
"It seemed to be one big party."

Mike Phillips reflecting on his KFRC days
---
"Half statistics and half helium."

'Mad Daddy' Pete Meyers on Top 40 lists
---
"First there was the music, then there was the medium, then all hell broke loose."

Jim Ladd in "Radio Waves"
---
"I fell in love with radio. And when you love something, you always had a lot of fun, and I've always had fun."

Veteran deejay Charlie Tuna
---
"Warm fuzzy memories of Marc Avery's little girl, reminding her dad about the coffee man in the hall, were fading fast."

David Carson in his book "Rockin' Down the Dial." Marv Avery was WJBK's morning man in the early '60s. Carson makes the Avery reference after talking about the often wild days of progressive radio in Detroit. It's one of my favourite quotes.
---
"CKEY - Where everything stops for the news!"

From a 1963 CKEY aircheck (on a rock station, no less!)
---
"I bet I knew our entire cume by their first name."

Cincinnati underground radio pioneer Frank Wood on the early days of the format in 1967
---
"FM radio will overtake AM by 1975."

Harvard University study, 1961
(they were right!)
---
"The Internet is the new FM radio. This is where the future is."

Early FM rock format announcer Dwight Douglas
---
"There's no money in the Internet."

Canadian broadcast executive, 1996
---
"When the corporations took over, that was really the end of our kind of radio."

Progressive rock pioneer Dusty Street
---
"Make the best of it while you can ... have fun and keep those experiences close to your heart, then take all your winnings and run like a bitch".

Legendary Toronto DJ the late Terry Steele
---
"It's not 'a few' things that make radio stations great. It's many little things."

Legendary CHUM programmer Warren Cosford
---
"I loved radio for the music, concerts, parties and to think you could get paid for it."

L.A. radio personality Laura Davis
---
"Every day FM radio ran out of hours, not music."

Spin magazine's Bob Guccione, Jr. on the early years of progressive radio
---
"There is a third dimension of radio - the dimension of imagination - that was not being employed."

Seattle legend Pat O'Day on the Drake format
---
"You won't hear this song on any other Toronto station."

Tim Thomas, CHUM-FM, 1968, just prior to playing "The Anniversary of World War Three" by the West Coast Pop Art Experimental Band. The "song" was three minutes of silence
---
"The old people said it wouldn't last six months. That's because they didn't understand it."

George "Hound Dog" Lorenz on rock 'n' roll
---
"There was much less interest in quality and much more interest in quality of profit."

Long-time PD Tim Powell on the decline of progressive radio in the 1970s
---
"Number one, one, one on wonderful WINO."

George Carlin routine from the album FM & AM
(c) 1972 Little David Records
---
"You literally plugged into your own imagination."

Veteran L.A.. deejay Jim Ladd
---
"I would sooner dig ditches and sell hot dogs."

Ed McKenzie on Top 40 radio when he quit WXYZ after that Detroit station adopted the format in 1959 (hey, not everybody likes Top 40!)
---
"It was heaven to him."

Inge Freed on her husband Alan's feeling for being on the air on rock 'n' roll radio
---
"My existence went up about 12 levels of intensity."

Wolfman Jack describing his first radio job
---
"Let's make tonight the best memory of all."

Cousin Brucie beginning his final show on WABC in 1974
---
"I'm not talking too fast. You're listening too slow."

The legendary B. Mitchell Reed
---
"Success killed it. The more popular it became, the less exclusive it seemed."

Progressive radio pioneer Ed Shane on the decline of that format
---
"Personalities who speak with the audience, not down to it."

From WOR-FM New York positioning statement, 1967
---
"WNEW could never stray far from its listeners, but neither could the melody linger on forever."

From The Airwaves of New York (c) 1998 McFarland Books
---
"We gave 'em a helluva radio station."

WQEW PD Stan Martin
---
"Love is now the stardust of yesterday,
The music of the years gone by."

Lyric from "Stardust"(Carmichael-Parish) the
last song played on popular standards WQEW
---
"He had all of this preparation. He made us look bad, but we loved him dearly."

Bob Eubanks on Casey Kasem's KRLA days
---
"We had a goal ... we want to make people laugh, or cry or do something."

Seattle radio legend Pat O'Day
---
"Back in those days it was fun ... you went to work and you had a really good time."

Former CFOX deejay Charles P. Rodney Chandler
---
"Ultimately, it isn't knowledge of music that makes you a radio superstar. It's your ability to be a friend."

Alan Sniffen, WABC Musicradio Page
---
"When I was young I'd listen to the radio, waiting for my favourite song."

Lyric from "Yesterday Once More"
Music and Lyrics by Richard Carpenter
(c) 1973 A&M Records
---
"I used to listen to the radio, sounds of yesterday are what I know."

Opening lyric from 'New York, Rock My Radio'
Lyrics: Al Stark; Music Gerry Diefenbach
(c) 1986 Pomonok Records
---
"By His Genius Distant Lands Converse And Men Sail Unafraid Unto The Deep."

Epitath on the memorial tablet of the grave of Canadian radio pioneer Reginald Fessenden (1866-1932)
---
"Remember how we listened to the radio and I said that's the place to be."

Lyric from Harry Chapin's WOLD
Music & Lyrics by Harry Chapin
(C) 1973 Elektra/Asylum Records
All Rights Reserved
---
"God, disk jockeys, then parents."

KHJ Boss Jock Robert W. Morgan reporting the results of a pool at a teen fair in Hollywood in 1966, asking who is the biggest influence on your life.
---
"Back in the sixties, DJs weren't always treated as celebreties, the were `friends of the public'. At record hops the deejay was the liaison between the real celebraty and the fan. They were role models for kids"
Gary Owens
---
"If we catered to people like you, we'd be out of business."

Comment made to me, an oldies buff and fan of classic Top 40 radio, by the program director of a major North American oldies station. They dropped the format two years later and were - in fact - out of business.
---