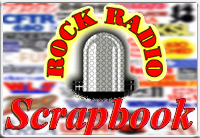 Airchecks: 1962
Talent: GARY SUMMERS
Station: CKOC Hamilton, Ontario
Date: January 20, 1962 (Upgraded 1-3-12)
Time: 2:49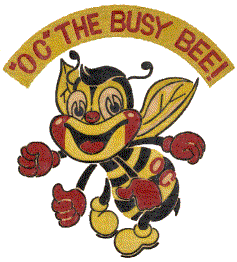 (Logo courtesy Rob Muir)
Broadcasters have a tendency to move around quite a bit, but not all. Some have the good fortune to spend most of their careers at the same station. A good example is Gary Summers of CKOC.
Summers was at CKOC as a deejay in the early '60s and still there as sports director in the early '90s. In between, he established himself as one of Southern Ontario's most popular and enduring radio personalities. When CKOC celebrated its 75th anniversary in 1997, his reunion appearance on the morning show was both informative and emotional to his many fans.
Rock Radio Scrapbook presents Gary Summers here.

(Scrapbook archives)
AUDIO ENHANCEMENT by Andy Rebscher
---
Talent: BOOGIE BELL
Station: KIMN Denver
Date: February 26, 1962
Time: Part 1 - 29:27 (unscoped)
Part 2 - 29:35 (unscoped)

It was a teen dream, and every competitor's nightmare.
KIMN was the station practically everyone - especially teenagers - listened to from the late '50s to the early '70s in Denver. Everything was aimed at the younger audience, from the music - rock & roll of course - to outlandish promotions and crazy jocks doing outlandish promotions. There was Pogo Poge broadcasting from a snake pit (and getting bit!), Roy "The Bellboy" Gunderson jumping on a trampoline while doing his show, and Steve Kelly sitting in every seat in Mile High City or visiting every phone booth in the city (probably a lot easier to do now, in the cell-phone era!). All of it was supplemented by brash newscasts emphasizing the sensational which not only appealed to the kids, it got their parents listening too. It was loud and proud and it worked, to the tune of a 56 share at its peak.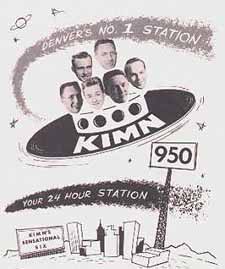 KIMN logo, 1960
Glen "Boogie" Bell was among the jocks who made KIMN tick. He jocked at the station from 1958 to 1963 and his show is typical of the sound of the station that flourished under the ownership of Ken Palmer, who bought KIMN in 1960 and sold it 10 years later. A shy but likeable man, Palmer was the one who helped make KIMN respectable for advertisers. "He played rock and roll, but he believed a radio station should be a servant to the community," recalls former KIMN traffic reporter Don Martin. "When we started a 15-minute daily newscast on a rock & roll radio station, everybody said 'you're gonna get killed.' We made it No. 1."
Enjoy Boogie Bell on KIMN (Part 1, UNSCOPED) here.

Enjoy Boogie Bell on KIMN (Part 2, UNSCOPED) here.




Rock Radio Scrapbook pays
online streaming fees to the
Society of Composers, Authors and Music Publishers of Canada (License 22-F)

(The Don Shuttleworth Collection)
---
Talent: THE REAL DON STEELE
Station: KOIL Omaha, Nebraska
Date: March 7, 1962
Time: 55:19 (unscoped)
28:17 (scoped)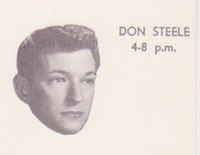 Three years before Boss Radio KHJ, The Real Don Steele was sharpening his radio repertoire in Omaha, Nebraska.
Steele arrived at KOIL in 1962 after previous starts at KBUC Corona, California, and KIMA Yakima, Washington.
The man born Don Revert left Omaha in 1963 to go to KXLY Spokane, Washington, then went to KISN Portland, Oregon. After a stop at KEWB San Francisco in 1964, he moved the following year to KHJ Los Angeles - the gig that made him famous as the drive-home jock on Boss Radio.
On this aircheck, Steele is just beginning to count down the "Fabulous 50", so you'll hear a lot of rarely-played tunes. And dig the local commercials, especially the one for Gordon Storage (still in operation today). The jingles are a delight too. Radio as it was in 1962!
Enjoy Don Steele on KOIL (UNSCOPED) here.

Enjoy Don Steele on KOIL (SCOPED) here.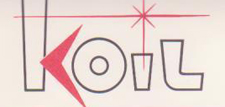 (The Don Shuttleworth Collection)
---
Talent: RED ROBINSON & DAVE McCORMICK
Station: CFUN Vancouver
Date: April, 1962
Time: 21:29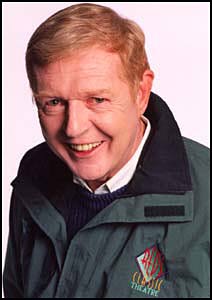 Red Robinson helped pioneer rock 'n' roll radio in Canada from the very dawn of the genre in the 1950s. His legend grew over the years in stints at Vancouver stations like CFUN, CJOR, CKWX and CISL, and Portland's KGW. During his 50-plus years in the business, he has appeared with virtually all of the great music stars of the '50s and '60s, including Elvis Presley, the Beatles, Ray Charles, Roy Orbison and Fats Domino. Robinson was elected to the Canadian Broadcast Hall of Fame in 1997.
Robinson's final weekday morning show was November 7, 2000 on CISL. But we remember another finale from 38 years earlier on CFUN.
Hear Red Robinson (co-hosting with Dave McCormick doing his final show before moving to KMAK Fresno) here.

(The Bill Dulmage Collection)
---
Talent: LUCKY CORDELL
Station: WGES Chicago
Date: Summer 1962 (Upgraded 3-10-12)
Time: 20:11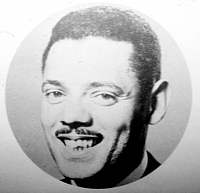 Lucky Cordell is remembered as one of the top R&B deejays of the '50s and '60s, and as a groundbreaking radio executive. But the man known as the Baron of Bounce also made another indelible contribution, as a long-time leader of Chicago's African-American community.
Born in 1928 in Granada, Mississippi, Moses Lindberg "Lucky" Cordell served in the U.S. Army during the Second World War before starting his radio career. Legendary jock Al Benson hired him at WGES in 1952. Later in the decade, Cordell jocked at WGRY in Gary, Indiana, where he hosted the immensely popular House of Hits program. While at WGRY, he was unanimously voted Honorary Mayor of the Negro Community in a poll of local newspapers.

Cordell worked at several stations in the Chicago area - including WGES - before landing at WVON (Voice of the Negro) at the birth of that legendary station in 1963. Cordell became WVON program and music director in 1965, was promoted to assistant general manager in 1968 and became general manager in 1970. Under his direction, WVON increased its ratings and almost doubled its advertising income, while becoming one of the most influential stations in U.S. history.
Cordell joined the Chicago Urban League in the late '60s and has remained an active member of Chicago's African-American community for years.
Enjoy this very special aircheck of Lucky Cordell on WGES here.

(Scrapbook archives)
AUDIO ENHANCEMENT by Andy Rebscher
---
Talent: PALLIE PASCOE
Station: CHAB Moose Jaw, Saskatchewan
Date: August 10, 1962
Time: 8:10



He didn't have the smooth baritone voice. His delivery needed work, definitely. But Pallie Pascoe was absolutely beloved by his listeners at CHAB Moose Jaw, Saskatchewan, in the early '60s. His sportscasts and this well-circulated aircheck in particular are the stuff of legend.
Listening to this slice of 1962 radio will take you back to a simpler time when the medium was a little more homespun, a little less predictable.
Trivia: Pallie Pascoe played second for Saskatchewan in the 1932 Canadian men's curling championship.
Hear Pallie Pascoe here.

(The Chris Mayberry Collection)
---
Talent: JACK THE BELLBOY (DAVE SHAFER)
Station: WJBK Detroit
Date: October, 1962
Time: 38:18 (unscoped)



Ed McKenzie was the first "Jack the Bellboy", bringing the nom de plume to WJBK Detroit in 1945 a few months after the Second World War. However, WJBK went to court to retain the name when McKenzie left for WXYZ in 1952. After that a parade of personalities wore the Bellboy's cap at WJBK, including Tom Clay, Harvey Kaye, Dave Shafer, Terry Knight and Robin Walker. For years the Bellboys occupied the 7 p.m.-midnight shift at WJBK (these were the days when "house" names were popular in radio) though when McKenzie introduced the Bellboy in the 1940s it was a late afternoon shift.
WJBK became Detroit's first full-time Top 40 station in 1956. They also produced the Motor City's first weekly printed survey of the big hits of the day, called "Formula 45." But when WKNR launched its rock 'n' roll format in 1963 to rave reviews, the competition proved to be too much for WJBK. It dropped Top 40 in 1964 for an easy-listening format and, after nearly two decades, the Bellboy played his last record.
Hear Dave Shafer as Jack the Bellboy here.

(The Bill Dulmage Collection)
---
Talent: RON RILEY
Station: WHK Cleveland
Date: November 2, 1962
Time: 28:51 (unscoped)
16:02 (scoped)

Doing double-duty helped vault Ron Riley into radio stardom.
Riley started in professional radio at WAPL Appleton, Wisconsin (as Smiley Riley) He moved to WOKY Milwaukee in 1960, then made stops at WRIT Milwaukee, KXOX St. Louis before arriving at WJJD Chicago in 1961. When the WJJD gig ended in 1962, Riley took a vacation relief job back at WOKY. But literally minutes later he was offered the all-night show at WLS Chicago for five weeks.
Having committed to WOKY, Riley decided to work at both stations. He did afternoons at WOKY before driving the 160 kilometres (100 miles) or so to Chicago, taking a short nap, then doing the all-night show on WLS before driving back again.

Riley's next stop was WHK Cleveland in 1962, then the following year he was offered the early evening show at WLS. He took it and stayed at the station until 1970. Riley then moved to cross-town rival WCFL, before landing on on air/PD job at WCAO Baltimore in 1971. After a few years of that, Riley moved into TV weather forecasting, spending 16 years at WTOP-TV in Washington before retiring from full-time broadcasting in 2009.
Enjoy Ron Riley at WHK (UNSCOPED) here.

Enjoy Ron Riley at WHK (SCOPED) here.


(The Don Shuttleworth Collection)
---
Talent: BILL BALLANCE
Station: KFWB Los Angeles
Date: December 1, 1962
Time: 46:29 (Pt. 1, unscoped)
18:50 (Pt. 1, scoped)
"Bill has many imitators, but no rivals." So gushed Time in the 1970s. The subject of the piece was Bill Ballance, one of southern California's most popular announcers.
Much of Ballance's reputation was gained during his years at KFWB from 1955 to 1965. He held down the evening shift during much of that time. In 1958, he became one of the original Swingin' Seven Gentlemen when Chuck Blore and KFWB introduced the ground-breaking Color Radio format. Prior to KFWB, Ballance hosted "Ballance in the Night" on KNX in the early '50s.
Ballance was a great communicator, a reputation enhanced later in his career by his controversial KGBS talk show Feminine Forum. Originating in the early '70s, that show is considered to be the forerunner of the "shock talk" genre later made popular by hosts like Don Imus and Howard Stern. He then took his show to KFMB San Diego for 15 years. All told, his radio career spanned more than a half-century, with stops at KNX, KFWB, KGH, KGBS, KABC and KWIZ Los Angeles, KOA Denver, KNBR San Francisco, and Honolulu stations KHVH and KGMB.
Ballance died September 23, 2004 at the age of 85.
Hear Bill Ballance on KFWB (Pt. 1, UNSCOPED) here.

Hear Bill Ballance on KFWB (Pt. 1, SCOPED) here.

(The Jim Southern Collection)
---