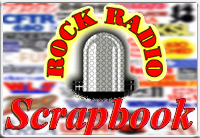 Airchecks: 1966
Talent: BRIAN SKINNER
Station: CHUM Toronto
Date: January 21, 1966
Time: 23:14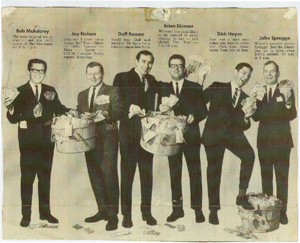 (CHUM jocks from late '65 to latter part of 1967; larger view here. Graphic courtesy Dale Johnson)
In 1966, CHUM boasted arguably one of the best lineups in the history of Top 40 radio. But what became of the jocks we enjoyed on CHUM back then?
First to depart from that classic lineup was Dick Hayes (1-4 p.m.). After CHUM, he moved to KOL Seattle (as Jeff Boeing), WNBC New York and WXYZ Detroit (as Jack Hayes). He has retired from radio and is living in Michigan.
Next to go were Bob McAdorey (4-7 p.m.), John Spragge (10 a.m.-1 p.m.) and Duff Roman (weekends). They left after the station switched to the Drake format in August, 1968. McAdorey went to CFGM, then to CHFI-AM (which later became CFTR), then back to CFGM in the 1970s. He arrived at Global-TV in the mid-'70s and spent more than a-quarter century there as an entertainment reporter. He died in 2005. Spragge, meanwhile, moved into radio management at CFRB and Talk 640. He died in 2008. Roman later went to CKFH - where he was the morning man and program director - then returned to CHUM in management and later worked as a consultant.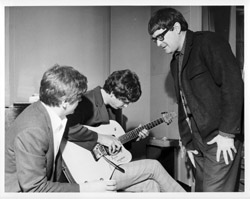 (Brian Skinner with the Everly Brothers, 1965. (The CHUM Archives)
Brian Skinner (7-10 p.m.) left in the summer of 1969. He went on a teaching career in Seattle. His son, Kori Skinner, was on CHUM for a time in the 1990s.
Bob Laine (midnight-6 a.m.) did his last regular CHUM shift in December, 1969 and did some fill-in work in 1970. He later became program director at CHUM-FM and held a variety of CHUM positions before retiring in 2003 after more than four decades at the station. He stayed active at CHUM organizing the station's archives. Laine died in 2011.
Larry Solway (10 p.m.-midnight) did his last talk show on CHUM in 1970. He later did talk shows at CHIC Brampton, Ontario, CFGM Richmond Hill, Ontario, CFLY Kingston, Ontario, and CFRB and CFYI (Talk 640) Toronto. Solway died in 2012.
That leaves Jay Nelson (6-10 a.m.), who did his last CHUM show in December, 1980. He became the weatherman at CITY-TV Toronto, and also had Toronto radio gigs at CKFM, CKEY and CJEZ and CKAN Newmarket, Ontario. He also taught radio at George Brown College in Toronto. Nelson died in 1994.
Hear Brian Skinner here.




(The Charlie Ritenburg Collection)
For more classic CHUM airchecks, visit The CHUM Archives
---
Subject: "THINGS GO BETTER WITH COKE" COMMERCIALS
Stations: Various
Date: 1960s
Times: Various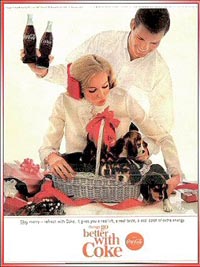 As if the jocks, jingles and music weren't enough, even the commercials were memorable on Top 40 radio in the '60s.

Especially outstanding were the ads for Coca-Cola, with the "Things Go Better With Coke" radio ad campaign. The campaign featured top musical artists of the day performing the now-famous "Things Go Better With Coke" jingle, modifying it to their own individual styles. They actually sounded like hit records!

The result was commercial magic. These well-crafted jingles have stood the test of time and still sound fabulous today.

Click on the links to hear a few examples:
Robbie Lane and the Disciples (1:07)

David Clayton-Thomas and the Shays

(1:06)
Ray Charles (1:02)

Nancy Sinatra (1:05)

**
Freddie Cannon (1:00) **



The Supremes (1:25) **

(The Gary J. Peterson and Donald Major Collections) *
(Scrapbook archives) **
---
Talent: ED COOK
Station: WVON Chicago
Date: January 29, 1966
Time: 21:05 (scoped)

They called him the "Nassau Daddy", and for 30 years Ed Cook entertained on the radio.
Cook, a long-time resident of Chicago's South Side, got his radio start in Nashville but is probably best remembered for his years as one of the "Good Guys" at WVON, the Voice of the Negro. At WVON, the hyper-kenetic Cook was part of a legendary lineup that included Herb Kent "the Cool Gent", Bill "Butterball" Crane, Joe Cobb and Pervis Spann "the Blues Man." Leonard and Phil Chess, co-owners of Chess Records, bought WHFC in Cicero, Illinois, changed the call letters to WVON and made it one of the leading soul stations in the U.S. Motown records founder Berry Gordy arranged for his company's records to be sent to WVON first, giving the little 1,000-watter (250 watts at night) a big jump on the other stations.
Leonard Chess's family sold the station after his death in 1969. It marked the beginning of the end for the Good Guys and all the jocks eventually left. Cook went into newscasting after his DJing years ended then became a free-lance writer for magazines. The army veteran died in 1993 at the age of 67.
Enjoy Ed "The Nassau Daddy" Cook on WVON (scoped) here.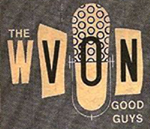 (The Don Shuttleworth Collection)
---
Talent: JEFFERSON KAYE
Station: WBZ Boston
Date: February 17, 1966
Time: 1:00:36 (unscoped)
25:10 (scoped)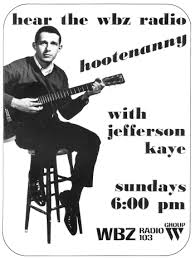 Before he came to WKBW, Jefferson Kaye literally had a hootenanny at WBZ.
The man born Martin Krimski, who started his broadcasting career in the late '50s at Providence, Rhode Island stations WHIM and WRIB, broke into the big time in 1961 at WBZ Boston. He started on the all-night show, then moved to afternoon drive as the station transitioned from a middle-of-the-road to a Top 40 format. He also hosted a Sunday night program called Hootenanny, which showcased folk music.
This aircheck was recorded shortly before Kaye left for WKBW. It's a great capture of WBZ's Top 40 format and contains lots of songs that you probably haven't heard since they came out, and some that you may have never heard.
Also on this aircheck: a full newscast with long-time WBZ newsman Streeter Stuart.
Hear Jefferson Kaye on WBZ (UNSCOPED) here.

Hear Jefferson Kaye on WBZ (SCOPED) here.

(The Joe Fazio Collection)
---
Talent: JIM STAGG
Station: WCFL Chicago
Date: March 18, 1966
Time: 7:02

When WCFL switched to Top 40 in 1965, general manager Ken Draper brought several employees with him from his previous station, KYW Cleveland. Among them was Jim Stagg, who became the afternoon drive jock at WCFL in the new format. Morning man Jim Runyon also came over from KYW, as did Dick Orkin, Jerry G. Bishop, chief engineer Mike King and newsman Jeff Kamen. WCFL was the latest addition to an impressive resume for Stagg, who had previously jocked at WYDE Birmingham, Alabama, WIBG Philadelphia, KYA San Francisco and WOKY Milwaukee.
Stagg's WCFL show included features like the "Stagg Line" - a listener call-in line - and "Stagg's Starbeat" - celebrity interviews. He was named WCFL's music director in 1968 and later became program director before leaving for Chicago station WMAQ in 1971. Stagg left radio in 1975 to start a record store which grew into a chain, Record City. He also became a realtor and started a video production company.
Stagg died of cancer November 6, 2007 at the age of 72.
Enjoy Jim Stagg on WCFL here.

(The Bill Dulmage Collection)
---
Talent: JEFFERSON KAYE
Station: WKBW Buffalo, N.Y.
Date: March 25, 1966
Time: 30:54 (unscoped)
10:18 (scoped)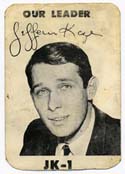 How good was Jefferson Kaye?
When radio buffs talk about WKBW, they mention WKBW and "the Jeff Kaye era at WKBW" as two separate entities.
Kaye came to 'KB in March 1966 from WBZ Boston as night-time leader of The Teenage Underground. But his real success at 'KB came as program director of the 50,000-watt blowtorch in the late '60s and early '70s. Among his many successes was his 1968 and 1971 adaptations of Orson Welles' War of the Worlds, whose realism caused an uproar in western New York. A great judge of talent, Kaye brought to Buffalo outstanding jocks like Sandy Beach, Don Berns, Jack Armstrong and Bob McCrae, to go with existing 'KB talent like Dan Neaverth and Fred Klestine.
Pop-Tops, the WKBW Instant Replay (an edited version of the song just played), the Capsule Countdown (a montage of the top 10 songs of a week from the past followed by the number-one song) were all part the many little things that made Kaye's 'KB so special. There was "Music to the People", a series of free live concerts featuring local and national talent, the annual seven-hour Salvation Army Christmas broadcast, and Buffalo Bills football broadcasts that sounded more exiting than they probably were thanks to Kaye's superb production. But best of all, Kaye's KB sounded like Buffalo. It was as Buffalo as beef on weck, chicken wings and Lafayette Square.
In a 1972 interview with Programmers Digest, Kaye used the term "unpredictable predictability" to describe the 'KB he commanded. Razor-sharp tight programming, but with personality - that was the WKBW of Jeff Kaye. 'KB was never the same after Kaye left in 1973 as the station went with a more music, less personality approach. Kaye went to do mornings at Buffalo rival WBEN, and later became the voice of NFL Films. He was named to the Buffalo Broadcasters Hall of Fame in 2002.
Hear Jefferson Kaye on 'KB here. (UNSCOPED)



Hear Jefferson Kaye on 'KB here. (SCOPED)


(
The Don Shuttleworth Collection)
---
Talent: ROBY "THE BIG KAHUNA" YONGE
Station: WQAM Miami
Date: March 28, 1966
Time: 42:36 (unscoped)
33:03 (scoped)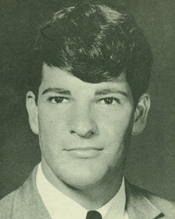 Roby "The Big Kahuna" Yonge surfed his way into the hearts of Miamians at WQAM.
The native of Fort Jackson, South Carolina - who grew up in Ocala, Florida - came to WQAM in 1965 after working at a few smaller stations in Florida. Aided by his female sidekick Gadget, Yonge soon became hugely popular, a larger than life figure who alternated between morning drive and afternoon drive for a few years, while also doing a night-time show for a short time. By 1969 he was gone, headed to WABC New York where he was fired for breaking format to talk about the "Paul is Dead" rumours.
Yonge briefly went to New York's WCBS-FM, which had a progressive rock format at the time. In 1973, he resurfaced in Palm Beach, Florida at progressive rock "The Mother" WMUM, where he was general manager. Next stop was WHYI Fort Lauderdale/Miami - literally for a cup of coffee - where he was fired after one day following a dispute with his boss. The next day Yonge crossed the street to WMYQ, where he spent several years doing mornings before heading to WFUN Miami in 1987. His final radio stop was in 1993 at WMRZ Miami, where did a talk show.
"On his airchecks, even from WQAM, he demonstrates a lot of spirit and personality," his godson Roby Sherman toldmusicradio77.com. "I can understand why he stood out."
Yonge died of an apparent heart attack on July 18, 1997. He was 54.
Enjoy Roby Yonge at WQAM (UNSCOPED) here.

Enjoy Roby Yonge at WQAM (SCOPED) here.

(The Don Shuttleworth Collection)
---
Talent: DUSTY RHODES
Station: WSAI Cincinnati
Date: May 8, 1966
Time: 24:18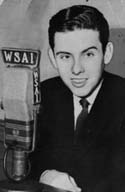 Dusty Rhodes is a Cincinnati radio legend, and a great guy too! Not only did he send Rock Radio Scrapbook a good selection of his airchecks for use on the site, he also told us the story of his career...
"Dusty Rhodes began his broadcasting career in high school. He started as a control board operator at WOLF in his hometown of Syracuse, New York and worked his way through Syracuse University's School of Speech and Dramatic Art as a deejay at WOLF, WNDR and WONG in nearby Oneida. He also spent a year and half on the production crew at WHEN-TV in Syracuse.
After graduating from Syracuse in 1961 he joined WSAI in Cincinnati just as that station was becoming a nationally recognized top forty powerhouse. Within a year and a half WSAI became the highest rated station in the top thirty markets with an overall 42% of the audience. Rhodes' night-time shows regularly drew ratings of over 50%.

In 1964, he was one of the "Good Guys" sponsoring the Beatles' Cincinnati appearance during their first American tour, and in 1965 he was named "Cincinnati's Most Popular Disc Jockey" by "Billboard" magazine. After a brief stint as morning man at CKLW, Windsor-Detroit, 1966 to 1967, he returned to Cincinnati, became an investment broker and began doing weekend oldies shows mostly on Sunday nights. He was first heard on WKRC in the 'seventies, moved to WLW in the 'eighties and joined WGRR-FM "Oldies 103.5" from 1991 to 2002.
He returned to the morning shift on 1530-WSAI from 2003 to 2005, then moved to WDJO "Oldies 1160" until October, 2009. His annual 36-hour Christmas show has been heard on as many as 100 stations coast-to-coast since the 'nineties and still airs each year on many of them today. In 2001 he was inducted into the Ohio Radio & TV Broadcasters Hall of Fame.
After serving in local government for 20 years and on Ohio's Public Employees Retirement System Board from 1977 to 1991, he was elected Hamilton County Auditor (Cincinnati) in 1990, a position he still holds being re-elected six times to four-year terms, mostly recently in 2014."
Enjoy Dusty Rhodes with "The Late Date Show" on WSAI here.

(The Dusty Rhodes Collection)
---
Talent: JOHNNY HOLLIDAY
Station: KYA San Francisco
Date: July 5, 1966
Time: 46:13 (unscoped)
23:02 (scoped)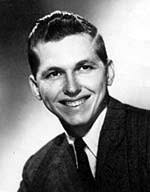 It would be easier to list what Johnny Holliday hasn't done. He's accomplished almost everything in a broadcasting career that began in 1956.
The man born John Holliday Bobbitt has served - at various times - as a disc jockey, sportscaster, stage actor, TV announcer, public address announcer, author and probably a few things we've overlooked.
Holliday got his start in radio at the age of 17 at WBBN in Perry, Georgia. He later jocked at WFEC MIami Springs, Florida, WVRM Rochester, New York and WHK Cleveland (he would later reprise his WHK years on the Cruisin' 1964 record). He was also at WINS New York, where he hosted that station's final Top 40 broadcast in 1965. Holliday went from WINS to KYA, where he would introduce the Beatles for their final concert at Candlestick Park on August 29, 1966. Next stop: WWDC Washington, where Halliday handled morning drive duties until 1978, then did sports on WMAL until 1991.
Holliday has also been a "jock" of a different kind - a sportscaster. The teams he has been involved with would fill a phone book (remember those?): the San Francisco Warriors and Washington Bullets/Wizards (basketball), the Washington Redskins, Cleveland Browns, Oakland Raiders, Washington Federals (football), the San Francisco Giants and the Washington Nationals and Senators (baseball), not to mention the various college teams he has covered including some 1,200 games for the Maryland Terrapins (football and basketball). He has also broadcast the Olympics, boxing and the Masters golf tournament.
The multi-talented Holliday has also served as a announcer of two NBC musical variety series - Hullabaloo and The Roger Miller Show - and was the announcer for ABC's This Week.
To top it off, he's an award-winning stage actor, and published his autobiography Johnny Holliday: From Rock to Jock in 2002. He was named to the Washington Sports Hall of Fame in 2014.
Enjoy Johnny Holliday on KYA (UNSCOPED) here.

Enjoy Johnny Holliday on KYA (SCOPED) here.

(The Joe Fazio Collection)
---
Talent: BARRY SARAZIN
Station: CKLB Oshawa, Ont.
Date: August 16, 1966
Time: 18:29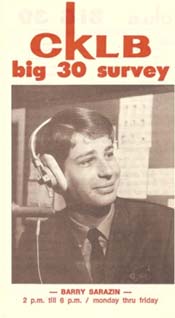 Barry Sarazin was a lot of things to a lot of people.
To his radio listeners he was a broadcaster - and a highly-regarded one - in Ontario communities such as London, Ottawa, Oshawa, Sault Ste. Marie, Smiths Falls and Blind River.
To his students at Fanshawe College in London, Ontario - where he was a professor of radio broadcasting for 28 years - he was a teacher and a mentor.
To his family, he was a husband, father and grandfather.
He was also an avid sailor who held top positions at both the local Power Squadron and Yacht Club in London, Ontario.
One of Sarazin's proudest achievements was CIXX-FM, the Fanshawe campus station he founded and helped launch on October 31, 1978. CIXX-FM was the first fully licensed campus radio station in Canada. Sarazin co-authored the station's original CRTC application and managed CIXX-FM in its early years.
Sarazin was diagnosed with prostate cancer in 1999 and fought the disease bravely until succumbing November 29, 2005. He was 58 and left behind a legacy that continues with the Barry P. Sarazin Memorial Award, which honours the Fanshawe student who demonstrates the qualities held by Sarazin throughout his teaching and broadcasting career.In 1966, Sarazin was at CKLB Oshawa. Hear him filling in on the morning show here.

(The Barry Sarazin Collection via Bill Dulmage)
---
Talent: JERRY GOODWIN
Station: WKNR Dearborn, Mich.
Date: August 23, 1966
Time: 13:34

Radio consultant Mike Joseph had quite a track record of success on his resume when he arrived in Detroit in 1963 to revamp WKMH. Joseph had launched very successful Top 40 formats at two well-known stations: WKBW Buffalo in 1958 and WABC New York in 1960. He had also been successful with Grand Rapids, Michigan, station WLAV.
But WKMH presented quite a challenge, even to Joseph. The station languished near the bottom of the ratings with an adult contemporary format known as "Flagship Radio." So Joseph shook things up - a lot.
Taking on three established rock 'n' roll stations in the market (WJBK, WXYZ and CKLW), Joseph launched WKNR "Keener 13" on October 31, 1963. In an era where stations usually eased into new formats, "Keener" went right for the jugular, openly challenging its competition with a promotion called "Battle of the Giants." The renamed station (it got its call letters from founder Fred Knorr) featured a tight 31-song playlist and a host of personality deejays including Mort Crowley, Robin Seymour, Jim Sanders, Gary Stevens, Bob Green, Bill Phillips and Paul Cannon. Add to that the station's great newscasts, contests and production - not to mention the reverb! - and you had a winning combination.
Keener quickly shot to the top of the Detroit ratings charts. From a ratings share of two before the switch, it consistently garnered shares in the 25 to 30 range after. It was a dominance that would last until CKLW introduced the "Drake" format in 1967 and FM grew in popularity after that. Eventually WKNR faded and was replaced by easy-listening WNIC on April 25, 1972, but not before providing nearly a decade of memorable Top 40 radio.
Jerry Goodwin was WKNR's noon-3 p.m. man from 1964 to 1967. Prior to WKNR, he was at KFDA Amarillo, Texas (1959), KBOX Dallas (1961) and WQAM Miami (1962). In 1968, he moved over to WKNR-FM and in 1969 to WABX. After stops in Toledo (WIOT, 1972) and a return to Detroit (WWWW, 1972) he moved to Boston in 1976 for stints at WCOZ, WBCN, WCGY and WROL.
Goodwin retired from the biz in 1999 but continued to teach radio at the New England Institute of Art.
Hear Jerry Goodwin here.

(The Don Shuttleworth Collection)
---
Talent: CLARK WEBER
Station: WLS Chicago
Date: September 9, 1966
Time: 46:36 (unscoped)
19:23 (scoped)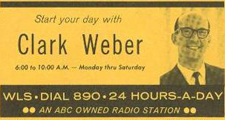 WLS is clearly dayparting in this fascinating aircheck from the late summer of 1966. The music is aimed at adults - Clark Weber even plays a Benny Goodman record from 1938. Lots of PSA's for radio too.
Enjoy Clark Weber on WLS (UNSCOPED) here.

Enjoy Clark Weber on WLS (jSCOPED) here.

(The Don Shuttleworth Collection)
---
Talent: JOHNNY MIDNIGHT
Station: WONE Dayton, Ohio
Date: September 28, 1966
Time: 8:58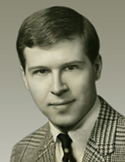 (Picture courtesy Don Williams)
Tune into most music stations after midnight these days and you're most likely to hear syndicated shows, voice-tracking or wall-to-wall music. A live voice? Good luck.
But it wasn't always so.
The all-night show used to be alive with real, living, breathing human beings. Jocks not only worked the all-night show but entertained with personality and a more one-on-one relationship with the listener than existed in other dayparts.
Taking us back to that time is this aircheck of Johnny Midnight. That wasn't his real name of course - he was Don Williams and his long resume includes stops at KSTT Davenport, Iowa, WAQI Ashtabula, Ohio, WHK Cleveland, WHLO Akron, Ohio, WELW Willoughby, Ohio, WTOD, WTTO and WSPD Toledo, and WFTL plus sister FM WEWZ (later WJQY) Fort Lauderdale, Florida.
Williams was one of the WONE Boss Men from June, 1966 to February, 1968. He told Rock Radio Scrapbook that when he arrived at WONE the program director's opening line was "Welcome, Johnny Midnight"! He wasn't too pleased with being assigned such an air name, and admits he would have stayed at WHK had he known. But Williams says WONE wasn't so bad, he just didn't like being kept in the dark about the Johnny Midnight thing.
Enjoy Johnny Midnight (with newsman Lloyd Nolan) here.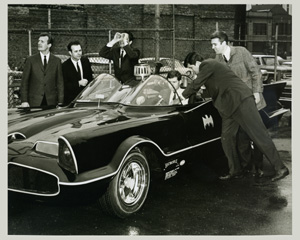 The WONE Boss Men
(l-r) Dave Dayton (Thom Sanders), Wayne Moss, Jerry "Shadoe" Jackson
Johnny Midnight (Don Williams), Rick Stevens, Tom Campbell
(Picture courtesy Don Williams)
(The Don Shuttleworth Collection)
---
Talent: SCOTT MUNI and JOHNNY MICHAELS
Station: WOR-FM New York
Date: October 8, 1966 (Upgraded 1-3-12)
Time: 31:06
Scott Muni
Progressive rock radio in New York began, oddly enough, without one of the mainstays of the format - disc jockeys.
WOR-FM began playing rock music on July 30, 1966, but because of a AFTRA strike, there were no deejays. Only music, promos, jingles and commercials were played. It would be more than two months - October 8, 1966 - before announcers appeared.
That first day with announcers began with a simulcast of John Gambling's WOR-AM morning show from 6-9 a.m. Then it was Scott Muni 9 a.m.-noon, Johnny Michaels noon-3 p.m., and Muni again 3-6 p.m. Murray the K did 6 p.m.-midnight and Rosko took over from midnight-6 a.m.
While WOR-FM was considered a "progressive rock" station, much of the music on this first day of music with deejays was a grab-bag of Top 40, oldies and album cuts. However, it was much different in approach from the AM stations of the day, more low-key, much looser and relaxed.
WOR-FM only stayed with the progressive rock format for about a year - the Bill Drake "Big Town Sound" (Top 40) debuted on 98.7 in November, 1967. But it helped launch a new era in rock radio.
Hear Scott Muni and Johnny Michaels on WOR-FM here.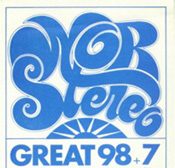 (Scrapbook archives)
AUDIO ENHANCEMENT by Andy Rebscher
---
Talent: HUMBLE HARV MILLER
Station: KBLA Los Angeles
Date: October 9, 1966
Time: 43:38 (unscoped)
11:13 (scoped)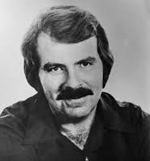 With an approach suited for FM, Humble Harv Miller became a star on AM radio.
One of the "hippest" jocks in Top 40 radio, Miller got his major market start in 1958 at his hometown station WIBG Philadelphia. He was there until 1962 before moving to the west coast at KBLA. KHJ - seeking a more "progressive" approach in late night - hired him for the 9 p.m.-midnight shift in 1967. He jocked at KHJ until 1971, when he went to jail for the second-degree shooting death of his adulterous wife. After a couple of years behind bars, Miller re-emerged on the Los Angeles radio scene in 1974 at KKDJ. Miller jocked at numerous other stations - most of them in Los Angeles - over the next couple of decades. He also appeared in a couple of movies playing - what else - a disc jockey.
Humble Harv Miller died June 4, 2019 at the age of 85.

Enjoy Humble Harv on KBLA (UNSCOPED) here.

Enjoy Humble Harv on KBLA (SCOPED) here.

(The Tom Howard Collection)
---
Talent: ED BAER
Station: WMCA New York
Date: October 11, 1966
Time: 48:27 (unscoped)
23:37 (scoped)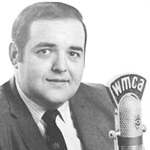 Ed Baer was a Good Guy in both name and spirit.
The genial, personable jock known as The Big Bad Bear spent 12 years at the legendary WMCA, on a staff that included such legends as Joe O'Brien, Harry Harrison, Jack Spector, Dan Daniel, B. Mitchel Reed, Gary Stephens and more. For much of his time at WMCA Baer was what is known in radio as a "swing announcer", filling in for other jocks. He eventually got the morning show, just in time to see the station jump to a talk format in 1970. He stayed on, doing news in addition to talk before moving to country-formatted WHN in 1973. After 10 years there, Baer moved to easy-listening WYNY, while also doing sports for NBC. In 1986, he moved to his final radio stop, WHUD in Peekskill north of New York City, doing mornings for 14 years and then continuing on weekends with his retro show "Pop Rewind" until 2015. Baer was also heard on several of the WCBS-FM reunion weekends.
Baer started in radio in the 1950s at WICC Bridgeport, Connecticut, where he was discovered by Dan Ingram. After a brief sting at KRAK Sacramento, California, Ingram - now at WABC - landed him a job at WMCA. It was 1961, and a career of more than a half century in New York and area radio lay ahead for the native of Westport, Conn.
"I love local radio," Baer remarked when he retired from the WHUD morning show in 2000. "But I think that's what all good radio is: a personal conversation with the person on the other side of the microphone."
Ed Baer died January 1, 2019 at the age of 82.
Enjoy Ed Baer on WMCA (UNSCOPED) here.

Enjoy Ed Baer on WMCA (SCOPED) here.

(The Don Shuttleworth Collection)
---
Talent: JACK ARMSTRONG
Station: WIXY Cleveland
Date: October, 1966
Time: 22:39

Jack Armstrong got his start in his home state of North Carolina, at stations like WCOG Greensboro and WAYS Charlotte. His first out-of-state radio gig was in 1966, at WIXY Cleveland. As he did throughout much of his early career, Armstrong held down the evening shift at "Wixie". He was part of WIXY lineup that included Jerry Brooke, Johnny Canton, Johnny Walters, Al Gates and Bobby Magic - names which echo only in our memories now but which resonated loud and clear at the time.
Jack Armstrong died March 23, 2008 after a fall at his home in High Point, North Carolina. He was 62.
Hear Jack Armstrong on WIXY here.

(Scrapbook archives)
---
Talent: PAT O'DAY
Station: KJR Seattle
Date: November 28, 1966
Time: 21:28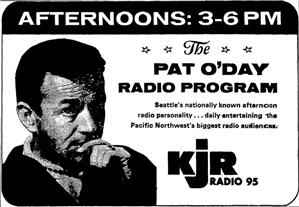 He was a program director, general manager, station owner, concert promoter and hydroplane announcer, among many other things. But Pat O'Day is best remembered as the afternoon drive jock at KJR.
Born Paul William Berg in Norfolk, Nebraska, O'Day worked a several stations in Washington state before landing the big fish - a job jocking at KJR Seattle in 1959. It was there O'Day established his legendary status, in the afternoon drive shift, at the popular Seattle station. This led to work as a concert promoter, with acts as diverse as Jimi Hendrix, the Beach Boys, Frank Sinatra and Elvis. He was elevated to program director at KJR - twice winning the award for top PD in the U.S. - and became general manager in 1968. He left the station in 1974 but not before gaining another level of fame with a re-creation of his show for the Cruisin' 1966 album. Later he would be included in the disc jockey exhibit at the Rock and Roll Hall of Fame, and be featured in the documentary "I Am What I Play." O'Day announced the annual Seafair hydroplane race telecast on Lake Washington from 1967 until 2013. He also got into station ownership at KKMI, KYYX and KXA Seattle plus KORL Honolulu.
Jason Remington, founder and creator of Puget Sound Media, a website that focuses on local radio and TV, is effusive in his praise: "Pat O'Day was the creator of the greatest rock 'n' roll radio station in the Northwest. He did what others couldn't do. He was a genius at hiring talent. He knew what sounds he wanted. That's what made KJR."
Pat O'Day died August 1, 2020. He was 85.
Enjoy Pat O'Day at KJR here.

(The Red Robinson Collection via Ted Wendland, radiowest.ca)
---
Talent: DALE DORMAN
Station: KBTR Denver
Date: November, 1966
Time: 6:31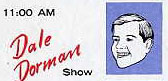 Barry Manilow used the line "from Boston to Denver" in his 1975 hit "It's a Miracle."
With Dale Dorman, it was the other way around, as he went from Denver's KBTR in 1966 to a 44-year career in Boston beginning in 1968 (with a stop at KNBR San Francisco in between)
Enjoy Dale Dorman on KBTR here.

(The Dan O'Neil Collection)
---
Talent: RON BRITAIN
Station: WCFL Chicago
Date: November, 1966
Time: 14:59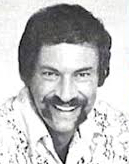 Ron Britain spent the bulk of his long career in Chicago, with two stops at the legendary WCFL. Before coming to Chicago at WCFL in 1965, Britain jocked at WDAI and WKRC in Cincinnati and WHK in Cleveland.
Britain - whose birth name was Ron Magel - jocked in 21 stations in 11 cities during his 50-year career. He adopted the name Britain at the suggestion of hhis program director at WSAI - the name reflected his passion for British recording acts.
Aside from 'CFL, Britain also jocked in the Windy City stops at WIND, WLS-FM, WJMK, WTMX and WRLL. Known for his "theatre of the mind" approach, which involved many characters. His "Subterranean Circus" progressive rock show was very popular.
Ron Britain died October 26, 2020, taking his own life a week after his wife of 62 years passed away.
Enjoy Ron Britain on WCFL here.

(The Bill Dulmage Collection)
---
Subject: BIG 93 of 1966
Station: KHJ Los Angeles
Date: December 30, 1966
Time: 39:33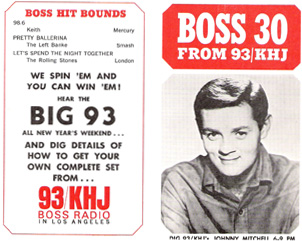 (Johnny Mitchell is shown on this KHJ chart from December 28, 1966/Courtesy Tom Howard)
KHJ's call letters stood for Kindness, Happiness and Joy, and there was plenty of that to go around for the Los Angeles station back in the 1960s.

It was Boss Radio, and its tight format and restrictive playlist garnered huge ratings and a big place in Top 40 radio history. And while deejays were kept on a short rein, a few personalities did develop, most notably Robert W. Morgan and The Real Don Steele. It was memorable, energetic radio that just seems to get better the more we look back on it.

On December 30, 1966, Robert W. Morgan, Frank Terry and Gary Mack and the other KHJ jocks counted down the Big 93 of 1966.
You can hear it here.

(The Tom Howard Collection)
---