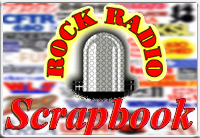 Airchecks: 1982
Talent: ROB CHRISTIE
Station: CHED Edmonton
Date: February 16, 1982
Time: 47:25 (unscoped)

"Radio is not brain surgery, but it is heart surgery."
Rob Christie graduated from radio's old school and remembers his lessons well.
Christie got his start as a "go-fer" at 1470 CFOX in Montreal. He helped set up that station's remote for the John Lennon-Yoko Ono bed-in for peace at Montreal's Queen Elizabeth Hotel in 1969, and became a jock there under the name Jeff Douglas for $10 a shift, riding his bike to work. The McGill graduate would go on to jock at CFOX's Montreal rival CKGM in the mid-'70s, and later worked in Toronto at Mix 99.9 and Jack-FM. But most of his four-decade career has been spent in the west, with stops at CKXL Calgary, Kiss-FM and Jack-FM Vancouver and CHED/Power 92-FM, Magic 99 and his current home (as of 2013), Capital FM in Edmonton. He also jocked at CHER Sydney, Nova Scotia, and did a stint as CTV Vancouver's weekend weatherman.
Christie, whose cousin is former Edmonton Oiler star and later general manager Kevin Lowe, is a old-school personality jock who has connected with his listeners with his creative and off-the-wall approach. He has faked his own assassination on-air, put on a tutu and danced with the Alberta Ballet, and mastered the art of the prank call all without the help of consultants and focus groups. As Christie told Peter Goddard of the Toronto Star in 1997, "radio is not brain surgery, but it is heart surgery."
Enjoy Rob Christie on CHED here.

(The Charlie Ritenburg Collection)



Rock Radio Scrapbook pays
online streaming fees to the
Society of Composers, Authors and Music Publishers of Canada (License 22-F)

---
Talent: FRANK BENNY
Station: WGR Buffalo, New York
Date: March 25, 1982
Time: 30:45 (unscoped)
17:35 (scoped)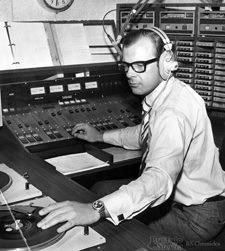 Frank Benny at the WGR controls
Frank Benny brought his wit and wisdom to radio audiences for more 40 years, about half of that time in Buffalo.
The man born Frank E. Biniak moved to Buffalo's WGR in 1966 after previous stops in Ridgecrest, California (KIKS), Portland, Oregon (KEX, KISN) and Cincinnati (WUBE). He stayed 19 years in the Queen City, mostly in afternoon drive, while also serving as the weatherman for WGR-TV and hosting Bowling For Dollars five nights a week (he also found time to do telethons and a movie matinee). He left WGR in 1985, did the morning show at WYRK for a year, then moved to WBEN AM & FM. Benny, an avid golfer, moved to Florida in 1989 where he worked at several stations including his last stop, WENG Sarasota, Florida, where he co-hosted the morning show.
"He would have liked to be remembered with a microphone in one hand and a golf club in the other," his companion Lynda Sawkes told Portland Radio Guide. "He was the master of the one-liner, he could fire them off as quickly as Johnny Carson."
Benny died May 9, 2005 in Sarasota at age 67.
Enjoy Frank Benny on WGR (UNSCOPED) here.

Enjoy Frank Benny on WGR (SCOPED) here.

(The Art Rockwood Collection)
---
Talent: DALE PARKER
Station: CKOC Hamilton, Ont.
Date: April 24, 1982
Time: 3:08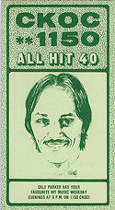 Few stations have played hit music longer than CKOC. The Hamilton, Ontario, station was a Top 40 outlet for 34 years, from 1958 until 1992. CKOC then switched to oldies which meant they were still playing the hits, only now they were past hits rather than current ones.
One jock who was with CKOC for much of the Top 40 and oldies era was Dale Parker. Long-time CKOC program director Nevin Grant tells us more...
"(Dale) is a super guy and a true veteran of southern Ontario radio. CKOC was fortunate to garner Dale in the seventies from CKPT Peterborough ... also a Top 40 station in those days. Over his 17 years at CKOC, Dale did everything, from evenings to middays to drive to filling in on mornings. He was an active force in the programming, particularly the music of CKOC when the station moved to the oldies format in early 1992. Dale also worked at CKLH-FM (K-LITE FM) for several years and was involved in music programming there as well. Post-CKOC Dale worked for CKDO Oshawa and was the program director at CKPC Brantford. Dale has always had a passion for hockey and for several years has been the top administrator for amateur hockey in Brantford and environs."
Parker died of a heart attack November 11, 2011. He was 61.
Hear Dale Parker on CKOC here.

(The Bill Dulmage Collection)

---
Talent: KEVIN O'CONNELL
Station: WBEN Buffalo, New York
Date: April 27, 1982
Time: 7:04

Like many a television personality, Kevin O'Connell got his start in radio.
The long-time weather anchor at Buffalo's WGRZ-TV (Channel 2) was a Top 40 jock at WYSL in the '70s, moving to full-service WBEN later in the decade. O'Connell left WBEN in 1982, moving to Los Angeles television at KNBC, later to at KCBS.
O'Connell returned to Buffalo in 1990 to anchor the news at WIVB-TV (Channel 4). He joined WGRZ in 1993.
Winner of three Emmy awards, O'Connell was voted "Top TV Media Personality 2006" in Buffalo Spree Magazine.
Enjoy Kevin O'Connell on WBEN here.

(The Bill Dulmage Collection)
---
Talent: GLENN WALTERS
Station: CJLB Thunder Bay, Ont.
Date: June 3, 1982
Time: 4:44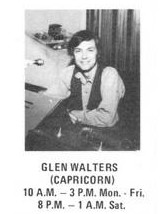 (Glen Walters at WBAB - Photo courtesy Rick Hall, wackradio.com)
"Big G" Glenn Walters worked in many markets, big and small. His 40-year career took him to places as diverse as New York, Los Angeles, Honolulu, Toronto, Babylon, N.Y. (see above), and Thunder Bay, Ont.
So how did Walters wind up in Thunder Bay, you ask? Contributor Tish Iceton tells
Rock Radio Scrapbook...
"We worked together in Thunder Bay in the 80's. I arrived in July '81, Glenn shortly after. He had been working at KQDS in Duluth and was looking to get back to Ontario because his girlfriend could not work in the States. He got in touch with the GM at CJLB he knew from TO Ray Erickson. Ray was News Director at CKEY in the 70's. Ray was so over the top that he was bringing "The Big G" to Thunder Bay - you have no idea! Glen was hilarious to work with. I was doing afternoon's Glenn was mid-day. He had trouble operating and talking at the same time so that didn't last too long. They then had him doing swing, commercials and voice-tracking the all night show."
By the time he got to Thunder Bay, "Big G" Walters was just known on-air as Glenn Walters (he got the Big G nickname from General Foods, a sponsor of one of his early shows.)
Enjoy Glenn Walters as he lays down some CJLB voicetracks here.

(The Tish Iceton Collection)
Kudos to SOWNY's Craig Smith, who sent us both the aircheck and the pics! Thanks, Craig!
---
Talent: DEAN HAGOPIAN
Station: CKOY Ottawa
Date: August 2, 1982
Time: 37:43 (unscoped)
18:03 (scoped)

His first name and his nickname were one and the same.
From 1965 to 1970, Dean Hagopian established himself as "The Dean of Montreal" in morning and then afternoon drive at Montreal's legendary 1470-CFOX. By 1974, he had moved about 100 miles west and established himself as morning man in Ottawa at CFGO. He also had a brand-new title: "The Dean of Ottawa."
Hagopian's stints at 1470-CFOX and CFGO are just part of a long radio career that has included stops at CJFM Montreal (where he did "The Solid Gold Show"), CKOY Ottawa, CKVN Vancouver, CKGB Timmins, Ontario (on-air and as PD), and CKMR Windsor, Ontario. He was also at CHUM Toronto briefly as a guest deejay in 1968.
Before he played the hits, Hagopian sang them as the lead singer for the
Staccatos
(later
The Five Man Electrical Band
) in 1963 and 1964. He's also an accomplished actor, having appeared in such films as
Brainscan, A Killer Upstairs, A Woman Hunted, Visiting Hours

and

Jesus Of Montreal.

Hagopian has also served as a representative/consultant for a network marketing company providing natural supplement health products.
(Radio trivia note: Dean also appeared in a movie filmed in Montreal, the 1981 thriller Scanners, a film that also featured Lee Murray (Murray Cruchley), the ex-CKGM early 70s jock. Murray was "programmer 1" and Hagopian was "programmer 2".)
Enjoy Dean Hagopian on CKOY
(UNSCOPED)

here.

Enjoy Dean Hagopian on CKOY (SCOPED) here.

(The Don Shuttleworth Collection)
---
Talent: SHOTGUN JOHNNY ROCK 'N' ROLL RINGO
Station: WNYS Buffalo, New York
Date: September, 1982
Time: 42:35 (unscoped)
8:54 (scoped)
(Logo courtesy Bill Dulmage)
Dick Biondi and Jack Armstrong weren't the only fast-talking jocks in Buffalo radio.
Shotgun Johnny Rock 'n' Roll Ringo, a.k.a. Bob Ditto, came to town about a decade after Armstrong's 1973 departure from WKBW and some two decades after Biondi left 'KB. The speedy-voiced deejay entertained in the 7 p.m.-midnight shift at WYNS for a year or so beginning in 1982. He was long gone by the time WYNS became WHTT in 1986.
Ringo also jocked at KAFY Bakersfield, California, WNSY Norfolk, Virginia, WROQ Charlotte, Virginia, WIKQ Chambersburg, Virginia, WFEC Harrisburg, Pennsylvania, WLAN Lancaster, Pennsylvania, WYCR and WQXA York, Pennsylvania, and who knows where else. As of 2014, he was a pilot and working as a line technician in Birmingham, Alabama.
Enjoy Johnny Ringo at WNYS (UNSCOPED) here.

Enjoy Johnny Ringo at WNYS (SCOPED) here.

(The Bill Dulmage Collection)



Rock Radio Scrapbook pays
online streaming fees to the
Society of Composers, Authors and Music Publishers of Canada (License 22-F)

---
Talent: RUSS THOMPSON
Station: CKFM Toronto
Date: 1982
Time: 10:47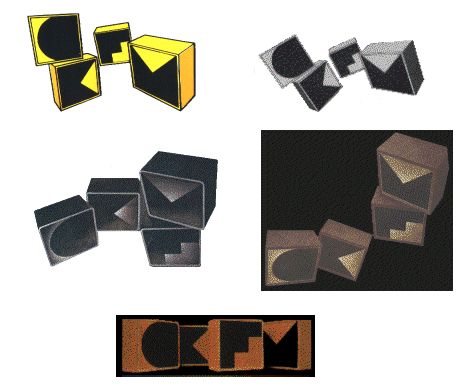 (Logos courtesy Bill Dulmage)
Russ Thompson did the afternoon drive shift in the '70s and '80s at one of Toronto's classiest radio outlets, CKFM. A sample lineup from 1978 has Don Daynard 5:30-10 a.m., Don Cameron 10 a.m.-12 noon, Hour Toronto with Dave Agar noon-1 p.m., Hugh Russell 1-3 p.m., Thompson 3-8 p.m., Carl Banas 8 p.m.-midnight and Peggy Graham midnight-5:30 a.m.
Thanks to Bill Dulmage for this information.
Hear Russ Thompson here.

(The Bill Dulmage Collection)
---