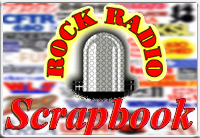 Airchecks: 1987
Talent: SCOTT MILLER
Station: CKLW-FM Windsor, Ontario
Date: January 14, 1987
Time: 1:01:11 (unscoped)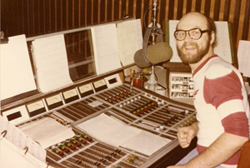 "Ladies and gentlemen, the good times are back!"
Sometimes, you can't go home again.
In 1986, Windsor, Ontario-station CKEZ attempted to recreate the old CKLW-AM with an oldies format on FM. Back with a vengeance were the old Johnny Mann jingles, some of the legendary personalities of the past, and many of the '50s, '60s and '70s hits that CKLW-AM had played as hits and were now oldies.
It didn't last - the station evolved into a middle-of-the-road format in 1988 as CKMR-FM and it appeared once again the Big Eight sound would be forever consigned to the dustbin of history. But in 1991 another attempt was made to revive this classic station - the CKLW-FM calls were again restored and the station called itself "93.9 The Legend." Despite the presence of well-known jocks like Tom Shannon and Dave Shafer, the format didn't last and by 1993 it was gone.
Scott Miller was one of the jocks on the 1986-88 CKLW-FM. Miller also entertained at CKLW-AM in the 1980s as part of a career that has included stops at CFTR Toronto, WOMC Detroit, WJMK Chicago, FUN-FM (CKCL-FM) Vancouver and WOLX-FM Madison, Wisconsin.
Hear Scott Miller on CKLW-FM here.

(The Don Shuttleworth Collection)



Rock Radio Scrapbook pays
online streaming fees to the
Society of Composers, Authors and Music Publishers of Canada (License 22-F)

---
Talent: BOB MITCHELL
Station: WYYY Syracuse, New York
Date: April 2, 1987
Time: 22:33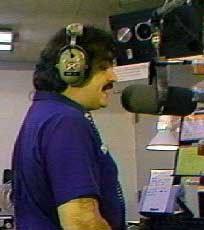 Now THIS is the way oldies radio should sound!
For 10 years, Bob Mitchell did the Saturday Night Oldies Show on Y94 in Syracuse, New York - and he did it with class, passion and a tight, bright presentation that should be a model for oldies stations everywhere.
Everything on this aircheck works, from the fun PAMS jingles, to the contests, to the listener participation to the flawless production to the music. Mitchell himself is a gem - if we started an oldies station we'd seek out his on-air services immediately.
Mitchell, a veteran of more than 30 years of central New York radio, is these days occupied with - among other things - the 1490 WOLF Tribute Site. Check it out, but first enjoy this fabulous aircheck of Mitchell's Saturday Night Oldies Show.
Hear it here.

(The Bob Mitchell Collection)
---
Talent: RON ABLE
Station: CKY Winnipeg
Date: May 4, 1987
Time: 14:36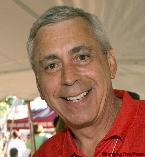 "A gentle giant"
Ron Able was born in Montreal, but considered Winnipeg his adopted home. He had the good fortune to work in both.
Able was the first morning man of CKGM's Super '70s lineup in Montreal in 1970-71, later moving down the hall to CHOM-FM (the former CKGM-FM). He went to Halifax from 1971 to 1973 and then to CKVN-CFUN Vancouver in '73, returning to La Belle Province at CFOM Quebec City in the mid-'70s. In the 1980s, Able settled in Manitoba, first at CKY from the '80s to early '90s, then at CFQX Selkirk, Manitoba. From 1997 to 2009, he co-hosted the morning show at CKXA (QX104 FM) Brandon, Manitoba.
Able died February 13, 2009, less than a month after being diagnosed with pancreatic cancer. "Ron was a gentle giant," Sharon Taylor, QX104 vice-president and manager, said of Able. He was 57.
Hear Ron Able on CKY here.

(Courtesy Ted Wendland, radiowest.ca)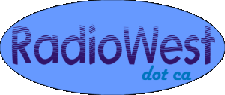 Be sure to visit radiowest.ca, a superb radio site hosted by Ted Wendland. Airchecks, jingles, photos, logos, history and forums - radiowest.ca has it all. Rock Radio Scrapbook says thanks Ted for sharing this aircheck.
---
Talent: DALE PARSONS
Station: WNBC New York
Date: October 4, 1987
Time: 17:49 (unscoped)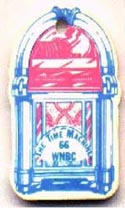 WNBC went out with a blast from the past.
In the year-and-a-half before it signed off forever in October 1988, WNBC gave its listeners some great oldies radio. It was The Time Machine: a high-energy, fast-paced oldies show heard only on overnights and weekends. With the chime-time jingles and reverb, it sounded like WABC in its Musicradio prime. Big Jay Sorenson, Dan Taylor, Dale Parsons, Lee Chambers, Carol Mason and The Real Bob James were among those who jocked retro-style in The Time Machine. Oldies on AM never sounded better.
Enjoy Dale Parsons with The Time Machine on WNBC here.

(The Bill Dulmage Collection)



Rock Radio Scrapbook pays
online streaming fees to the
Society of Composers, Authors and Music Publishers of Canada (License 22-F)

---
Talent: WOLFMAN JACK
Station: XETRA Tijuana-Rosarito
Date: October 22, 1987
Times: 46:41 (unscoped)
12:52 (scoped)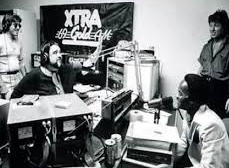 Some facts about Wolfman Jack that you may not have known:
- Native of Brooklyn, lived in Bevidere, North Carolina, for the last six years of his life.
- Birth name was Robert Weston Smith; he had it legally changed to Wolfman Jack.
- Sold encyclopedias and Fuller brushes door-to-door before going into broadcasting.
- Used the nom-de-plumes Big Smith, Daddy Jules and Roger Gordon early in his career.
- Wolfman Jack briefly managed Minneapolis station KUXL.
- Ordained minister in the Universal Life Church.
- Cameo on American Graffiti was filmed at KRE in Berkeley, Calif.; the royalties from that appearance gave him an income for life.
- At one time, Wolfman Jack was on 2,000 stations in 53 countries.
- Had two children - a boy and a girl - by his wife Lucy Lamb Smith.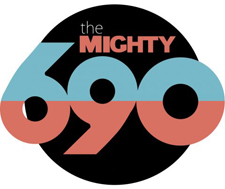 On this 1987 aircheck, Wolfman Jack returns to his "border blaster" roots for this one-off appearance at The Mighty 690, XETRA.
Enjoy Wolfman Jack on XETRA (UNSCOPED) here.

Enjoy Wolfman Jack on XETRA (SCOPED) here.


(The Joe Fazio Collection)
---
Talent: GORD ROBSON
Station: CHED Edmonton
Date: November 20, 1987
Time: 47:40 (unscoped)
12:02 (scoped)

CHED adopted a hit parade format in 1957, and it was still going strong on this aircheck of Gord Robson thirty years later. But the end was near for hit music on AM - CHED adopted a news-talk format in 1993 - ending 36 years of hit music at 630 on the Edmonton dial.
Enjoy Gord Robson (UNSCOPED) here.

Enjoy Gord Robson (SCOPED) here.

(The Charlie Ritenburg Collection)
---
Talent: DON DAYNARD
Station: CHFI Toronto
Date: December 1, 1987
Time: 40:32

Toronto radio legend Don Daynard tells the story of his 1987 leap from CKFM to CHFI...
"After 12 years of a really successful morning show at
CKFM
I was approached by
Tony Viner
,
Sandy Sanderson
and
Paul Fisher
to come over to
CHFI
. We met at my place in Leaside as they didn't want to meet publicly as it might leak out. They laid out the salary and the bonus plan and I left
CKFM
in the fall of 1987. The Slaights had taken over
CKFM
in May of that year and the station began to change musically and some of the vets were fired. People like
Don Cameron
and a few others,
Jerry Bascombe
, etc.
Jerry Good
, a marvellous program director, was passed by for manager when
Bill Ballentine
was let go and replaced by one
John Mackey
.

Started at
CHFI
after a three-month delay forced by my
CKFM
contract.
CHFI
wanted me to appear in the Santa Claus parade that year but
Gary Slaight
brought an injunction I guess you could call it against the station so I didn't do that appearance. We started with an oldies dance on a Tuesday night at the Inn on the Park. That was strange, let me tell you!!"
Enjoy Don Daynard's first CHFI show here.

(The Dave Creelman Collection)
---