Rock Radio Scrapbook

AIRCHECK OF THE WEEK
For weeks of March 7-14, 2010
Weekly issue #571
Talent: DENNIS BELL
Station: CFOX Montreal
Date: April 27, 1972
Time: 4:10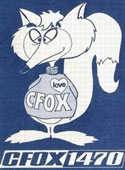 (CFOX mascot Charlie Fox/Courtesy Marc Denis)
It debuted a few days after Elvis Presley left the army, and closed down a month after he died. In between, 1470 CFOX entertained for 17 memorable years on the Montreal radio dial.
The 1470 CFOX era began with test broadcasts at 8 p.m. on March 15, 1960. The next day at 6 a.m., founder/co-owner/original morningman Gord Sinclair (Jr.) and Lakeshore Broadcasting officially launched 1470 CFOX as "Lakeshore Family Radio". An unforgettable era in Montreal broadcasting history would follow. For the full story, click here.
CFOX signed off forever on September 15, 1977, and for a time its spot on the dial was taken by all-news CKO, which itself left the airwaves in 1989. There is silence at the 1470 dial spot in Montreal now, and the old studios at 203 Hymus Boulevard, Pointe-Claire, Que., are long gone. But the memories of 1470 CFOX live on...
We'll leave the last word to Marc Denis...
''I have worked on-air on many Montreal radio stations over the decades, English and French, but 1470 CFOX was not one of them. Mind you, my own broadcasting career start was just a couple of years away during the station's Golden Era of The Sixties. But I was a listener and a fan...and lived only a few blocks away. It was the little radio station in suburban West Island Pointe-Claire that could...and did. Big time. The "Fox" had inspired....and will never be forgotten.

Marc Denis, host & curator, Montréal
The 1470 CFOX Montreal Radio Archive
The 980 CKGM Super 70s Tribute Pages


Enjoy Dennis Bell on 1470 CFOX here.
(The Donald Major Collection via Marc Denis)

More 1972 airchecks here!
---
Subject: WCFL JOCKS SAY GOODBYE
Station: WCFL Chicago
Date: March, 1976
Time: 6:25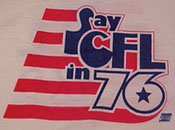 It was the day the music died in Chicago.
On March 15, 1976 - to the chagrin to its many dedicated fans (but too few as it turned out) - WCFL switched from Top 40 to beautiful music. WCFL began playing hit music in 1965 and for many years stood as a formidable rival to Chicago Top 40 giant WLS. But failing ratings forced a change, and all the jocks left except for Larry Lujack (Bob Dearborn was asked to stay on, but declined.)
To its credit, the station allowed the deejays to say goodbye. On this aircheck, you'll hear farewells from Jim Bernard Hebel, Tim Kelly, Dick Shannon, Michael Scott and Bob Dearborn. Larry Lujack, the only deejay to stay on, delivers his "Farewell Address to the Nation."

The final WCFL lineup
6-10 a.m. - JOHNNY DRISCOLL
10 a.m.-2 p.m. - BOB DEARBORN
2-6 p.m. - LARRY LUJACK
6-10 p.m. - TIM KELLY
10 p.m.-2 a.m. - MICHAEL SCOTT
2-6 a.m. - DICK SHANNON
Weekends - JIM BERNARD HEBEL
Format changed to beautiful music at 7 p.m., March 15, 1976

Hear the WCFL deejay goodbyes here.
(Scrapbook archives)
More goodbye airchecks here!

Download your free RealPlayer SP
to hear the Aircheck of the Week via your PC, iPod/iPhone or Blackberry

Click here for technical help
---