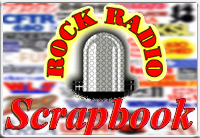 AIRCHECK OF THE WEEK
Edition #1087
Week of April 12, 2020


Talent: JERRY FARRELL
Station: WGR Buffalo, N.Y.
Date: April 11, 1976
Time: 13:18



It was one of America's original radio stations. It was also one of America's most original radio stations.
WGR went on the air in 1922, one of the first radio stations in the United States. After 50 years as a full service station broadcasting everything from radio dramas to homemaker shows,
WGR
became a full-time contemporary music station in 1972, with a generous dash of oldies and a leaning toward middle of the road music. They played

Abba, ZZ Top and everything in between. It was an interesting mix that reflected the programming genius of long-time PD

Larry Anderson.

Some of Buffalo's most legendary personalities worked at
WGR
during its heyday as a contemporary music station from 1972 to 1989. Stan Roberts, George Hamberger and

Tom Shannon all did stints in morning drive, with Andersen,

Joe Galusky and

Craig Matthews appearing in middays during that period. The witty

Frank Benny did afternoon drive during much of WGR's Top 40 era, and the outspoken

Shane (a.k.a.

Ron Gibson) was the station's early evening dee-jay of record during the golden years. Veteran talk show host John Otto was a late-evening mainstay as was

Tom Donahue. A variety of hosts - including Hank Nevins and

Jim Scott handled overnight duties. Weekenders included

Jerry Reo and the late

Mike Rohzman.

One of WGR's most remembered personalities never held a Monday-Friday shift there. Jerry Farrell had a full-time job at the Niagara Falls Power Authority during the week and only had time for weekend broadcast week. But he made the most of it during his years at WKBW and
WGR
.

About a year after this tape was made, Farrell died of a heart attack at age 46. Here he is on April 11, 1976 in a classic aircheck from
WGR
, "Great Radio."
Enjoy Jerry Farrell on WGR here.




(The Robert F. Skurzerski Collection)




Rock Radio Scrapbook pays
music licensing fees to the
Society of Composers, Authors and Music Publishers of Canada (License 22-F)


The Aircheck of the Week PREVIEW!



We're previewing the Aircheck of the Week on Facebook. Every Friday, we post the audio link to the Aircheck of the Week on Facebook with the full feature to follow on Sunday as usual.
---