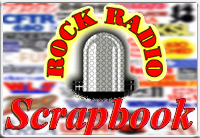 AIRCHECK OF THE WEEK

For week of April 2, 2017
Edition #931

Now in both Real Audio and MP3!


Talent: RED ROBINSON
Station: CISL Vancouver
Date: August 26, 1994
Time: 46:19 (unscoped)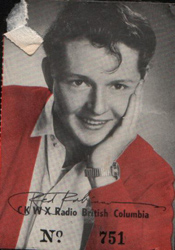 "We were all kids having fun." - Red Robinson
Bill Haley recorded Rock Around the Clock." Elvis Presley got radio airplay for the first time. It was 1954, rock 'n' roll had arrived and so had Red Robinson.
Born Robert Gordon Robinson in Comox, B.C., March 30, 1937, the person we know as Red Robinson got the radio bug early. In 1952, he phoned CJOR deejay Al Jordan on the air with a Jimmy Stewart impression, then followed that a week later with a Humphrey Bogart imitation. Impressed by his enthusiasm, Jordan invited the young Robinson to write scripts and do some production for his show. One day, CJOR program director Vic Waters asked Robinson if he wanted to go on the air. Waters says the young deejay-to-be "leaped across the control room, sat down and ... never looked back." On November 12, 1954, Robinson opened his first CJOR air shift with Marie by the Four Tunes.
Before long Robinson was commanding killer ratings at CJOR - a 52 share at one point - as the first deejay to play rock 'n' roll on a regular basis in Canada. He did three shows a day for the princely sum of $35 a week. In 1957 - lured by a $22,000 a year offer - he moved to Vancouver Top 40 giant CKWX. Robinson then went stateside in 1959 to KGW Portland, Ore., where he also did TV for the first time at KGW-TV. Robinson did a six-month stint in the U.S. Army before returning to Vancouver in 1961 at CKWX. From 1962 to 1967, he was program director at CFUN, which he turned it into one of Canada's leading Top 40 stations.
While at CFUN, Robinson got to introduce the Beatles in 1964 on the very Empire Stadium stage where he had MC'ed Elvis Presley's Vancouver appearance seven years earlier. From 1963 to 1966, he also hosted CBC-TV's Let's Go, which featured some of Canada's best popular music acts.
Robinson returned to CJOR in 1968 as operations manager and in 1969 founded Trend Advertising (later Palmer Jarvis Advertising.) He made another return, to CKWX, where he did mornings until 1983 and also did an oldies show called Teen Diner 54-84 in 1984. Returning to the small screen, he hosted the CBC program Trivia in 1979-80.
From 1985 to 1993, Robinson was heard across Canada via the syndicated oldies show Reunion. He returned to television again in 1989, hosting "Red's Classic Theatre" on KVOS-TV Bellingham, Washington, until 2001.
Robinson's final weekday radio gig was morning drive at Vancouver's CISL from 1993 until his "retirement" in 2000. From 2001 to 2007, he hosted the weekly oldies show Red Rock Diner on CISL. In 2007, he moved Red Rock Diner to CKCL Vancouver where for the first time in his 50-year-plus career he was on FM. The Red Rock diner moved back to CISL in 2011. As of March 30, 2017 - his 80th birthday - he was still doing the Red Rock Diner every Sunday on CISL.
Robinson's many honours include being named to the CAB Hall of Fame in 1997 and also being included in the deejay section of the Rock and' Roll Hall of Fame. He was the second inductee to the Record Magazine's Broadcaster Hall of Fame in 1991. In 2000, Robinson was named to the Rockabilly Hall of Fame. In 2016 he received the Order of British Columbia, the province's highest honour.

Enjoy Red Robinson on CISL here.



Enjoy Red Robinson on CISL here.

(The Dan Haber Collection)

More 1994 airchecks here!




Rock Radio Scrapbook pays
music licensing fees to the
Society of Composers, Authors and Music Publishers of Canada (License 22-F)


The Aircheck of the Week PREVIEW!



We're previewing the Aircheck of the Week on Facebook. Every Friday, we post the audio link to the Aircheck of the Week on Facebook with the full feature to follow on Sunday as usual.

Download your free RealPlayer
to hear the Aircheck of the Week via your PC or mobile device

Click here for technical help

---