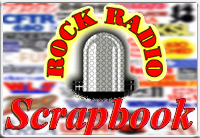 AIRCHECK OF THE WEEK
Edition #986 - Week of April 22, 2018

Talent: ROGER ASHBY & MIKE HOLLAND
Station: CHUM Toronto
Date: April 26, 1985
Time: 1:06:20 (unscoped)
47:56 (scoped)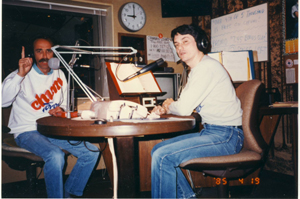 (Mike Holland (left) and Roger Ashby/The CHUM Archives/Doug Thompson)
For nearly three decades, CHUM's morning show was always a solo act. But that all changed in the mid-'80s when Mike Holland joined Roger Ashby in AM drive.
Holland arrived at CHUM in early afternoon in 1978, sandwiched on the schedule between Terry Steele and John Majhor. He was later partnered on the morning show with Ashby, who had replaced Tom Rivers in mornings in 1982 and had been at the station for a decade-and-a-half. The duo didn't stay together very long - by the fall of 1985 Ashby moved to the CHUM-FM morning show and Majhor joined Holland for a short time in the morning show.
These were the dying days of CHUM's hit music format - they switched to a light rock format as "Favourites of Yesterday and Today" in June 1986. Holland moved to the 6-9 p.m. shift at that point and was gone from the station the next year. Holland retired from radio and returned to his home state of Connecticut to focus on his musical career as Michael Bouyea. Prior to CHUM, the Vietnam veteran was at KXYZ Houston and three Connecticut stations - WDRC Hartford, WCCO Waterbury and WAYZ New Haven. Two of his songs made the CHUM Chart - "Do You Want Love" in 1981 and "We Got the Blue Jays" in 1985.

Enjoy Roger Ashby and Mike Holland on CHUM (UNSCOPED) here.

Enjoy Roger Ashby and Mike Holland on CHUM (SCOPED) here.

(The CHUM Archives/Doug Thompson)




Rock Radio Scrapbook pays
music licensing fees to the
Society of Composers, Authors and Music Publishers of Canada (License 22-F)


The Aircheck of the Week PREVIEW!



We're previewing the Aircheck of the Week on Facebook. Every Friday, we post the audio link to the Aircheck of the Week on Facebook with the full feature to follow on Sunday as usual.
---
RETURN TO ROCK RADIO SCRAPBOOK