Rock Radio Scrapbook
The CHUM Archives, Part 2 (The 1970s and beyond)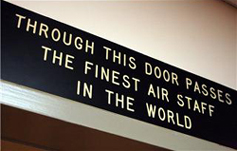 (Photo courtesy Lawrence Chui)

In October, 2003, legendary CHUM deejay Bob Laine retired after 45 years with CHUM Ltd. But he didn't have to go far for his next project. Laine - with the help of long-time producer Doug Thompson - soon began the lengthy but fascinating task of sifting through CHUM's enormous archives, dating back to the station's beginning as a Top 40 station in 1957. It has been a labour of love, and very fruitful.
What Laine and Thompson have found is a treasure trove of airchecks, jingles, photos and other material from CHUM's Top 40 era. They have been very generous in donating these new finds here in The CHUM Archives on Rock Radio Scrapbook, Canada's Aircheck Archive.
So sit back and enjoy - The CHUM Archives, Part 2, the '70s and beyond...

And after you're finished here, please visit...

The CHUM Archives Part 1: the 1950s and '60s...

Talent: TOM RIVERS
Station: CHUM Toronto
Date: February 21, 1970
Time: 31:57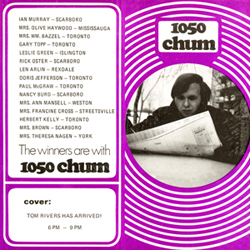 Tom Rivers' first CHUM Chart appearance was February 7, 1970
(Courtesy: Charlie Ritenburg)
It didn't take long for Tom Rivers to find his groove at CHUM.
Rivers is in superb form in this aircheck recorded not too long after he started at the Toronto station. Personality, energy, timing, Big Tom has it all. But there's lots more to like on this great time capsule of the winter of 1970.
You'll hear ads for Kentucky Fried Chicken, Doublemint Chewing Gum, Club Riviera, Rumble Pontiac-Buick ("Ramble into Rumble, you'll see!") and Jordan Wines among others. Newscaster Clifford Fletcher is heard off the top, Rivers does some great live reads (remember when jocks did those?), and you're not going to hear a tighter board.
Remember Bill Dowling's car ads (Crang Plaza at Jane and Wilson)? There's a couple here that will really bring back the memories. They ran for years on CHUM.

Enjoy Tom Rivers on CHUM here.

Enjoy Tom Rivers on CHUM here.

(The CHUM Archives/Bob Laine and Doug Thompson)

Download your free RealPlayer to hear our airchecks

Click here for technical help

---
Talent: TOM RIVERS
Station: CHUM Toronto
Date: March 17, 1970
Time: 10:48
It's St. Patrick's Day, but the other stations are green with envy at the Tom Rivers show on CHUM!
Hear Tom Rivers on CHUM here.
(The CHUM Archives/Bob Laine and Doug Thompson)
---
kTalent: JOHNNY MITCHELL
Station: CHUM Toronto
Date: April 23, 1970
Time: 14:54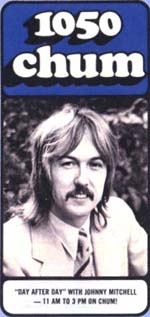 (Chart scan courtesy Bill Dulmage)
Johnny Mitchell was CHUM's first midday jock of the '70s, having replaced Bob Laine in January, 1970. Mitchell spent a couple of years in the 11 a.m.-3 p.m. slot at CHUM, before moving to points south and changing his on-air name to Sonny Fox. His other rock radio stops include KHJ Los Angeles, KCBQ San Diego, WRNO New Orleans, WYSP Philadelphia, WHYI Miami and KHYI Dallas.
Hear Mitchell at CHUM here.

Hear Mitchell at CHUM here.

(The CHUM Archives/Bob Laine and Doug Thompson)
---
Talent: TOM RIVERS
Station: CHUM Toronto
Date: April 29, 1970
Time: 26:04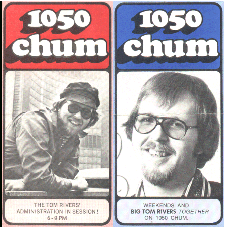 "Lead, follow or get out of the way."
Some people have character. Others are characters. Tom Rivers was both.
So many stories have been told about Shotgun Tom that it's sometimes difficult to separate fact from fiction. But this story has been told so many times - by so many different people - that it just has to be true. Bob Laine tells us about the great "sticker" episode....
"One of the best Tom Rivers at CHUM stories....one day Tom decided to get even with Vice President of Sales Wes Armstrong, who took care of the CHUM parking lot...and who parked in it. Wes had stickies made up that said "You have parked in a restricted area. Do not park here again." Tom made a habit of parking in "Wes' lot" and continually received stickies on his window...usually on the driver's side and in the line of vision. The stickies were also very, very difficult to get off. So...Tom got his hands on a bunch of Wes' stickies and told a bunch of us that it was get even time. But..Wes heard too and waited for Tom on the roof of the station, hidden from sight..waiting for Tom to park in the lot
Tom was forewarned before he arrived at work that Wes was on the roof. So, Tom parked in his normal place, phoned the station and asked for Wes, announcing this was a personal, family matter. Wes' secretary ran to the roof to get him and Wes left to get the phone call. As soon as Wes moved, Tom ran into the lot and plastered Wes' car windows with the stickies...and let the air out of Wes' tires and was out of there before Wes got back to his spot on the roof...knowing he had been duped because no one was on the phone when he got to it. Tom got even and this story lives on forever. Tom even related this story at the service for Wes after he passed away."
Enjoy this classic aircheck of Tom Rivers here.
(The CHUM Archives/Bob Laine and Doug Thompson)
SPECIAL RECOLLECTIONS OF TOM RIVERS
This very special broadcaster, husband and father died November 20, 2004. You can read some special recollections of Tom Rivers here.
---
Talent: CHUCK McCOY
Station: CHUM Toronto
Date: June 1, 1970
Time: 8:26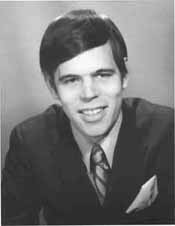 (Courtesy Bill Dulmage)
How do you replace a legend? That was the question Chuck McCoy faced in February, 1969 when he took over from Jack Armstrong in the coveted 7-11 p.m. shift at CHUM. Not only that, but McCoy was stepping into a time slot that had previously been occupied by Brian Skinner, Dave Johnson and for a time, Dick Clark. But McCoy did just fine, to say the least, staying in evenings at CHUM for several years until departing for a very successful career in radio management.
"The Chucker" started in radio in 1965 as a jock at CKY Winnipeg. He was Merv Clark at CKY, but changed his name to Chuck McCoy when he moved to CJME Regina in 1966 (Chuck came from deejay Chuck Dann, McCoy came from the group that had the hit Hang on Sloopy).
McCoy went CJRN Niagara Falls, Ont., later in 1966, then to CHLO London, Ont., in 1966 and 1967. He was at Toronto's CKFH in 1968 before moving to CHUM and taking over Armstrong's shift. After leaving CHUM, he headed to CFUN Vancouver in 1973 where as PD he helped that station to the top spot in the market. From there he moved to Winnipeg, where in 1979 he began a seven-year stint as National Program Director for Moffat Communications. After, four years as a partner with McCoy Bohn Media, McCoy began a long career in management for Rogers Communications in the early '90s.
In his tenure at Rogers, McCoy has been general manager for Vancouver stations CKWX and 97 KISS FM, VP and GM for CHFI, KISS 92, 680 News and the Fan 590 in Toronto, and executive VP, programming and marketing for all the Rogers radio stations. In addition, McCoy has served on the board of several industry stations. In 2009, McCoy received the Lifetime Achievement Award in the Canadian Music Week Hall of Fame. He was also inducted into the Canadian Music Industry Hall of Fame.
Rock Radio Scrapbook presents Chuck McCoy here.
(The CHUM Archives/Bob Laine and Doug Thompson)
---
Talent: CHUCK McCOY
Station: CHUM Toronto
Date: June 16, 1970
Time: 8:21
The exact middle of CHUM's 29-year run as a Top 40 station would be sometime in late 1971. This aircheck, from mid-1971, shows us how CHUM sounded around the mid-point of its Top 40 days.
Chuck McCoy was one of Canada's leading Top 40 deejays in the '60s and '70s, with stints at CKY Winnipeg (1965), CJME Regina (1966), CJRN Niagara Falls, Ont. (1966), CHLO St. Thomas, Ont. (1966-67), CKFH Toronto (1968) and CHUM (1968-1973).
Enjoy Chuck McCoy on CHUM here.
(The CHUM Archives/Bob Laine and Doug Thompson)
---
Talent: CHUCK McCOY
Station: CHUM Toronto
Date: July 6, 1970
Time: 9:20
Chuck McCoy had great timing, wit and energy (he reminds us a little of Charlie Tuna.) See for yourself on this wonderful aircheck from the summer of 1970.
Enjoy Chuck McCoy here.
(The CHUM Archives/Bob Laine and Doug Thompson)

---
Talent: TOM RIVERS
Station: CHUM Toronto
Date: December 5, 1970
Time: 9:41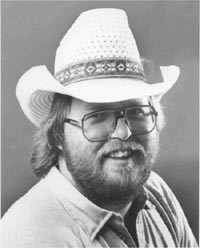 Tom Rivers and Brian Williams on the same station? On a Saturday night? Not possible you say. But it happened at CHUM in the early '70s.
The Tom Rivers story is well-documented. Rivers established himself as a true CHUM legend over the years, with about a half-dozen tours of duty at the Toronto Top 40 powerhouse, including stints in both morning and afternoon drive. But Williams' involvement with CHUM is not as well known.

Before going on to fame and fortune as a CBC and CTV sports announcer, Williams indeed worked for a while as a newsman at CHUM. And if you tuned into CHUM on the first Saturday of December, 1970, you would have heard both Rivers - the deejay legend - and Williams - the sportscasting icon. And we have the tape to prove it!
Hear Williams and Rivers from December 5, 1970 here.
(The CHUM Archives/Bob Laine and Doug Thompson)
---
Talent: CHUCK McCOY
Station: CHUM Toronto
Date: August 10, 1971
Time: 6:55
Ever wondered how many jocks worked at both CHUM and its Top 40 competitor CKFH? Our research has uncovered at least six.
First to complete this Toronto radio "twin-spin" was Chuck McCoy. The "Chucker" took over middays at CKFH in late '67-early '68 after Dan O'Neil left. McCoy vacated 'FH to move to CHUM's 7-11 p.m. slot following the departure of Jackson Armstrong in February, 1969. He stayed at CHUM until 1972.
John Rode became CKFH's morning man in 1969, replacing Don Daynard. In 1970, Rode moved over to CHUM and was there on and off for about three decades.
Duff Roman arrived at CHUM as weekender in 1965 and was doing early afternoons when he departed the station in 1968. By the fall of 1969, he was doing noon-3 p.m. at CKFH, moving to mornings in 1970 and staying at the Big 143 until at least 1971.
J. Michael Wilson did afternoon drive at CHUM from the fall of 1968 to early 1971. He did a Saturday morning shift at 'FH for a short time in 1971 before leaving the Toronto scene.
Also on the list is Terry David Mulligan, who was on CHUM weekends for a time in 1968 and then was heard on CKFH in the late-night Open Lid show in 1969.
Finally, the late Terry Mann also jocked at both CHUM and CKFH, but we're unsure of the dates.
We welcome any more names that should be added to the list.
Enjoy Chuck McCoy on CHUM here.
(The CHUM Archives/Bob Laine and Doug Thompson)
---
Talent: JIM VAN HORNE
Station: CHUM Toronto
Date: June, 1973
Time: 5:43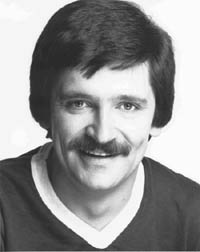 When Jim Van Horne came to CHUM in 1973, he joined one of the most impressive rosters in the history of Top 40 radio.
CHUM's day started with long-time morning man Jay Nelson (5-9 a.m.). In 1973, Nelson would mark his 10th year in morning drive at CHUM after coming north from Buffalo's WKBW in 1963. He would continue at CHUM until December, 1980 - a remarkable 17-year run. After several Toronto radio and TV stops in the 1980s and '90s, Nelson died in 1994.
Late mornings (9 a.m.-noon) were the preserve of Roger Ashby. The long-time host of the "Sunday Morning Oldies Show" arrived at CHUM from CKOC Hamilton on the all-night show in 1969. He moved to middays in 1972. In 1985, Ashby switched over to CHUM-FM for a very long and successful run in mornings.
Jim Van Horne started in radio in 1971 at CKMP Midland, Ont. He began a seven-year-run at CHUM in April, 1973, and held down the early afternoon (noon-3 p.m.) shift in June of that year. In 1984, Van Horne began a 17-year run as anchor at The Sports Network (TSN). Following a return to CHUM during its short-lived sports format (2001-02), he anchored on Rogers Sportsnet.
Terry Steele arrived at CHUM in 1972 and stayed until 1987. In 1973, "The Bear" was doing early afternoons (noon-3 p.m.) at CHUM. Steele also jocked at Toronto stations CKFM, CKEY and CJEZ before passing away in 1994.
Tom Rivers did several tours of duty at CHUM. In 1973, he held down the early evening (6-9 p.m.) shift there. Rivers died of cancer in 2004 after a memorable career that saw him work at such stations at CKLW Windsor, WIBG Philadelphia, KYA San Francisco and Toronto's CFTR. He was named to the Canadian Association of Broadcasters (CAB) Hall of Fame in 2005.
Scott Carpenter held down late evening duties (9 p.m.-midnight) at CHUM in June, 1973. The "Boogieman" arrived at CHUM from CKLW in 1971 and stayed at 1050 until the end of 1977. He later moved on to stations in Baltimore, Los Angeles, New York and Washington, D.C., before taking a job with the U.S. Department of Energy. He returned to CHUM with a Saturday evening show from 2007 to 2009.
Pat St. John did the all-night show (midnight-5 a.m.) at CHUM in June, 1973. Not to be confused with the Pat St. John of CKLW, WKNR, WPLJ and WNEW-FM fame, this Pat St. John was later president of Giant-FM in Welland, Ont.
Enjoy Jim Van Horne on CHUM here.
(The CHUM Archives/Bob Laine and Doug Thompson)
---
Talent: GARY GEARS
Station: CHUM Toronto
Date: December 16, 1973
Time: 31:54

He had a big voice, and a talent to match, and he was on CHUM.
Back around 1973, Gary Gears was jocking at WCFL Chicago but, as long-time CHUM production whiz Doug Thompson tells us, he would occasionally would fly up to Toronto to do weekend shifts on 1050. Thompson says Gears would also record liners during his Toronto visits (he was the imaging voice of CHUM for a couple of years.)
Gears spent most his career in Chicago, with stints at WCFL, WLS, WIND, WJEZ, WJJD, WKQX, WMAQ, WRQX and WDAI (where he was known as Gary Wallace.) He served in the U.S. Armed Forces and was heard on AFN Vietnam. After he left the service, Gears jocked in Minneapolis-St. Paul and then moved to KQV Pittsburgh before moving to Chicago. He also appeared on KISN Portland, Ore., KOIL Omaha, Neb., and also served as the voice of WLS-TV news in Chicago.
In addition to being a jock, Gears was a top commercial voice, appearing in spots for Sears Auto Centers, Tuna Helper, Dial Soap, Cheer and many others. He was also did the "Ho Ho Hos" on the Green Giant commercials.
Gears died of a heart attack February 17, 1991. He was 46.

Enjoy Gears - and Peter Ray with the news - on CHUM here.

Enjoy Gears - and Peter Ray with the news - on CHUM here.

(The CHUM Archives/Bob Laine and Doug Thompson)
---
Talent: SCOTT CARPENTER
Station: CHUM Toronto
Date: September 14, 1974
Time: 10:26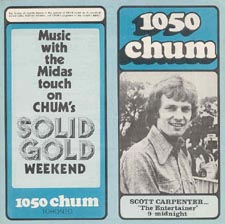 It was Top 40 radio electricity.
In his six years at CHUM (1971-1977), Scott Carpenter put so much energy into his shifts he probably covered the station's electric bill! Carpenter did every show - every BREAK! - with sheer joy and excitement. It's hard to imagine anyone having more fun on the air.
Carpenter arrived at CHUM in 1971 from CKLW, where he used the air name Dean Scott. Originally assigned to weekend duty, Carpenter later moved to the important 9 p.m.-midnight slot, a shift he held throughout the bulk of his CHUM career.
After leaving CHUM at the end of 1977, Carpenter went on to successful stints in New York, Los Angeles, Tucson, Ariz., Baltimore and Washington, D.C., en route to becoming one of the top country music deejays in the U.S. More recently, he has been working as a Systems Administrator at the U.S. Department of Energy. But we'll always remember him as the "Boogie Man," from his glory days at CHUM.
Hear Scott Carpenter on CHUM here.
(The CHUM Archives/Bob Laine and Doug Thompson)
---
Talent: SCOTT CARPENTER
Station: CHUM Toronto
Date: September 29, 1974
Time: 14:27
In the wake of the success of the movie 'American Graffiti', 1050 CHUM decided to start its own radio version. Fittingly called Canadian Graffiti, this Sunday night program brought back all the great oldies of the '50s and '60s, along with the fabulous PAMS jingles that had enhanced CHUM's programming in years gone by. In addition, host Scott Carpenter had fun with it, making it sound as much as possible like a '50s and '60s radio show with listener call-ins and a lively, personality approach. Terry Steele and Jim Van Horne filled in from time to time, as did the legendary Wolfman Jack.
Scott comments on Canadian Graffiti.
Enjoy Scott Carpenter on CHUM here.
(The CHUM Archives/Bob Laine and Doug Thompson)
---
Talent: SCOTT CARPENTER
Station: CHUM Toronto
Date: October 1, 1974
Time: 8:17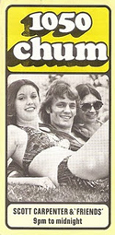 More of Scott Carpenter on CHUM here.
(The CHUM Archives/Bob Laine and Doug Thompson)
---
Talent: JAY NELSON
Station: CHUM Toronto
Date: June 5, 1975
Time: 16:18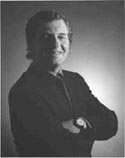 For a rock radio jock to last 17 years at a single radio station in amazing. To spend 17 years in the same shift is stupendous. To survive 17 years in morning drive is truly unbelievable.
Jay Nelson did just that - spending 17 years in mornings at CHUM from December, 1963 to December 24, 1980.
Just how long did Nelson spend at CHUM? To put it in perspective, the same month Jungle Jay did his first CHUM show in 1963, "She Loves You" became the first Beatle record to enter the CHUM Chart, at #42.
He left the station 16 days after John Lennon was murdered.
Hear Jay Nelson from June 5, 1975 here.
(The CHUM Archives/Bob Laine and Doug Thompson)
---
Talent: SCOTT CARPENTER
Station: CHUM Toronto
Date: June 5, 1975
Time: 8:41
It's rare when we get two separate airchecks from the same day at the same station, but such is the case with this aircheck of Scott Carpenter.
Just above in the CHUM Archives, we have Jay Nelson in the 8-9 a.m. hour on June 5, 1975. This aircheck is from later the same day, with Scott Carpenter in the 9-10 p.m. hour.
Jon Belmont does the news then it's "The Boogieman" on CHUM. Hear it here.
(The CHUM Archives/Bob Laine and Doug Thompson)
---
Talent: JAY NELSON
Station: CHUM Toronto
Date: November 20, 1975
Time: 10:53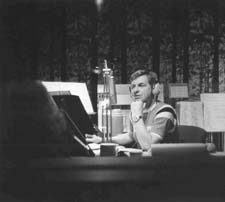 Jay Nelson was a great morning man. But he was also a very proud father.
About 1:34 into this aircheck, Nelson wishes his son Kevin a Happy Birthday. You can really sense the pride in his voice as he tells listeners that Kevin is "going to be a terrific disc jockey." His prediction came true: Kevin Nelson was one of Ottawa's leading morning personalities for years.
Jay also chats with traffic reporter Nanci Krant, who years later would co-host the morning show and also host her own late-night program, Sweet Dreams, on CHUM.
Hear Jay Nelson here.
(The CHUM Archives/Bob Laine and Doug Thompson)
---
Talent: JAY NELSON
Station: CHUM Toronto
Date: January 9, 1976
Time: 13:52
Jay Nelson is known for the time he spent at CHUM and Buffalo's WKBW, but what of the rest of his career?
Born Frank Coxe on July 12, 1936, Nelson's first radio gig was as Frank Jaye at WRIT Milwaukee in 1955. He moved to WARM Scranton, Pa., in 1956 before jocking at WHLO Akron, Ohio in 1957. Nelson arrived at WBNY Buffalo in 1960 and would spent the rest of his career in the southern Ontario/western New York market.
"Jungle Jay" did mornings at WKBW starting in 1961, then moved to Toronto at CHUM in 1963 for 17 years in mornings. He finished his career in Toronto with stints at CITY-TV (as a weather announcer), and CKFM, CHFI, CKEY and CJEZ in the '80s and early '90s. Nelson died January 18, 1994 at the age of 57.
Enjoy Nelson on CHUM here.
(The CHUM Archives/Bob Laine and Doug Thompson)
---
Talent: WOLFMAN JACK
Station: CHUM Toronto
Date: February 22, 1976
Time: 38:13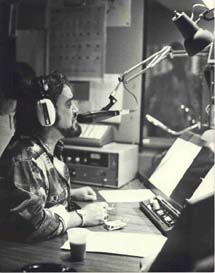 Wolfman Jack made guest appearances on numerous Top 40 stations over the years in addition to his regular radio and TV gigs. In the mid-'70s, the Wolf travelled north of the border to host the Sunday night Canadian Graffiti show on CHUM.
Hear Wolfman Jack on CHUM here.
(The CHUM Archives/Bob Laine and Doug Thompson)
---
Talent: JAY NELSON
Station: CHUM Toronto
Date: March 9, 1976
Time: 6:04
In early 1976, Jay Nelson was still going strong after a dozen years in morning drive at CHUM. And he still had nearly five years to go!
Enjoy Nelson on CHUM from March 9, 1976 here.
(The CHUM Archives/Bob Laine and Doug Thompson)
---
Talent: ROGER ASHBY
Station: CHUM Toronto
Date: August 10, 1976
Time: 56:49 (unscoped)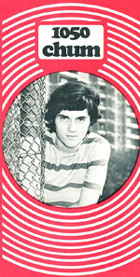 Roger Ashby first appeared on the CHUM Chart September 6, 1969
Roger Ashby may be a big-city jock, but his roots are in smaller locales. The long-time CHUM broadcaster grew up in Brantford, Ont., where he used to broadcast from a mock radio studio in his basement. Only his mother and father could hear his show, but it was a start.
Ashby's first radio job was as an operator at CKKW Kitchener, Ont. In 1967, he landed a weekend on-air gig at CKKW's new FM station, CFCA. Later that year, Ashby - who had planned to go to college - was hired to do all-nights at CKOC Hamilton. So much for college - he was a jock! In 1969, CHUM program director J. Robert Wood offered him the all-night show at the legendary Toronto station. Ashby took the job and within two-and-a-half years landed the shift he had coveted since the age of 10 - middays at CHUM. He held it for several years before moving into programming.
Ashby returned to the air in 1982, when he became a "temporary" replacement on the CHUM morning show. He did the show for three years. The Ashby morning show included the Oldies Hour from 5-6 a.m., an offshoot of Ashby's amazing Sunday Morning Oldies Show which was a CHUM staple from 1980 to 2009.
Ashby did his last CHUM-AM morning show in August 1985, but within a month moved on to another challenge - the morning show at CHUM-FM. Since then, the team of Roger Ashby, Marilyn Denis and Rick Hodge (Darren Lamb since 2008) has created one of the most popular morning shows in Canada.
Enjoy Roger Ashby (with a full newscast by Dick Smyth) here.
(The CHUM Archives/Doug Thompson)



Rock Radio Scrapbook pays
online streaming fees to the
Society of Composers, Authors and Music Publishers of Canada (License 22-F)

---
Talent: DARYL B
Station: CHUM Toronto
Date: August 18, 1976
Time: 59:18 (unscoped)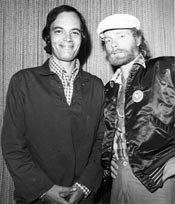 (Daryl B and Mike Love/The CHUM Archives/Doug Thompson)
Daryl B's story is filled with inspiration and tragedy.
One of Canada's most popular deejays, the man born Daryl Burlingame was heard on many of this country's leading rock radio stations. But his career was cut short by post-polio syndrome, and his life ended prematurely by a stroke.
The list of stations Daryl B worked at reads like a who's who of Canadian rock radio. Included are stints at CKLG and CFUN Vancouver, CKY and CKRC Winnipeg, CFQC Saskatoon, CKLW Windsor and CHUM Toronto. Daryl actually had two stints each at CKLG, CFUN and CHUM in a well-travelled career that was far too short.
Daryl B died of a stroke in Winnipeg on February 27, 2001, shortly after learning of the death of long-time friend and fellow broadcaster Rick Honey. He was 58.
Hear Daryl B on CHUM here.
(The CHUM Archives/Doug Thompson)



Rock Radio Scrapbook pays
online streaming fees to the
Society of Composers, Authors and Music Publishers of Canada (License 22-F)

---
Subject: CHUM's 20th ANNIVERSARY REMEMBRANCE
Station: CHUM Toronto (never aired)
Date: 1977
Time: 16:34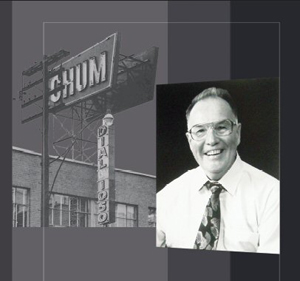 Allan Waters and the famous CHUM sign
"I'm still not sure that we knew exactly what we were doing." - Pete Nordheimer
It never aired on CHUM, but this classic recording is an important part of the Toronto station's audio history.
In 1977, on the 20th anniversary of CHUM adopting a Top 40 format, CHUM founder Allan Waters was presented with this audio recording as a gift from his staff. And what a gift! It contains greetings from many of CHUM's early voices, in the following order and times:
(00:17) - Harvey Dobbs (mid-morning host 1957-58)
(2:36) - Phil Stone (afternoon host 1957-59)
(3:52) - Pete Nordheimer (afternoon host 1957-61)
(5:52) - Bob Laine (all-night host 1958-68; midmornings 1968-69)
(7:01) - Dave Johnson (evening host 1957-65)
(8:39) - Bob McAdorey (afternoon host 1961-68)
(9:15) - Rennie Heard (newscaster)
(11:19) - John Spragge (mid-morning host 1958-68)
(14:25) - Harve Kirck (newscaster)*
(15:10) - Mike Darow (afternoon host 1959-65)
Enjoy this special audio gift to Allan Waters here.
(The CHUM Archives)
*He was Harve Kirck on CHUM and later Harvey Kirck on CTV
(The CHUM Archives)
---
Subject: 9 O'CLOCK ROCK
Station: CHUM Toronto
Date: June 11, 1978
Time: 48:49 (unscoped)

(The CHUM Archives/Doug Thompson)
It was FM-style programming on AM.
From 1978 to 1984, CHUM-AM ran a Sunday night feature show called 9 O'Clock Rock. The program showcased the talents of John Majhor, the CHUM jock (1975-86) who also hosted Canada's first successful music video show, Video Singles, in 1983. 9 O'Clock Rock was an up-to-date look at the entertainment scene that included interviews, features, album reviews, concert previews and entertainment tidbits.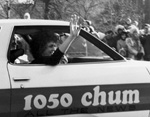 (Mary Anne in the CHUM Cruiser. The CHUM Archives/Doug Thompson)
9 O'Clock Rock debuted on CHUM June 11, 1978 with Majhor and Mary Anne Pervin co-hosting. The first show begins with Majhor interviewing singer Jackson Browne. Mary Ann then interviews Irv Ivers of Columbia Pictures about rock movies. That's followed by a concert preview with CPI's Donna Loux, then Majhor interviews John Gibb of the Battered Wives in a segment on punk rock. Majhor looks at the top selling singles and new album releases, Mary Ann reviews "The Omen II" and the program wraps up with a smorgasbord of entertainment shorts called Grapevine.
Enjoy the very first edition of 9 O'Clock Rock on CHUM here.
(The CHUM Archives/Doug Thompson)



Rock Radio Scrapbook pays
online streaming fees to the
Society of Composers, Authors and Music Publishers of Canada (License 22-F)

---
Talent: RICK MORANIS
Station: CHUM Toronto
Date: September 2, 1978
Time: 4:34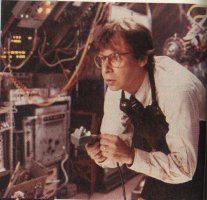 Rick Moranis was one of Canada's top comedic actors of the late 20th century, with roles in such movies as Honey, I Shrunk The Kids, Spaceballs, Strange Brew and The Flintstones. But did you know that early in his career he was a disc jockey? Moranis, who used the name Rick Alan (his middle name was Alan) on the air, did the all-night shift at CFTR Toronto in the early 1970s and later had a weekend gig at CKFH Toronto. By the end of the decade, Moranis was doing air shifts at CHUM and CHUM-FM. After working as a solo standup comedy act, he joined Second City in Toronto and joined the SCTV comedy troupe in 1980. The rest as they say is history.
Enjoy Rick Moranis (Rick Alan) on CHUM here.
(The CHUM Archives)
---
Talent: JAY NELSON (last show)
Station: CHUM Toronto
Date: December 24, 1980
Time: 42:59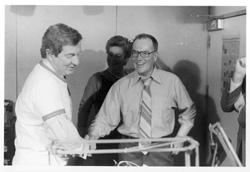 Jay Nelson with Allan Waters (The CHUM Archives)
"I just want to say thank you, and goodbye."
He arrived in a blaze of publicity and left the same way.
Jay Nelson debuted as CHUM's morning man in December, 1963, and did his final show on the Toronto station on Christmas Eve 1980. In both instances it was major news. Nelson had big shows to fill when he replaced Al Boliska, who had been CHUM morning personality since 1957 and was departing for rival CKEY. Nelson had come over from Buffalo, N.Y.,-blowtorch WKBW, after previously jocking at WRIT Milwaukee, WARM Scranton, Pa., WHLO Akron, Ohio and WBNY Buffalo. His arrival was trumpeted on the CHUM Chart for weeks and Nelson didn't disappoint once he got to CHUM, commanding high ratings throughout his amazing 17-year stay on the morning show.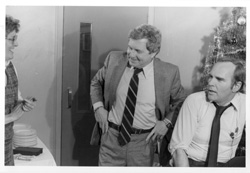 Jay Nelson with Dick Smyth (The CHUM Archives)
CHUM gave Nelson a great farewell when the popular jock departed the station in December, 1980. Former CHUM jocks Bob McAdorey and Duff Roman made live appearances, as did former CHUM sportscaster Brian Williams. Ottawa newscaster Hal Anthony and CHUM jock Mike Holland participated by phone. Numerous TV and print journalists were on hand to record the end of a broadcast era and Nelson's emotional farewell.
After CHUM, Nelson went on to become the weatherman at CHUM-owned CITY-TV in Toronto. He jocked at Toronto stations CKFM, CHFI, CKEY and CJEZ in the '80s and early '90s before passing away February 18, 1994 at the age of 57. But he'll always be best remembered for his many years at CHUM.
Hear Jay Nelson's final CHUM show here.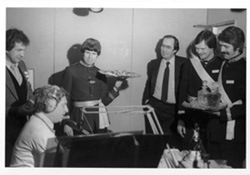 Jay Nelson with Duff Roman (centre right) (The CHUM Archives)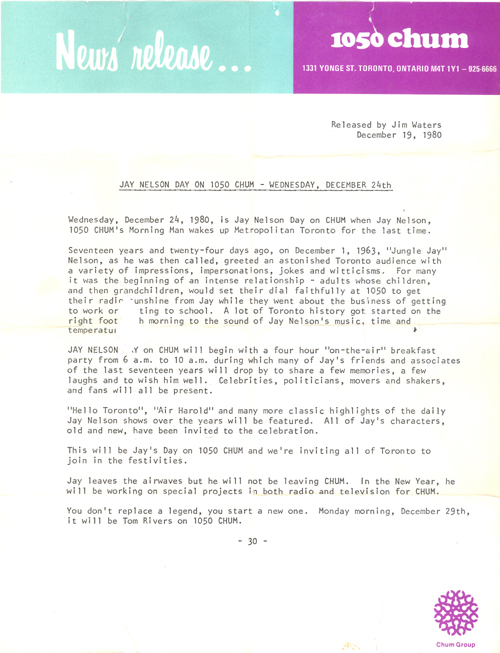 (The CHUM Archives)
(The CHUM Archives/Bob Laine and Doug Thompson)
---
Talent: ROGER ASHBY
Station: CHUM Toronto
Date: August 2, 1985
Time: 9:10
Roger Ashby is known as co-host of CHUM-FM's successful morning show, but before that he was the morning jock on the AM side.
Ashby, who started at CHUM in 1969, began hosting the CHUM-AM morning show as a "temporary replacement" in 1982. He did that for three years before starting in mornings at CHUM-FM. Since then, the trio of Ashby, Marilyn Denis and Rick Hodge (Darren Lamb since 2008) have hosted one of Canada's most popular morning shows.
Enjoy Roger Ashby's final CHUM-AM morning show here.
(The CHUM Archives/Bob Laine and Doug Thompson)
---
Talent: BOB MAGEE
Station: CHUM Toronto
Date: October 18, 1985
Time: 46:15 (unscoped)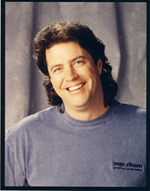 (Courtesy Doug Thompson/CHUM Archives)
Bob Magee not only jocked at CHUM, he did so in three different formats.
After stops at CKPG Prince George, B.C., CHED Edmonton and CKVN Vancouver, Magee did his first tour of duty at CHUM in 1972-73 when it was a Top 40 station. He then flipped back and forth from CHUM and CFUN Vancouver a couple of times before returning to CHUM in 1978 to do evenings then afternoon drive. Magee stayed on when CHUM began its "Favourites of Yesterday and Today" light rock format in 1986. He took over mornings with co-hosts Samantha Houston and Robbie Evans when CHUM went oldies in 1989. After the trio were let go in 1999 he began a 10-year stay at Toronto light rock outlet CHFI. Magee resurfaced at Hamilton's Vinyl 95 (CING-FM) in 2010, co-hosting the morning show with Corrie Miller for 18 months. Magee, who was once married to television personality Jeanne Beker, is now a voice actor based in Toronto.
Magee shares the distinction of jocking at CHUM in three different formats with Russ McLeod, Gregg Lee and Jack Dennis. McLeod was at CHUM from 1984 to 2001, encompassing all three music formats (Top 40, Favourites of Yesterday and Today, and oldies). Lee also jocked in all three formats as he was at CHUM from 1982 to the mid-'90s. Dennis started at CHUM when they were Top 40 in 1982, appeared on the station during the "Favourites of Yesterday and Today" era, and did oldies at CHUM until the mid'-90s.
Enjoy Bob Magee on CHUM here.

Enjoy Bob Magee on CHUM here.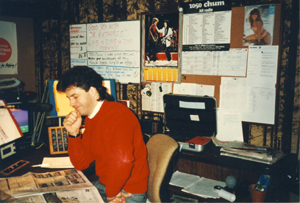 (Courtesy Doug Thompson/CHUM Archives)
---
Talent: DICK SMYTH
Station: CHUM Toronto
Date: April 10, 1987
Times: Various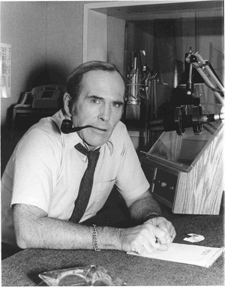 (Courtesy: The CHUM Archives/Bob Laine and Doug Thompson)
At his retirement dinner in 1997, Dick Smyth was lauded as "a Canadian broadcasting giant, a legend, a true original."
Truer words have never been spoken.
For more than half-a-century, Smyth has done it his way, with award-winning newscasts and commentary. His commentary intro - "Here's how things look to Dick Smyth this morning" - is one of the most memorable signatures in the history of Canadian radio.
Dick tells Rock Radio Scrapbook about his early days in radio, how he arrived at CHUM, and how his commentaries got started...
"I first was on radio with a children's theatre group on CFCF Montreal. I played the giants and the ogres because I had the right voice for it. My first paid job - a magnanimous $35 a week - was at CKSF (now CJSS) Cornwall. I worked during the summer then commuted on weekends from Montreal. My dad was with CPR and I rode the train for free. And, in those days, there were plenty of trains.

I then went to CKLB Oshawa, CHML Hamilton, CKSL London and then CKLW. I was at CKLW from 1956 to 1969 which makes it 13 years. CHUM had tried to hire me to do morning news. I told them when they wanted a news director, I might be interested. Eventually they did, the situation at LW was shaky because of the forced sale by RKO General - I was looking for an out - so when CHUM came back, I said yes.

At one point I had really wanted to go to California and almost took jobs in Cincinnati and Pittsburgh as stepping stones. Then I came "that close" to going to KFI in Los Angeles. (Often wonder how things would have turned out if the deal hadn't fallen through.) I did some commentary on CKLW-FM in Windsor which in those days had an audience of zilch. CHUM had had a tradition of commentary with Bill Drylie --- always regret never having met him --- and after I got settled in, I started doing daily comment on CHUM.

I had always wanted to get into TV but never was able to in Windsor. (I did do some TV reporting, usually in tandem with what I was covering for radio.) When CHUM acquired CITY, I lobbied for a shot at TV and I started doing nightly TV comment."
Smyth started at CHUM July 7, 1969. His hard-driving style was perfect for CHUM's energetic Top 40 format, and for nearly 18 years he entertained, informed and sometimes infuriated listeners with his newscasts and commentary (he was never shy with his opinions). He left for CFTR in 1987 and did the first newscast when the station launched as 680 News in 1993. Smyth retired from 680 News and full-time newscasting in 1997 and spent a year freelancing at CFRB Toronto. As of 2009, Smyth was still doing daily commentary on several Ontario stations including "The Moose" in Bracebridge, Ont., and AM 640 (CFMJ) in Toronto. Much more on Smyth including his many awards, his TV work and his life in Muskoka here.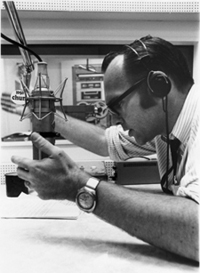 (Courtesy: The CHUM Archives/Bob Laine and Doug Thompson)
We have all of Smyth's newscasts from his last day at CHUM, including his final commentary.
Hear Smyth's final 6 a.m. newscast here. (8:32)
Hear Smyth's final 7 a.m. newscast (and final commentary) here. (7:25)
Hear Smyth's final 8 a.m. newscast here. (9:11)
Hear Smyth's final 9 a.m. newscast (and final CHUM newscast ever) here. (6:35)
(The CHUM Archives/Bob Laine and Doug Thompson)
---
Talent: MARC CHAMBERS
Station: CHUM Toronto
Date: July 30, 1993
Time: 35:00

CHUM was hot in the summer of '93, and a listen to this aircheck will show you why. Everything about it is tight and bright, and it's also live and local with lots of listener interaction. What's not to like?
CHUM introduced an oldies format on Labour Day weekend in 1989, ending a three-and-a-half year experiment with soft rock, which followed its 29 years as a Top 40 station. In 1993, the jock lineup included Bob Magee, Samantha Houston and Robbie Evans in mornings, Gregg Lee in middays, Dan Michaels in afternoon drive, Russ McCloud in early evenings, Andy K. in late evenings and Kori Skinner (Brian Skinner's son) or Jack Dennis on the all-night show. Other jocks included John Rode, Marc Chambers (he fills in for Michaels on this aircheck), Marc Paine and Roger Ashby (with the Sunday Morning Oldies Show).
The news department was solid with Brian Henderson, Mike Cleaver, Paul Cross, Dan Blakely, Doug Beaumont, Scott Robbins, Richard Maxwell and Rob Valentine with traffic. Add in Charlie Van Dyke's imaging, plus CHUM's tight production and killer jingles, and you had quite a memorable station.
Enjoy Marc Chambers on CHUM here.
(The CHUM Archives/Bob Laine and Doug Thompson)
---
Talent: BRIAN HENDERSON
Station: CHUM Toronto
Date: August 12, 1998
Time: 46:32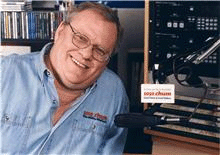 (The CHUM Archives/Bob Laine and Doug Thompson)
No one tells it like it is quite like Brian Henderson.
A veteran of some four decades in Canadian radio including 27 years at CHUM, Henny is known as a straight-shooter who isn't afraid to speak his mind on or off the air. A gifted storyteller, he had quite a few tales to relate when asked about his life and career by Rock Radio Scrapbook...
"My first recollection of radio being a career ambition occurred in 1957, when I discovered Dave Johnson playing rock and roll on CHUM. I was 12 years old, and used to practice being a disc jockey while listening to his show every night. There were no broadcast schools back then (except for Ryerson which required a grade 12 diploma), and since I was kicked out of Thornhill Secondary at age 16, my broadcasting dreams had pretty much been dashed. How ironic. Years later I was invited back to "Thornhill" to speak to a careers day assembly, where they introduced me as a graduate. I didn't bother to correct them.

Anyway, after a number of years of working menial jobs I was reacquainted with an old friend from school (Glen Cooper) who had somehow drifted into an announcing job at a one-thousand-watt radio station (CKMP) in Midland, Ont. On a visit there Glen introduced me to his program director, an old guy by the name of Bill Brama, who had seen better days, but still had a voice that rumbled up from somewhere around the balls of his feet, and so was still working part-time in radio while teaching full-time at the local high school. Other seniors like myself may remember him resurfacing years later doing regularly featured reports on Global TV newscasts called "Bill Brama's Ontario." While discussing my interest in becoming an announcer, he handed me a sheet of "Broadcast News" copy and demanded, "Here kid, read this." I did, and he hired me on the spot at $180 a month.

Cooper's career took him through Barrie,,,,and Brampton (CHIC Radio),,,,,Canada's first all-female announce staff, except for Cooper who read the news. He eventually moved on to CJOB in Winnipeg, after which he pretty much disappeared off the map.

In the meantime I also moved to CKBB Barrie/CKCB Collingwood, where I served several tours of duty over the years including stints as the first nighttime rock announcer (nicknamed THE WHITE NIGHT.) I even had my own published hot hits chart. It's also where I began to dabble in television at CKVR where I hosted a daily kids cartoon show called "The Marvelous SuperHeroes." It was 1967-68.

(Logo courtesy Bill Dulmage)

From there it was on to CHLO in St Thomas where they were playing Otis Redding in the morning, while CHUM's contribution to the "soul train" was the token "white bread" Supremes. Paul Ski was the afternoon drive host/program director. One of the other announcers was a British hippy immigrant from a "pirate radio" ship in England, who lived in a big white house with a peace sign painted high on the front peek facing the street. What a surprise when the police raided the place one weekend and arrested virtually the entire announce staff, leaving Ski and I as the only ones still free to work on air that Monday.

One of the other names of some renown to come out of CHLO was a news reader by the name of Bill Hirtz who resurfaced a number of years later as the on-site front man and media relations coordinator for the Terry Fox "Marathon of Hope."

When CHLO sold its 680 frequency to the fledgling CFTR in 1969, and moved down the dial to 1570, we all knew the station was doomed, and a lot of us fled. I eventually returned to CKBB/CKVR where I tried television sports for the first time, working for an old retiree by the name of Steve Douglas. Contrary to popular opinion Foster Hewitt was not Canada's first international hockey broadcaster. It was Steve Douglas, and he was the one who drove it into my head that being a sportscaster didn't mean just "ripping and reading" wire copy. "Write the stories in your own words" he demanded,,,,,and I did, and it would eventually change my whole career, and my life.

My program director during this turn at CKBB was Doug Lennox who had his own dramatic life-changing experience. At age thirty, and seemingly in a rut, he just quit it all. Walked out on the job,,,,,,amicably divorced his wife,,,,,,,,bought a robin's egg blue convertible and took off for Toronto. Over the next 30 or so years, he's worked numerous radio jobs,,,,,,,,,,had a moderately successful acting career ... and a lot of commercial work. You might even recognize his voice. He's the Labatt Blue man who resonates the catch phrase,,,,,"THE GOOD STUFF."

On another turn at CKBB/CKCB I was the program director, and it was in that capacity that I discovered a couple of names you might recognize. Jim Van Horne was from the nearby hamlet of Waverly. I hired him, but it didn't turn out that well. Apparently I forgot to tell him that it wasn't for a job in Barrie, but at CKCB in Collingwood. Not exactly a great career move,,,,and I know he was pissed for a while . But he got the last laugh, enjoying some of the best years at CHUM,,,,way ahead of me .... and then a long career at TSN.



I wandered for a few years after that,,,,,,,,,,,,working as a beer sales rep among other things,,,,,and for a couple of small radio stations in the interior of British Columbia before ill health forced me to return to Ontario. Once I was well again, I got the itch, and so flat broke I found myself hitchhiking to visit a young woman I knew in "the business" in Ottawa. But the first two guys to pick me up said they were going to Halifax ... and I thought ... what the heck ... and through a roundabout series of coincidences ... found myself sitting in the office of the station manager at CJCH in April 1976. It was my old St. Thomas PD Paul Ski. CHUM had just purchased both the radio and television station, and Ski had been sent in to revamp the whole radio operation, which included a complete overhaul of the announce staff.

Over the next few months I worked every position on the dial, before finally taking advantage of that long ago Steve Douglas tutoring to gain the radio and TV sportscasting assignment, which is where I was discovered by Hockey Night in Canada's Dick Irvin, who hired me to come to Montreal to work at CFCF. But CHUM got wind of it and before I was signed at CFCF, J. Robert Wood scooped me,,,,and moved me to Toronto in 1977.

Jay Nelson was there then,,,,,,,Terry Steele,,,,,,John Majhor,,,,,,,John Gilbert,,,,,Roger Ashby,,,,,, J.D. Roberts ,,,,,Pete and Geets on CHUM-FM, and working in the chair next to me,,,,,,Dick Smyth,,,,,,,,,,,,,,,,The best radio,,,,news writer,,,,,,reader,,,,commentator ever. I was briefly in awe. Smyth and I got along well for the most part. Except for the day when his commentary was about a high school play he'd attended the night before. His own daughter's high school play. He trashed the play AND her. I blew my top. Walked out on him mid-broadcast.

My excessive drinking also became a problem. It probably should have cost me my career the number of drunken Thursday night flights I took to Fort Lauderdale and Treasure Island. Usually tracking me down at some beach bar, boss Jim Waters would just laugh and urge,,,,,,, "Just get back here when you've got this out of your system." And he always forgave me as did my wife Susan,,,,,,,,,,even on the Valentine's Day when we were supposed to be going out to dinner. Instead,,,,,,,,a dozen roses were delivered to her office with a note which read,,,, "Gone to Nassau,,,,,,,,,,,,LUV you hun,,,,,,,,,,,,,,brian"

In 1984, Susan and I welcomed our first and only child,,,,,,son Kyle (AKA,,,,,The Wonderkid.) A short time later,,,,I entered rehab,,,and quit drinking. The Toronto Star did a major story on it. It was both embarrassing,,,and motivating.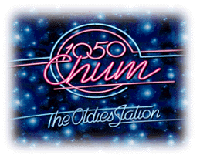 Dick Smyth left CHUM in 1987, and I accepted an offer to take over the news and commentary, which became not only an opportunity to vent my opinions but to relate interesting stories,,,,and offer some insight into the most personal elements of my life,,,,including the painful months before and after Susan's death from stomach cancer in 1993 at age 42. A few days after Susan's funeral,,,,,,,Terry Steele,,,,,,my best friend,,, also died. I was emotionally gutted.

But before she passed Susan left me with instructions to "take care" of her best friend Gayle,,,,,,the single mother of two young girls. In 1995 we married, but before we could even move our blended family into our new home I was felled with kidney cancer. Shortly after my recovery I was asked to also take over the morning show in addition to the news and commentary. It was beyond overwhelming. By the end of 1998,,,,,,,,,,,my health,,,,,and my enthusiasm for the job were seriously deteriorating. I was promised that in the new year, management would find a way to reduce my work load, but on the Friday of Super Bowl weekend 1999, I suffered a series of heart attacks ... and near death, underwent emergency bypass surgery at St Michael's Hospital.

Then came "The Team",,,,,sports fiasco,,,,,and 15 months of demoralizing ineptitude followed by the sudden switch back to "all oldies" again. But the damage had been done,,,,and I was done.......... I had a mental breakdown. Somewhat I'm sure caused by the chaos at CHUM, but we were soon to learn of an even more threatening health issue. Within weeks of returning to work with my mental state still teetering on the edge,,,,I was diagnosed with stage four lymphoma. Another death sentence.

Incredibly,,,,,,,,,,,while I was enduring intense chemo therapy, and repeated blood transfusions, CHUM continued to run re-airings of "The Best of Henny" commentaries. Even while discussing (unbeknownst to me),,,,,,my forthcoming termination they still aired those commentaries,,,,,,,milking the very last drop out of 10 years of work. In November 2004,,,,,,,,,,,,I informed my bosses,,,,,that my oncologist was ready to write a note authorizing my return to work Instead of having me deliver the note to them,,,,they offered to meet me downtown. And so after 27 years at CHUM LTD,,,,,,,(28 including the year in Halifax),,,,,I was terminated,,,,,,with a limp-wristed handshake and a brown paper envelope in a TIM HORTONS DONUT SHOP next to the hospital.

59 years old,,,,,,with only very specific skills in an industry which doesn't require much personality or creativity anymore, I was done.

I did a commentary once on the ruination of Canadian radio, in which I described this very circumstance, never realizing then that I was predicting the eventual demise of a broadcasting institution.

Even I'm not that smart.

You say bitter.

I say sad."
Enjoy Brian Henderson on CHUM here.
(The CHUM Archives/Bob Laine and Doug Thompson)
---
Talent: TOM RIVERS with BOB LAINE (Parts 1 & 2)
Station: CHUM Toronto
Date: October 30, 2003
Times: Part 1 - 45.49
Part 2 - 46:07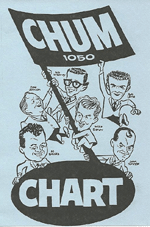 (Larger view here)
He was the last guy hanging from the note.
Beginning in August, 1961, the front of the CHUM Chart featured a music note with caricatures of the jocks hanging from it. The note disappeared when the chart was redesigned in May of 1963. As time went by the jocks began leaving the station and one-by-one began to pass on.
The first of the jocks on the note to pass away was Al Boliska, the long-time morning man who died April 7, 1972 - one day shy of his 40th birthday (he left CHUM in 1963). Nighttime jock Dave Johnson was next, passing October 20, 1980 at the age of 48. Then it was afternoon host Mike Darow, who died in December, 1996 (both Johnson and Darow left CHUM in 1965).
The fourth of the jocks hanging from the note to pass on was Bob McAdorey, the afternoon drive announcer who died February 5, 2005 at the age of 69. Next it was mid-morning man John Spragge, who died December 16, 2008 at the age of 71. (McAdorey and Spragge both departed CHUM in 1968).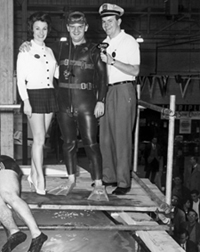 (Picture courtesy Doug Thompson/The CHUM Archives)
That left Bob Laine, the all-night man. Laine moved to management after doing his last shift as a regular deejay in December, 1969. He became CHUM-FM program director in 1970 and managed CHUM properties in Winnipeg from 1975 to 1990. Laine retired from the managerial ranks in 2003 but continued at the station working with Doug Thompson in the CHUM archives uncovering station memorabilia including airchecks, many of which can be found on Rock Radio Scrapbook. Laine was still doing this valuable work when he died August 31, 2011 at the age of 72.
On October 30, 2003 - with Laine retiring from management - CHUM honoured this Canadian broadcast icon with Bob Laine Day. In this two-part aircheck, Laine makes a guest appearance with Tom Rivers on the morning show and the two reminisce about his long CHUM career. CHUM-FM morning host Roger Ashby also makes an appearance and you'll also hear Rivers' co-host and wife Nanci Krant.
Enjoy Part 1 of Tom Rivers with Bob Laine on CHUM from October 30, 2003 here.
Enjoy Part 2 of Tom Rivers with Bob Laine on CHUM from October 30, 2003 here.
(The CHUM Archives/Bob Laine and Doug Thompson)
---
Subject: THE CHUM REQUIEM
Station: CHUM Toronto
Date: May 26, 2007
Time: 3:24
Doug Thompson, who produced it, tells Rock Radio Scrapbook the story behind "The CHUM Requiem":
"The Requiem came about in early May 2007, when Bob Laine and Duff Roman agreed to do a live show together to celebrate CHUM's 50th anniversary as a Top 40 station. Listeners would be coming through the control room on guided tours of the CHUM building as part of "Doors Open Toronto." I was producing the live show and Bob asked me to create something so that he and Duff could pay tribute to the CHUM staffers who were no longer with us.
I listened to hours and hours of CHUM airchecks from the deceased DJ's and pulled short snippets of audio where they said their names (and hopefully CHUM's call letters as well.) I also used CHUM promo tapes for some of the jocks we didn't have airchecks for, along with newscast intros from some of the CHUM newsmen who've passed away. Bob would then read live the names of the ones we didn't have on tape as well as the behind-the-scenes staffers names who had died.
I created the DJ/newsmen montage and it sounded good, but I also felt it needed music to give it a stronger feel. I have always loved The Association song, "Requiem For The Masses", so I used the opening chorus from that, but cross-faded an appropriately somber piece of music underneath before they got into the first verse of the song.
Bob Laine had specifically asked to end the tribute with a short piece of audio from CHUM founder Alan Waters. I must have listened to the interview Mr. Waters did with then CHUM News Director Brian Thomas in 1997 a dozen times, trying to pick out the most appropriate section. In the end, I edited eight separate sentences together that were spread throughout the original interview to showcase, in Mr. Waters own words, his struggle to take CHUM into the rock 'n' roll world. Literally, I finished the last edit on the computer mere hours before it ran.
The CHUM Requiem originally aired on Bob and Duff's live show on Saturday afternoon, May 26, 2007. When Jimmy Waters, Allan's son and former Chairman of the Board of CHUM Limited before the sale to ctvglobemedia, came in for a quick on-air hello, he said he'd been driving down to the station and heard his father's voice come on the radio at the end of the tribute. Jim said it was the first time he'd heard his dad's voice since he'd passed away in 2005. Off air, Jim told us that he had to pull his car over to the side of the road and wept. That's the power of radio."
Enjoy the CHUM Requiem here.
(The CHUM Archives/Bob Laine and Doug Thompson)
Produced by Doug Thompson
---
CHUM opened its doors to the public at 1331 Yonge Street on May 26, 2007
CHUM celebrated its 50th anniversary of becoming a Top 40 station in style with a week-long celebration during the last week of May 2007. Many former jocks showed up to do air shifts or to be interviewed. The week was capped by a three-hour show, featuring many special guests, hosted by CHUM stalwarts Bob Laine and Duff Roman that included many special guests. CHUM listeners also got to tour the premises as part of Open Doors Toronto, and the lineups were long
We will be posting segments of the CHUM's 50th anniversary from time to time. In this segment, Bob Laine interviews original CHUM jock Phil Stone on May 23, 2007. Since the CHUM Archives only contain airchecks donated by Bob Laine and Doug Thompson, we'll just link to the CHUM 50th anniversary files.
---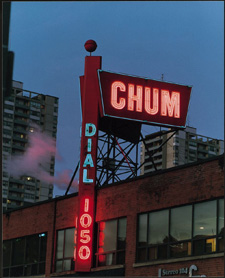 For more CHUM airchecks - including the many that have been donated to us by Charlie Ritenberg, Bill Dulmage and others - please check out the Rock Radio Scrapbook Audio Vault.
---
VIEW THE CHUM ARCHIVES, PART 1 (The 1950s and '60s)