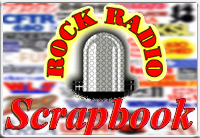 AIRCHECK OF THE WEEK

For week of April 9, 2017
Edition #932

Now in both Real Audio and MP3!


Talent: BOB DEARBORN
Station: Night Time America
Date: December 15, 1981
Time: 1:05:33 (unscoped)
26:11 (scoped)
Bob Dearborn tells us the story of Night Time America, the first live, daily, nationally-syndicated satellite-delivered music and call-in show in the U.S.
"The first "Night Time America" show was on the early morning of January 2, 1981. I was hired to be the host/producer. The network had a title for the show and satellite time arranged but left it to me to flesh it out: decide the format, the music, the music rotation, the features, etc. I began with a two-year contract, at the end of which we renewed for another two years. In September 1984 I had a meeting with upper management about another contract renewal at the end of the year. Because RKO had had some serious financial and legal problems in 1984 they were unable to deliver on some promises they earlier had said would be part of our new deal. They asked me to think over the situation and let them know by the first of December. When that time came, I told them I would not renew, that I was done with it, tired and ready to move on (to radio station ownership). My last "Night Time America" was on New Year's Eve (actually the early morning of January 1, 1985). But the show continued with another host for a few more months. From what I was told, our affiliates were not too happy with the change of hosts and the quality of the program after my departure. Due to mass affiliate cancellations, the network ended NTA in the spring of 1985. I'm not sure of the exact date.

The show was live from our studios in mid-town Manhattan five nights a week, Monday through Friday (or, more correctly, Tuesday morning through Saturday morning). Sometime in the first year we started offering a sixth night of the program. Four nights before the live program I would record an hour for use on Saturday night. We would combine those four hours with an hour of "Countdown America" which I did live on Wednesdays to make the five-hour show for Saturday nights. This procedure continued until our fourth year when we hired a local guy, Mike McKay, to host the Saturday night show live. It was McKay who took over hosting all the NTA shows after I left.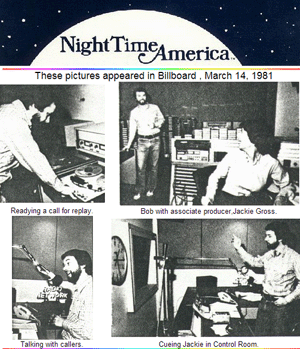 We had 154 affiliates carrying the show five hours a night, five or six nights a week for four years. And our stations were not all in small towns either. NTA aired in Chicago, Houston, Seattle, Boston, San Diego, Denver, Cincinnati, Pittsburgh, St. Louis, Salt Lake City, New Orleans, Buffalo, Portland, Raleigh ... and could be heard from West Palm Beach to Fairbanks, from Hilo to Bangor. Speaking of Fairbanks, we took NTA there in 1982 for a week of shows. It was the first time a series of radio shows heard nationally had originated in Alaska. It was also the first time TWO communications satellites were employed for broadcasts. Those were not the only firsts. The show itself was the first, live, daily, satellite-delivered music and call-in show in radio history. We were proud of that, proud to have been pioneers in satellite-delivered radio.

I always thought NTA could've been more, and if RKO hadn't run into problems and could've kept earlier promises, the show might have been greater. One of the things they had said they would was hire me another assistant. I was doing almost everything with that show: hosting, programming, music lists, affiliate schmoozing, even typing up the cart labels. I had an associate producer/engineer during the show and an engineer who during the day would cart up whatever music I needed, but other than that, I was a one-man band. It was all worth it, though, and an experience for which I'll be eternally grateful."
Hear Bob Dearborn with Night Time America (UNSCOPED) here.

Hear Bob Dearborn with Night Time America (UNSCOPED) here.

Hear Bob Dearborn with Night Time America (SCOPED) here.

Hear Bob Dearborn with Night Time America (SCOPED) here.

(The Tom Konard Collection/Aircheck Factory)

More 1981 airchecks here!




Rock Radio Scrapbook pays
music licensing fees to the
Society of Composers, Authors and Music Publishers of Canada (License 22-F)


The Aircheck of the Week PREVIEW!



We're previewing the Aircheck of the Week on Facebook. Every Friday, we post the audio link to the Aircheck of the Week on Facebook with the full feature to follow on Sunday as usual.

Download your free RealPlayer
to hear the Aircheck of the Week via your PC or mobile device

Click here for technical help

---