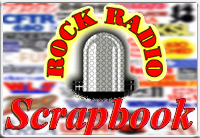 AIRCHECK OF THE WEEK
Edition #1107
Week of August 30, 2020


Talent: RICHARD DAVID LAWRENCE
Station: CKCK Regina
Date: September 1, 1969
Time: 43:20 (unscoped)
8:51 (scoped)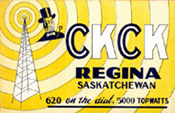 Like many of the early radio stations, CKCK was started by a newspaper.
It was 1922. The Regina Leader-Post wanted to open a radio station, and hired Marconi wireless operator Bert Hooper to do it. For the first seven years of the station's operation, Hooper was the only employee - he was announcer, manager, sales manager and chief engineer. There was no need for a sales manager as CKCK did not accept advertising and the Leader-Post paid all expenses. The station signed on during a thunderstorm the night of July 19, 1922.
CKCK achieved two major firsts in its early days - on March 14, 1923 Pete Parker announced the first complete (all three periods) play-by-play broadcast of a hockey game. Also around that time, CKCK became the first station in the British Empire to broadcast a church service.
Decades later, CKCK reached another milestone, going Top 40 (we don't have the date but the earliest CKCK chart we've seen is from 1962). CKCK was still playing the hits of the day in the mid'-80s. CKCK switched to oldies in 1991 and rebranded as "62 Cool." The AM signal signed off forever at 11:59 p.m. on September 30, 2001 with the playing of The Last Song by Edward Bear. The CKCK call letters moved to FM in 2002 as "Rock 94" at 94.5 in Regina.
Enjoy Richard David Lawrence on CKCK (UNSCOPED) here.

Enjoy Richard David Lawrence on CKCK (SCOPED) here.

(The Joe Fazio and Bill Dulmage Collections)



Rock Radio Scrapbook pays
music licensing fees to the
Society of Composers, Authors and Music Publishers of Canada (License 22-F)


The Aircheck of the Week PREVIEW!



We're previewing the Aircheck of the Week on Facebook. Every Friday, we post the audio link to the Aircheck of the Week on Facebook with the full feature to follow on Sunday as usual.
---