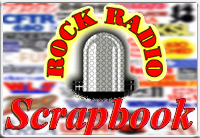 AIRCHECK OF THE WEEK
Edition #1017
Week of December 2, 2018

Talent: ROGER ASHBY
Station: CHUM Toronto
Date: March 4, 1972
Time: 45:37 (unscoped)
13:09 (scoped)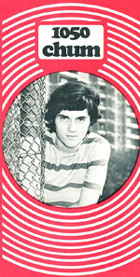 Roger Ashby first appeared on the CHUM Chart September 6, 1969
Roger Ashby may be a big-city jock, but his roots are in smaller locales. The long-time CHUM broadcaster grew up in Brantford, Ontario, where he used to broadcast from a mock radio studio in his basement. Only his mother and father could hear his show, but it was a start.
Ashby's first radio job was as an operator at CKKW Kitchener, Ontario, In 1967, he landed a weekend on-air gig at CKKW's new FM station, CFCA. Later that year, Ashby - who had planned to go to college - was hired to do all-nights at CKOC Hamilton. So much for college - he was a jock! In 1969, CHUM program director J. Robert Wood offered him the all-night show at the legendary Toronto station. Ashby took the job and within two-and-a-half years landed the shift he had coveted since the age of 10 - middays at CHUM. He held it for several years before moving into programming.
Ashby returned to the air in 1982, when he became a "temporary" replacement on the CHUM morning show. He did the show for three years. The Ashby morning show included the Oldies Hour from 5-6 a.m., an offshoot of Ashby's amazing Sunday Morning Oldies Show which was a CHUMstaple from 1980 to 2009.
Ashby did his last CHUM-AM morning show in August 1985, but within a month moved on to another challenge - the morning show at CHUM-FM. Since then, the team of Roger Ashby, Marilyn Denis and Rick Hodge (Darren Lamb since 2008; Jamar "J. Niice" McNeil since 2018) has created one of the most popular morning shows in Canada.
Ashby signed off his final CHUM-FM show on December 5, 2018, ending a run of 49-and-a-half years online at CHUM-AM or CHUM-FM.
Enjoy Roger Ashby on CHUM from March 4, 1972 here.
Enjoy Roger Ashby on CHUM from March 4, 1972 here.
(The Bill Dulmage Collection)



Rock Radio Scrapbook pays
music licensing fees to the
Society of Composers, Authors and Musicj Publishers of Canada (License 22-F)


The Aircheck of the Week PREVIEW!



We're previewing the Aircheck of the Week on Facebook. Every Friday, we post the audio link to the Aircheck of the Week on Facebook with the full feature to follow on Sunday as usual.
---
RETURN TO ROCK RADIO SCRAPBOOK