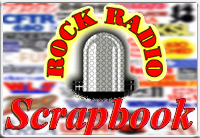 AIRCHECK OF THE WEEK
Edition #1069
Week of December 8, 2019

Talent:
BOB DAYTON
Station:
KBLA Santa Monica, Calif.
Date:
December 27, 1965
Time:
21:03 (unscoped)
3:35 (scoped)

It didn't take long for Bob Dayton to find work after his "Hiroshima" comment.
On August 6, 1965, Dayton decided to "celebrate" the 20th anniversary of the atomic bombing of Hiroshima by playing "16 Candles" by the Crests. He was fired at the end of his shift, but didn't affect his employability as Dayton was back on the air at KBLA Santa Monica, California., before the end of the year. Dayton went on to jock at KRLA Los Angeles, WPIX and WCBS-FM New York, WGBB Freeport, New York, WPAC Patchogue, New York, WGLI Long Island before his death of cancer in 1995. Prior to WABC he was at KLIF and KBOX Dallas and WIL St. Louis.
Enjoy Bob Dayton on KBLA (UNSCOPED) here.

Enjoy Bob Dayton on KBLA (SCOPED) here.


(The Tom Howard Collection)



Rock Radio Scrapbook pays
music licensing fees to the
Society of Composers, Authors and Music Publishers of Canada (License 22-F)


The Aircheck of the Week PREVIEW!



We're previewing the Aircheck of the Week on Facebook. Every Friday, we post the audio link to the Aircheck of the Week on Facebook with the full feature to follow on Sunday as usual.
---
RETURN TO ROCK RADIO SCRAPBOOK