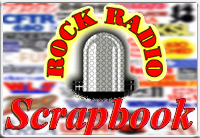 Airchecks: 1965
Talent: JACK ARMSTRONG
Stations: Various
Date: 1965 to 1997
Time: 9:31 (Upgraded 3-15-12)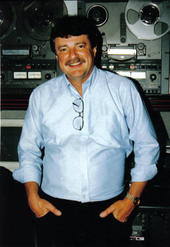 He's the undisputed champion of rock radio's screamers. Nobody rocked the airwaves like Jack Armstrong.
Armstrong started his radio career at WCHL Chapel Hill, North Carolina, in 1960. His final stop was a voice-tracked show at Buffalo's WWKB, ending in 2006. In between, there were about two dozen stops at stations as far north as CHUM Toronto, as far south as WHYI Miami, as far east as WMEX Boston and as far west as KFRC San Francisco.
Jack Armstrong died March 23, 2008 after a fall at his home in High Point, North Carolina. He was 62.

Here's a time sweep of his career, with clips from 19 of the stations he worked at.

Here's a time sweep of his career, with clips from 19 of the stations he worked at.

(Produced by Dale Patterson)
AUDIO ENHANCEMENT by Andy Rebscher
---
Here's a chronology of the stations Jack Armstrong jocked at:
1960 - WCHL Chapel Hill, N.C. * he was only 14 years old!
1960 - WCDJ Edenton, N.C.
???? - WSSB Durham, N.C.
1962 - WCOG Greensboro, N.C. (as John Larsh)
1964 - WDJK Atlanta
1965 - WAYS Charlotte, N.C. (as John Larsh)
1966 - WCOG Greensboro, N.C. (as John Larsh) * again
1966 - WIXY Cleveland
1967 - WKYC Cleveland
1968 - WMEX Boston
1968 - CHUM Toronto * only Canadian station
1969 - WPOP Hartford
1970 - WNTC Potsdam, N.Y. * just one shift
1970 - KTLK Denver
1970 - WKBW Buffalo, N.Y.
1973 - WJAS-WKTQ Pittsburgh
1975 - WHYI Miami
1975 - KDKA Pittsburgh
1976 - WIFE Indianapolis
1978 - KTNQ Los Angeles
1979 - KHTZ Los Angeles
1980 - KFI Los Angeles
1982 - KFRC San Francisco
1984 - KKHR Los Angeles
1988 - KBOS Fresno, Calif.
1997 - WMQX Greensboro, N.C.
2003 - WWKB Buffalo, N.Y. * voicetracked from his home in North Carolina
---

Download your free RealPlayer to hear our airchecks

Click here for technical help

---
Talent: DUSTY RHODES
Station: WSAI Cincinnati
Date: January 4, 1965
Time: 29:24

Dusty Rhodes was the hottest thing going in Cincinnati Top 40 radio in the mid-'60s.

At times during his five-year (1961-66) stay at WSAI he had a 50 share!

Enjoy Dusty Rhodes on WSAI here.

Enjoy Dusty Rhodes on WSAI here.

(The Dusty Rhodes Collection)
---
Talent: JAY NELSON
Station: CHUM Toronto
Date: February, 1965
Time: 5:58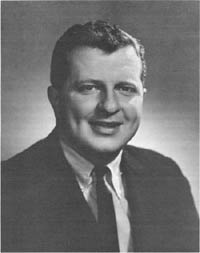 It was 1965 and the best of times for 1050 CHUM.
CKEY had left the Top 40 format by early '65, hit music on CKFH was still two years away and FM rock radio was in the future. CHUM had the Top 40 format all to itself in Toronto.
They used the mandate wisely, giving Toronto some of the best rock radio it would ever hear. From the zany Jay Nelson in the morning, to the even-zanier Brian Skinner in the evening, CHUM created a sound that is fondly remembered by its many fans all these years later.
When this aircheck was made, Jay Nelson had been at CHUM only about 14 months.

Hear Jay Nelson here.

Hear Jay Nelson here.

(The Bill Dulmage Collection)
---
Talent: JOE O'BRIEN
Station: WMCA New York
Date: February 24, 1965
Time: 18:55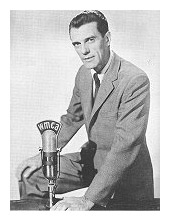 He was one of the most popular morning men of the rock 'n' roll era. But Joe O'Brien's radio roots date back to the time of the big bands.
O'Brien entered the medium as actor looking for work in 1934. After short stints at WNYC and WHN in New York, he started as an announcer at WMCA in 1936.
O'Brien would spend more than 30 years at WMCA - a stint interrupted only when he worked for Armed Forces Radio during the Second World War. After the war, he teamed with Roger Gallagher at WMCA in the morning show, later moving to afternoons.
Then rock 'n' roll arrived. Undaunted, O'Brien made a seamless move to Top 40, regaining the morning show in 1960 with his imaginary sidekick, Benny. He was part of a memorable Good Guys lineup that included such legends as Harry Harrison, Jack Spector, Dan Daniel and B. Mitchel Reed.
O'Brien moved to WNBC as morning man in 1969. In 1972, he signed on at a station that was just starting up, WHUD in Peekskill, New York. He remained morning man there until 1986, when he retired from weekday duties. He was doing a weekend show at WHUD as late as 2000, meaning he was on the air for eight consecutive decades!
O'Brien died July 24, 2005 in a car accident in Lenox, Massachusetts. He was 90 and left behind an unmatched radio legacy and untold numbers of fans and admirers. Rest In Peace, Joe.

Hear Joe O'Brien on WMCA here.

Hear Joe O'Brien on WMCA here.

(Scrapbook archives)
---
Talent: DUSTY RHODES
Station: WSAI Cincinnati
Date: March 29, 1965
Time: 24:33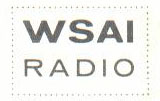 "The Modern Sound of Mid-America"
Dusty Rhodes swings the night away on WSAI.
His 6-9 p.m. show was a must-listen for Cincinnatians from 1961 to 1966.
It's a great sample of major market mid-'60s Top 40 radio when AM radio was king.

Enjoy Dusty Rhodes on WSAI here.

Enjoy Dusty Rhodes on WSAI here.

(The Dusty Rhodes Collection)
---
Talent: JOHN DOLAN
Station: CKEY Toronto
Date: May 3, 1965
Time: 18:24

Elvis was replaced by Elgart, the Beatles by Bennett, the Stones by Sinatra. By May 1965, CKEY's switch from a Top 40 station to a middle-of-the-road outlet was pretty much complete.
Some remnants of the station's rock 'n' roll past remain - the announcers are still referred to the "Good Guys", and the occasional rock artist like Peter and Gordon still shows up on the playlist. Some of the jocks from CKEY's rock heyday are still there, including Al Boliska (6-10 a.m.), J.P. Finnigan (noon-3 p.m.) and Lee Vogel on weekends. Rounding out the 'EY weekday lineup in early May 1965 are Keith Rich (9 a.m.-noon), John Dolan (3-7 p.m.) followed by Wingding from 7-11 p.m. then the news at 11 p.m. with Norm Perry's Perry-Scope next.
On this aircheck, you'll hear the always smooth John Dolan, who would go on to a long career at CFRB. There a news update, a sports update and traffic with Joe Lewis. Ads for Noxema, Craven Menthol cigarettes, Coppertone, Dow Ale, Fina Executive Tires (only $25!) and Honest Ed round out a fine audio capsule of mid-'60s CKEY.

Enjoy John Dolan with the Rollin' Home show on CKEY here.

Enjoy John Dolan with the Rollin' Home show on CKEY here.

(The Bob Rice Collection)
---
Talent: DAVE "THE HULLABALOOER" HULL
Station: KRLA Los Angeles
Date: May 27, 1965
Time: 46:13 (unscoped)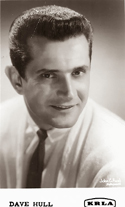 "He's crazy, he's insane, he's talented"
The fun and innocence of 1960s Top 40 radio is personified in Dave Hull.
The Hullabalooer made a career out of being corny and outrageous on the air and it made him popular. How corny? At WFLA Tampa Bay Hull held a corniest joke contest every morning. The winner got a silver dollar and a bag of popcorn. How popular? After Hull was fired from KRLA for playing a Beatle record before the release date, public outcry was such that he got his old job back.
After a stint at Armed Forces Radio, Hull got his start in commercial radio at KGFL Roswell, New Mexico, in 1965. He next went to WONE Dayton where he got his nickname. "A woman wrote me from a hotel outside Dayton to say she couldn't stand all that hullabaloo," Hull says. "Well, Webster's defined it as a tumultuous out roar, so I used it."
Hull jocked at WQTE Monroe, Michigan, and WTVN Columbus, Ohio before beginning his first stint of three stints at KRLA from 1963 to 1969. Hull would spend 45 years in southern California, including stops at Los Angeles stations KFI (twice), KGBS, KHJ, KRTH and KIKF. He retired in 2010 after six years at KWXY Cathedral City, California.
"What Dave Hull did for Los Angeles radio cannot be duplicated," fellow KRLA "Eleven-Ten Man" Bob Eubanks told the Orange County Register in 2013. "The Hullabalooer literally took over the town. He's crazy, he's insane, he's talented, but most of all he's a good human being."

Enjoy Dave Hull on KRLA here.

Enjoy Dave Hull on KRLA here.

(The Tom Howard Collection)



Rock Radio Scrapbook pays
online streaming fees to the
Society of Composers, Authors and Music Publishers of Canada (License 22-F)

---
Talent: THE REAL DON STEELE
Station: KHJ Los Angeles
Date: 1960s (composite)
Time: 4:40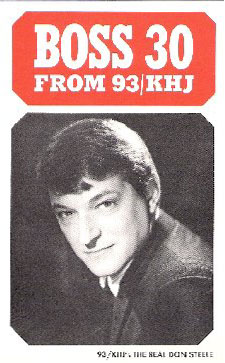 (The Real Don Steele from the second KHJ Chart, May 16, 1965/Courtesy Tom Howard)

"I've never stopped. I've never changed. I never did anything else."
- The Real Don Steele, as told to the Los Angeles Times in 1993

Back when radio was Boss,

Don Steele made it Real.

Donald S. Revert

, better known by his air-name The Real Don Steele, was one of Top 40 radio's brightest stars for well over three decades before cancer took his life. The native of Hollywood, California, honed his jocking skills at several other stations, including KOIL Omaha, KISN Portland, Oregon, and KEWB San Francisco, before arriving at KHJ Los Angeles for the launch of Boss Radio in the spring of 1965.

Interviewed by Don Barrett for his book Los Angeles Radio People, Steele said the launch of Boss Radio was "like a mushroom cloud that went up - heavy on the mushroom." That sense of humour was part of a memorable act that carried Steele through eight years as the afternoon drive jock on

KHJ. Born into show business - his mother played piano at silent movies and his father was a driver for entertainers - Steele was a natural showman with a masterful sense of timing well-suited for the fast-paced Top 40 format.

After leaving

KHJ in mid-1973, Steele went to success at Los Angeles stations KIQQ, KTNQ, KRLA and KODJ/KCBS-FM. From 1988 to 1993, he hosted the syndicated oldies show

Live From the '60's,

which was run in over 300 markets. Steele even has a Canadian connection - in 1967 he was host of a radio show called

CBC's Action Set.

Steele also starred on the small and big screen. The Real Don Steele Show was the leading rock 'n' roll TV dance show in southern California from 1968 to 1975. His film credits include Death Race 2000, Rock & Roll High School, Grand Theft Auto and Eating Raoul.

Steele's last radio stop began in 1992 at

K-EARTH 101, where he was reunited with original KHJ Boss Radio morning man Robert W. Morgan. Steele died at age 61 on August 5, 1997.


Enjoy

The Real Don Steele on KHJ

here.

Enjoy

The Real Don Steele on KHJ

here.




NOTE: His widow

Shaune Steele tells us that Don Revert's middle name was actually Steele. She says his mother chose it because it sounded more "show-biz."

(The Tom Howard Collection)
---
Subject: THE TOP 20 SHOW with WILLIE Q.
Station: CKCW Moncton, N.B.
Date: July 31, 1965
Time: 17:10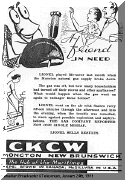 k
CKCW-AM is gone from the airwaves, but it had a long history that dates back to the early days of radio.
CKCW-AM signed as a 100-watter on December 4, 1934. It was at 1370kc then, and would move to 1400kc in 1941 and 1220kc by 1952 while increasing its power to 5,000 watts. It was at 10,000 watts when it signed off the AM band on April 11, 2001, having moved to FM as CKCW-FM.
In 1965, CKCW offered a mixed bag of programming, some rock 'n' roll, some middle-of-the-road, some country, not uncommon for stations at that time.
On this aircheck, we drop in on CKCW on a Saturday afternoon in 1965. It's the Top 20 Show, with all the top hits of the day. Oddly enough, the deejay never identifies himself even though Rock Radio Scrapbook patron Geoff Campbell tells us the jock is Willie Q, whose real name is Bill McFadden.

Hear the Top 20 Show here.

Hear the Top 20 Show here.

(The Dan Steeves Collection)
---
Talent: GEORGE "HOUND DOG" LORENZ
Station: WBLK Buffalo, N.Y.
Date: August 4, 1965
Time: 20:23 (unscoped)
6:39 (scoped)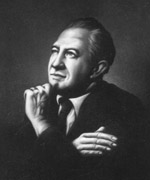 It was known as "The House That The Hound Built." And for the last eight years of his life, George "Hound Dog" Lorenz put his heart and soul into it.
Lorenz, who championed rhythm and blues throughout his three-decade radio career, applied for and got the final available FM signal in Buffalo in 1962. On December 10, 1964, WBLK went on the air at 93.7 (the call letters stood for Benjamin L. Kulick, an early financial backer of the station). From the beginning, WBLK played rhythm and blues, an oddity on an FM dial that was at the time mostly classical, jazz or easy listening fare. But the Hound wanted to rock!
Lorenz got his start in radio in the mid-40s at Buffalo's WXRA. He moved to mornings at WJJL Niagara Falls, N.Y., in 1948, originally using the moniker 'Ol Man Lorenz. He started calling himself Hound Dog Lorenz in 1951, getting the name from the expression "doggin' around." As he explains it, "One of the jive expressions at the time was if you were hangin' around the corner, you were doggin' around. So I'd come on and say ' Here I am to dog around for another hour.' That's how they got to call me the hound dog."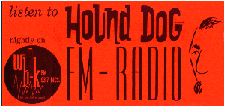 Lorenz went to WKBW in 1955, where he gained a massive following thanks to the station's huge 50,000-watt signal. He left three years later with the station about to switch to a Top 40 format. The Hound was no fan of Top 40, claiming it "is hurting the record industry, is lowering radio listening, and is decreasing a new artists chance to make it."
In 1960 Lorenz moved to suburban Buffalo station WINE, which ironically became the city's first R&B outlet later that decade as WUFO. After WINE, he began syndicating his show via World Wide Programming. The next stop was WBLK, where he stayed until his death on May 29, 1972 at age 53. And all these years later WBLK is still playing rhythm and blues, though nowadays the format is referred to as urban contemporary. The Hound would be proud.
Enjoy Hound Dog Lorenz on WBLK (UNSCOPED) here.

Enjoy Hound Dog Lorenz on WBLK (SCOPED) here.




(The Don Shuttleworth Collection)
---
Talent: JIMMY DARIN
Station: CKY Winnipeg
Date: August 12, 1965
Time: 50:38 (unscoped)

Jimmy Darin (Hilliard) came to CKY Winnipeg from KNEW Spokane in 1963. He joined one of the most popular and powerful stations on the Prairies, as CKY's 50,000-watt signal at 580kc got out well when the skywave kicked in at night. The station signed on New Year's Eve 1949 and soon adopted the slogan "The Powerful Station With Proven Listener Response." CKY was a Top 40 station throughout much of its broadcast life and a great one too as you'll hear on this aircheck. Future stars to appear on CKY in the '60s include Chuck McCoy and Daryl B. This wonderful find by Charlie Ritenburg is a real treasure and a rare peek at Winnipeg Top 40 radio in the mid-'60s.
Hear Jimmy Darin on CKY from August 12, 1965 here.

Hear Jimmy Darin on CKY from August 12, 1965 here.




(The Charlie Ritenburg Collection)




Rock Radio Scrapbook pays
online streaming fees to the
Society of Composers, Authors and Music Publishers of Canada (License 22-F)

---
Talent: DUSTY RHODES
Station: WSAI Cincinnati
Date: October 16, 1965
Time: 33:08
More from Cincinnati radio legend Dusty Rhodes!

Enjoy Dusty Rhodes on WSAI here.

Enjoy Dusty Rhodes on WSAI here.

(The Dusty Rhodes Collection)
---
Talent: DICK ROBINSON
Station: WDRC Hartford
Date: October 21, 1965
Time: 9:17

"Deejays were big brothers and Dick was one of the best."
Dick Robinson's radio was almost over before it started.
In 1956, Robinson was badly injured when he was attacked by hooligans at a school dance. Not only did he suffer a fractured nose, but surgeons nicked his vocal cords as they performed a tracheotomy. Doctors told him he may never regain the use of his voice, but he recovered and went on to a brilliant radio career.
His father had told him that "only clowns got into broadcasting", but Robinson followed his dream and by 1957 was at WARE in Ware, Massachusetts. He slowly worked himself up to larger markets - WRED in Holyoke, Massachusetts, WSPR in Springfield, Massachusetts, and WPRO and WHIM (where he was program director) in Providence, Rhode Island. In 1963, Robinson moved into the biggest market of his career - WDRC - where he would spent the next 13 years, first as the station's evening jock, and later and vice-president and station manager.
Robinson's night-time show became "DRC on DRC" or the "Dick Robinson Company." His show was a cacophony of drop-ins, plus Lone Ranger and Tonto jokes, and he did a nightly Big D Late Show involving puns on show biz celebrities appearing in mythical. It was theatre of the mind and there was much telephone interaction with listeners.

Robinson branched out in 1964 by starting his own broadcast school - the Connecticut School of Broadcasting. In 1967, he moved into sales part time, and moved to broadcasting weekends only the following year. By 1969, he was gone from the WDRC airwaves completely while continuing to work in sales. Robinson was named vice-president and station manager of WDRC AM-FM before leaving the station three years later to focus on his broadcast school. The veteran broadcaster returned to the airwaves with a syndicated show called American Standards By The Sea, broadcasting from his yacht sailing along the U.S. eastern seaboard. Naturally, one of his affiliates was WDRC. Robinson also has his own radio station, Legends 100.3 (WLML) Lake Park, Florida, and his broadcasting school has grown to 12 locations from Massachusetts to Miami.
"He entertained. He didn't just through the motions," Ed Brouder, a deejay and radio historian, told the Hartford Courant. "I think all the deejays back then were a bridge ... deejays were big brothers and Dick was one of the best."
Enjoy Dick Robinson on WDRC here.

Enjoy Dick Robinson on WDRC here.


(The Bill Dulmage Collection)
---
Talent: DICK PEPLOW
Station: CJIC Sault Ste. Marie, Ont.
Date: October or November, 1965
Time: 8:25
The 1050 dial position is perhaps best associated in Top 40 radio lore with CHUM Toronto, or WMGM New York. But to listeners in Sault Ste. Marie, Ontario, the hit station to hear at 1050 was CJIC.
In 1965, Dick Peplow was entertaining listeners in the early evening shift at CJIC. During his long career, he also worked at Ontario stations CKCY Sault Ste. Marie, CKPR Thunder Bay, CJKL Kirkland Lake and also in St. Thomas, Ontario, Dawson Creek, B.C., Yellowknife, Winnipeg and Sudbury.
Peplow was also a city alderman in Yellowknife. In 2000, he established what is now known as sootoday.com and in 2003 founded baytoday.ca.
Peplow died July 13, 2007. He was 63.

Enjoy Dick Peplow here.

Enjoy Dick Peplow here.

(The Don Shuttleworth Collection)
---
Talent: DAN INGRAM
Station: WABC New York
Date: November 9, 1965
Time: 8:22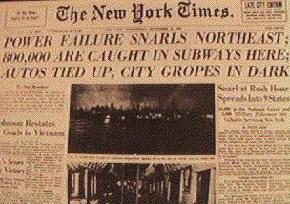 "That's Lazy River ... in the key of R"
Remember the night the lights went out?
It was November 9, 1965. Thanks to a faulty relay near Queenston, Ontario, more than 30 million people in several northeastern U.S. states plus the province of Ontario were plunged into darkness for several hours. The power began to go off at 5:16 p.m. and before long about 80,000 square miles were without electricity. Trains stopped between stations, theatres closed and stranded travellers slept in hotel lobbies. In New York, Times Square went completely dark, an unusual sight for "The Great White Way."
The beginning of the blackout is captured on this fascinating aircheck of Dan Ingram's afternoon WABC show. The 'check begins with Jonathan King's Everyone's Gone to the Moon, which is starting to play very, very slowly. Ingram notices and demonstrates the quick wit and timing that made him a radio legend. At that moment, nobody knew what was happening but it's obvious something is wrong. The newscast that ends this aircheck makes no mention of the problem but it quickly became one of the biggest stories of the year.
Hear Dan Ingram on WABC during the Great Northeast Blackout here.

Hear Dan Ingram on WABC during the Great Northeast Blackout here.

(Scrapbook archives)
---
Subject: TOMMY VANCE
Station: KHJ Los Angeles
Date: November, 1965
Time: 6:03

Right in the midst of the musical British invasion, Los Angeles Top 40 radio listeners had their own radio British Invasion with the arrival of Oxford, England-born Tommy Vance.
The legendary British jock was at KHJ for a while in the mid-'60s before returning to the U.K. for a long British career with stops at Radio Caroline, Radio Luxembourg, Radio London, BBC Radio 1 and Capitol Radio. He was a regular presenter of Top of the Pops at Radio 1 and a highly sought-after voice-over artist.
Vance originally began his U.S. radio career under the name Rick West. When he arrived at KOL Seattle, legend has it that Tommy Vance was the only deejay jingle available on the station's jingle package at the time so that became his name! (His real name is Richard Anthony Crispian Francis Prew Hope-Weston). He kept the Vance moniker when he moved to KHJ in 1965, and after returning to the U.K. after running into immigration trouble.
Later in his career, Vance presented the Friday Night Rock Show on British digital television channel VH1 and had his own show on digital radio station Virgin Classic Rock.
He is credited with interviewing more than 10,000 guests, including Prince Charles and the Rolling Stones.
Vance died March 6, 2005 in Dartford, England, at the age of 63.

Hear Tommy Vance on KHJ here.

Hear Tommy Vance on KHJ here.

(The Jim Southern Collection)
---
Talent: BOB GREEN
Station: WKNR Dearborn, Mich.
Date: December 4, 1965
Time: 14:28

It wasn't just radio. It was art.
The epitome of the smooth '60s Top 40 jock, Bob Green performed his show the way an artist might paint a picture. Tight and bright, the show moved along quickly without sounding hurried. Green sprinkled in personality and humour while juggling spots, jingles, music, weather and sports updates effortlessly.
A native of Rochester, New York, Bob Greenstone got his radio start at WSAY in his hometown in 1958, where he did a nine-hour shift daily as Mac McGuire. He wasn't there long, soon moving to WGVA in nearby Geneva. Green arrived in the Motor City in 1962 at WKMH then moved south to WQAM Miami. His audience share nearly tripled from nine per cent to 24 per cent in his nine months there.

Green returned to Detroit to join the brand-new WKNR in the fall of 1963 (in an interview with keener13.com he notes that WKNR was one of the first stations to brand with a word, rather than call letters). After its launch on Halloween night, Keener 13 jumped from a 0.9 share to a 16 in just four short weeks. With its tight playlist and personality jocks, Keener would leap to a 30 share by the time the first year was up, despite a night-time signal that didn't cover Detroit's east side.
After nine years at WKNR, and with the end of the Keener era in sight, Green left for KULF Houston in 1972, where he was program director. The following year he founded Bob Green Productions, which has offered high quality commercial audio production to agencies and corporations for several decades.
Enjoy Bob Green on WKNR here.

Enjoy Bob Green on WKNR here.

(The Bill Dulmage Collection)
---
Talent: ARNIE "WOO WOO" GINSBURG
Station: WMEX Boston
Date: December 12, 1965
Time: 27:27 (unscoped)

Nobody put the fun into Top 40 like Arnie "Woo Woo" Ginsburg.
The epitome of the frantic and funny '50s and '60s jock, Ginsburg was New England's leading Top 40 personality during his nine years (1958-67) at Boston's WMEX. Everything about him stood out - there was the non-traditional voice that led to Ginsburg calling himself Old Leather Lungs and Old Aching Adenoids. There were sound effects - kazoos, whistles, cowbells, buzzers, oogah, car horns (the "Woo Woo" nickname came from the train whistle he used). There were Ginsburg's memorable live reads for the drive-in fast food restaurant Adventure Car Hop, which featured the Ginsburger in honour of their most vocal advertiser. Even the name itself stood out - Ginsburg used his ethnic-sounding birth name when many jocks at the time opted for on-air monikers - a move that made him seem even more human to his listeners. Toss in Ginsburg's steady stream of corny jokes and you had a winner.
Ginsburg got his radio start in 1956 as an engineer, with occasional fill-in on-air duties, at Boston station WORL. He moved to WBOS later that year where he further developed his on-air skills. In 1958, Ginsburg began his stay at WMEX, appearing on the Night Train show seven nights a week (he taped his Saturday and Sunday night shows). His Friday night sock hops at the Surf Ballroom at Nantasket Beach were the place to be for New England teens for a decade. After leaving WMEX in 1967, Ginsburg moved to WRKO and later jocked at or managed several other Boston stations.
In 1970, Ginsburg appeared on the Cruisin' 1961 album recreating a 1961 WMEX show, part of a series of recreations featuring leading '50s and '60s jocks. The album begins with Ginsburg's famous theme song by the 3Ds ("Gather 'round, everybody; 'cause you're about to hear/the show that's gonna make you/smile from ear to ear/It's Arnie Ginsburg, on the Night Train show.") Below, you can hear a REAL Arnie Ginsburg show, on WMEX in 1965.

Enjoy Arnie Ginsburg on WMEX here.

Enjoy Arnie Ginsburg on WMEX here.

(The Sam Ward Collection)
---
Talent: RICK SHULTZ
Station: WHEE Martinsville, Va.
Date: December 26, 1965
Times: Part 1 - 30:18 (unscoped)
Part 2 - 28:24 (unscoped)
Part 3 - 36:00 (unscoped)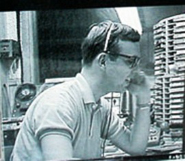 (Rick Shultz, 1968/Courtesy Barry Michaels)
It's 1960s Top 40 radio the way we knew and loved it!
All the bells and whistles from that time are here, including an endless stream of sound effects and reverb. And Rick Shultz's hyper-frenetic delivery has to be heard to be believed! The energy never lets up for a second. It's exhausting just to listen to - just imagine what Shultz went through!
We asked Rick about his career, and this is what he told us...
"My father started WHEE in 1954 after being in radio for most of his life, so for all practical purposes, I was born in the business. When I was 15 I started my own squeaky-voiced show on WHEE (it was pretty bad) and later when I went to college my voice had matured enough for me to be hired part-time at two stations in Winston-Salem, NC - first at WTOB and then later at WSJS.
I learned Top-40 radio from the guys at WTOB (they were fabulous - the station was tight with split-second timing and top notch DJ's). I wanted that sort of sound back home, and when I returned to Martinsville I put a lot of those ideas to work back at my mom's station (my dad died when I was in college). The problem was that the community had no interest in Top-40 radio and I didn't want to rock the boat for fear of losing loyal listeners (read revenue), so I took all my ideas and put them into one show that ran on Sunday afternoons - that was the show that Barry has sent you pieces of, my centerpiece show at the station, The Sunday Session.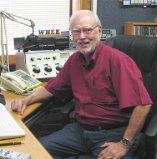 (Rick Shultz, 2009/Courtesy Rick Shultz)
On December 26, 1965, I put both of the station's Ampex 601 tape recorders on double duty and recorded the entire show from 1:45 to 5:00. I still have that recording, although I transferred it over to CD back in the 1980's.

My mom died in mid-1965 and by the end of the year I needed to get away, so I scheduled the trip to Europe and took a friend with me leaving in January, 1966. I took a couple of portable reel to reel tape recorders with me and sent back several recordings, from London, Paris, Copenhagen, Munich and one other place I forget right now. I still have those recordings.

When I got back to the States I continued to work at the station for another few years, but decided to go into TV work at the local cable origination station and did newscasts and movie intros for about five years until starting another family and moving away to North Carolina.

I never went back into radio, but after retirement I tried putting together "The Roots of Rock" (a series of 30-minute programs) without much success and now (as of 2014) I'm doing a little voice-over work, mostly for children's story authors with enhanced eBooks."
Enjoy Rick Shultz on WHEE (Part 1) here. (36:00)



Enjoy Rick Shultz on WHEE (Part 1) here. (36:00)

Enjoy Rick Shultz on WHEE (Part 2) here. (30:18)

Enjoy Rick Shultz on WHEE (Part 2) here. (30:18)

Enjoy Rick Shultz on WHEE (Part 3) here. (28:24)



Enjoy Rick Shultz on WHEE (Part 3) here. (28:24)

(The Barry Michaels and Rick Shultz Collections)



Rock Radio Scrapbook pays
online streaming fees to the
Society of Composers, Authors and Music Publishers of Canada (License 22-F)

---
Talent: DAVE DIAMOND
Station: KBLA Los Angeles
Date: December 27, 1965
Time: 28:47 (unscoped)
4:06 (scoped)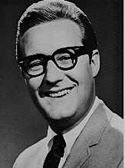 Dave Diamond was one of the original Boss Jocks on KHJ, but he didn't stay long.
Diamond, who held down the 6-9 p.m. shift at KHJ when Boss Radio launched in April 1965, left after four months for KBTR Denver and then moved to Los Angeles rival KBLA before the end of the year. This is where we hear Diamond, the radio legend who also jocked in L.A. at KFWB, KRLA, KIIS and KFI. He was also at KFRC San Francisco from 1968 to 1971 and did stints at WSAI Cincinnati, KOIL Omaha and KTLK Denver among other stations
During his time at KBLA and KFRC, he called his show "The Diamond Mine", where he popularized such bands and performers as The Doors, The Seeds, Linda Ronstadt and Iron Butterfly. The native of Howard, S.D., retired from broadcasting in 1982 to go into teaching.
Diamond passed away of pneumonia in 2014. He was 77.
Enjoy Dave Diamond on KBLA here. (UNSCOPED)
Enjoy Dave Diamond on KBLA here. (SCOPED)
(The Tom Howard Collection)
---