Rock Radio Scrapbook
Airchecks: 1965
Talent: JACK ARMSTRONG
Stations: Various
Date: 1965 to 1997
Time: 9:31 (Upgraded 3-15-12)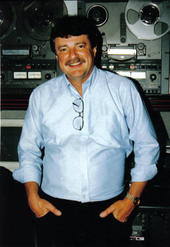 He is the undisputed champion of rock radio's screamers. Nobody rocked the airwaves like Jack Armstrong.
Armstrong started his radio career at WCHL Chapel Hill, N.C., in 1960. His final stop was a voice-tracked show at Buffalo's WWKB, ending in 2006. In between, there were about two dozen stops at stations as far north as CHUM Toronto, as far south as WHYI Miami, as far east as WMEX Boston and as far west as KFRC San Francisco.
Jack Armstrong died March 23, 2008 after a fall at his home in High Point, N.C. He was 62.
Here's a time sweep of his career, with clips from 19 of the stations he worked at.
(Produced by Dale Patterson)
AUDIO ENHANCEMENT by Andy Rebscher
---
Here's a chronology of the stations Jack Armstrong jocked at:
1960 - WCHL Chapel Hill, N.C. * he was only 14 years old!
1960 - WCDJ Edenton, N.C.
???? - WSSB Durham, N.C.
1962 - WCOG Greensboro, N.C. (as John Larsh)
1964 - WDJK Atlanta
1965 - WAYS Charlotte, N.C. (as John Larsh)
1966 - WCOG Greensboro, N.C. (as John Larsh) * again
1966 - WIXY Cleveland
1967 - WKYC Cleveland
1968 - WMEX Boston
1968 - CHUM Toronto * only Canadian station
1969 - WPOP Hartford
1970 - WNTC Potsdam, N.Y. * just one shift
1970 - KTLK Denver
1970 - WKBW Buffalo, N.Y.
1973 - WJAS-WKTQ Pittsburgh
1975 - WHYI Miami
1975 - KDKA Pittsburgh
1977 - WIFE Indianapolis
1978 - KTNQ Los Angeles
1979 - KHTZ Los Angeles
1980 - KFI Los Angeles
1982 - KFRC San Francisco
1984 - KKHR Los Angeles
1988 - KBOS Fresno, Calif.
1997 - WMQX Greensboro, N.C.
2003 - WWKB Buffalo, N.Y. * voicetracked from his home in North Carolina
---

Download your free RealPlayer to hear our airchecks

Click here for technical help

---
Talent: DICK WILLIAMS
Station: CFPL London, Ont.
Date: January 7, 1965
Time: 47:29 (unscoped) (Upgraded 3-8-13)

No one stood taller in London radio than "The Tall One."
Dick Williams spent nearly half a century on the air in the Forest City, beginning in 1961 at CFPL. Williams was only 16 years old when he started his radio career in 1956 as program host at CKCR in Kitchener, Ont. He moved to WSAI Cincinnati in 1958, and also jocked at KDEO San Diego and KROY Sacramento, Calif., before bringing his quick wit and masterful sense of timing to CFPL. A natural entertainer, Williams also did a dance show at CFPL-TV called "Dick Williams Wing Ding" that featured live performances and appearances by the other CFPL ``Lively Guys.``
Williams left CFPL in 1969, and later jocked on London stations CJBK, Q 97.5 (CIQM) and Oldies 1410 (CKSL). He left full-time radio in 2006 to concentrate on voice work at dickwilliamsvoice.com.
Enjoy Dick "The Tall One" Williams on CFPL here.
(The Charlie Ritenburg Collection)
MUSICAL RESTORATION BY CHARLIE RITENBURG



Rock Radio Scrapbook pays
online streaming fees to the
Society of Composers, Authors and Music Publishers of Canada (License 22-F)

---
Talent: JAY NELSON
Station: CHUM Toronto
Date: February, 1965
Time: 5:59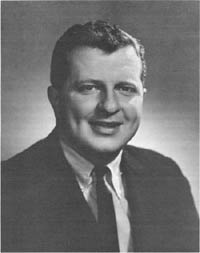 It was 1965 and the best of times for 1050 CHUM.
CKEY had left the Top 40 format by early '65, hit music on CKFH was still two years away and FM rock radio was just a rumour. CHUM had the Top 40 format all to itself in Toronto.
They used the mandate wisely, giving Toronto some of the best rock radio it would ever hear. From the zany Jay Nelson in the morning, to the even-zanier Brian Skinner in the evening, CHUM created a sound that is fondly remembered by its many fans all these years later.
When this aircheck was made, Jay Nelson had been at CHUM only about 14 months.
Hear Nelson here.
(The Bill Dulmage Collection)
---
Talent: JOE O'BRIEN
Station: WMCA New York
Date: February 24, 1965
Time: 18:57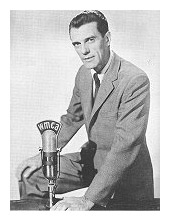 He was one of the most popular morning men of the rock 'n' roll era. But Joe O'Brien's radio roots date back to the time of the big bands.
O'Brien entered the medium as actor looking for work in 1934. After short stints at WNYC and WHN in New York, he started as an announcer at WMCA in 1936.
O'Brien would spend more than 30 years at WMCA - a stint interrupted only when he worked for Armed Forces Radio during the Second World War. After the war, he teamed with Roger Gallagher at WMCA in the morning show, later moving to afternoons.
Then rock 'n' roll arrived. Undaunted, O'Brien made a seamless move to Top 40, regaining the morning show in 1960 with his imaginary sidekick, Benny. He was part of a memorable "Good Guys" lineup that included such legends as Harry Harrison, Jack Spector, Dan Daniel and B. Mitchel Reed.
O'Brien moved to WNBC as morning man in 1969. In 1972, he signed on at a station that was just starting up, WHUD in Peekskill, N.Y. He remained morning man there until 1986, when he retired from weekday duties. He was doing a weekend show at WHUD as late as 2000, meaning he was on the air for eight consecutive decades!
O'Brien died July 24, 2005 in a car accident in Lenox, Mass. He was 90 and left behind an unmatched radio legacy and untold numbers of fans and admirers. Rest In Peace, Joe.
Hear Joe O'Brien on WMCA here.
(Scrapbook archives)
---
Talent: THE REAL DON STEELE
Station: KHJ Los Angeles
Date: 1960s (composite)
Time: 4:42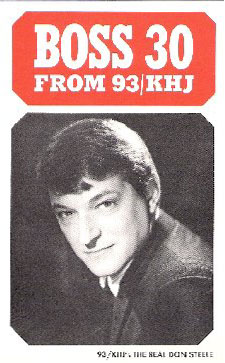 (The Real Don Steele from the second KHJ Chart, May 16, 1965/Courtesy Tom Howard)
"I've never stopped. I've never changed. I never did anything else."
- The Real Don Steele, as told to the Los Angeles Times in 1993
Back when radio was Boss, Don Steele made it Real.
Donald S. Revert, better known by his air-name The Real Don Steele, was one of Top 40 radio's brightest stars for well over three decades before cancer took his life. The native of Hollywood, Calif., honed his jocking skills at several other stations, including KOIL Omaha, KISN Portland, Ore., and KEWB San Francisco, before arriving at KHJ Los Angeles for the launch of Boss Radio in the spring of 1965.
Interviewed by Don Barrett for his book "Los Angeles Radio People,",Steele said the launch of Boss Radio was "like a mushroom cloud that went up - heavy on the mushroom." That sense of humour was part of a memorable act that carried Steele through eight years as the afternoon drive jock on KHJ. Born into show business - his mother played piano at silent movies and his father was a driver for entertainers - Steele was a natural showman with a masterful sense of timing well-suited for the fast-paced Top 40 format.
After leaving KHJ in mid-1973, Steele went to success at Los Angeles stations KIQQ, KTNQ, KRLA and KODJ/KCBS-FM. From 1988 to 1993, he hosted the syndicated oldies show "Live From the '60's," which was run in over 300 markets. Steele even has a Canadian connection - in 1967 he was host of a radio show called "CBC's Action Set."
Steele also starred on the small and big screen. "The Real Don Steele Show" was the leading rock 'n' roll TV dance show in southern California from 1968 to 1975. His film credits include "Death Race 2000," "Rock & Roll High School," "Grand Theft Auto" and "Eating Raoul."
Steele's last radio stop began in 1992 at K-EARTH 101, where he was reunited with original KHJ Boss Radio morning man Robert W. Morgan. Steele died at age 61 on August 5, 1997.
Enjoy The Real Don Steele on KHJ here.
NOTE: His widow Shaune Steele tells us that Don Revert's middle name was actually Steele. She says his mother chose it because it sounded more "show-biz."
(The Tom Howard Collection)
---
Subject: THE TOP 20 SHOW with WILLIE Q.
Station: CKCW Moncton, N.B.
Date: July 31, 1965
Time: 17:12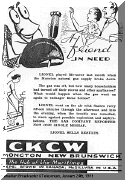 CKCW-AM is gone from the airwaves, but it had a long history that dates back to the early days of radio.
CKCW-AM signed as a 100-watter on December 4, 1934. It was at 1370kc then, and would move to 1400kc in 1941 and 1220kc by 1952 while increasing its power to 5,000 watts. It was at 10,000 watts when it signed off the AM band on April 11, 2001, having moved to FM as CKCW-FM.
In 1965, CKCW offered a mixed bag of programming, some rock 'n' roll, some middle-of-the-road, some country, not uncommon for stations at that time.
On this aircheck, we drop in on CKCW on a Saturday afternoon in 1965. It's the Top 20 Show, with all the top hits of the day. Oddly enough, the deejay never identifies himself even though Rock Radio Scrapbook viewer Geoff Campbell tells us the jock is "Willie Q," whose real name is Bill McFadden.
Hear the Top 20 Show here.
(The Dan Steeves Collection)
---
Talent: DICK PEPLOW
Station: CJIC Sault Ste. Marie, Ont.
Date: October or November, 1965
Time: 8:25
The 1050 dial position is perhaps best associated in Top 40 radio lore with CHUM Toronto, or WMGM New York. But to listeners in Sault Ste. Marie, Ont., the hit station to hear at 1050 was CJIC.
In 1965, Dick Peplow was entertaining listeners in the early evening shift at CJIC. During his long career, he also worked at Ontario stations CKCY Sault Ste. Marie, CKPR Thunder Bay, CJKL Kirkland Lake and also in St. Thomas, Ont., Dawson Creek, B.C., Yellowknife, Winnipeg and Sudbury.
Peplow was also a city alderman in Yellowknife. In 2000, he established what is now known as sootoday.com and in 2003 founded baytoday.ca.
Peplow died July 13, 2007. He was 63.
Enjoy Dick Peplow here.
(The Don Shuttleworth Collection)
---
Talent: DAN INGRAM
Station: WABC New York
Date: November 9, 1965
Time: 8:22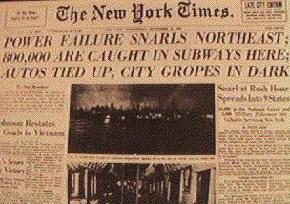 "That's Lazy River ... in the key of R"
Remember the night the lights went out?
It was November 9, 1965. Thanks to a faulty relay near Queenston, Ont., more than 30 million people in several northeastern U.S. states plus the province of Ontario were plunged into darkness for several hours. The power began to go off at 5:16 p.m. and before long about 80,000 square miles were without electricity. Trains stopped between stations, theatres closed and stranded travellers slept in hotel lobbies. In New York, Times Square went completely dark, an unusual sight for "The Great White Way."
The beginning of the blackout is captured on this fascinating aircheck of Dan Ingram's afternoon WABC show. The 'check begins with Jonathan King's"Everyone's Gone to the Moon," which is starting to play very, very slowly. Ingram notices and demonstrates the quick wit and timing that made him a radio legend. At that moment, nobody knew what was happening but it's obvious something is wrong. The newscast that ends this aircheck makes no mention of the problem but it quickly became one of the biggest stories of the year.
Hear Dan Ingram on WABC during the Great Northeast Blackout here.
(Scrapbook archives)
---
Subject: TOMMY VANCE
Station: KHJ Los Angeles
Date: November, 1965
Time: 6:03

Right in the midst of the musical British invasion, Los Angeles Top 40 radio listeners had their own radio British Invasion with the arrival of Oxford, England-born Tommy Vance.
The legendary British jock was at KHJ for a while in the mid-'60s before returning to the U.K. for a long British career with stops at Radio Caroline, Radio Luxembourg, Radio London, BBC Radio 1 and Capitol Radio. He was a regular presenter of "Top of the Pops" at Radio 1 and a highly sought-after voice-over artist.
Vance originally began his U.S. radio career under the name Rick West. When he arrived at KOL Seattle, legend has it that Tommy Vance was the only deejay jingle available on the station's jingle package at the time so that became his name! (His real name is Richard Anthony Crispian Francis Prew Hope-Weston). He kept the Vance moniker when he moved to KHJ in 1965, and after returning to the U.K. after running into immigration trouble.
Later in his career, Vance presented the "Friday Night Rock Show "on British digital television channel VH1 and had his own show on digital radio station Virgin Classic Rock.
He is credited with interviewing more than 10,000 guests, including Prince Charles and the Rolling Stones.
Vance died March 6, 2005 in Dartford, England, at the age of 63.
Hear Tommy Vance on KHJ here.
(The Jim Southern Collection)
---
Talent: BRIAN SKINNER
Station: CHUM Toronto
Date: December, 1965
Time: 26:17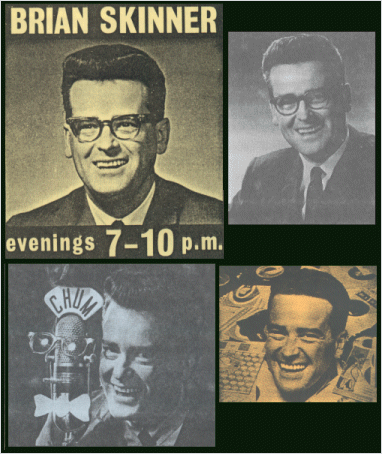 (Montage courtesy Bill Dulmage)
Back in the days when the early-evening shift was prime time in rock radio, Brian Skinner - nicknamed "The Prez" - was one of CHUM's biggest stars. Skinner was an instant hit from his arrival as a swing shift deejay at CHUM in 1963. In the fall of 1965, he replaced the legendary Dave Johnson in the 7-10 p.m. shift. He then created his own legend with the "Skinner Six-Pack" (six in a row), the "Grooveyard" (on Saturday nights), "UFO Info" and his wacky and corny sense of humour.
In 1968, Skinner was relegated to late evenings and then the all-night show with the arrival of the Drake format. He was gone by 1969 and his post-CHUM experiences remain a mystery to this writer (and many others for that matter). At last word, he was teaching in Seattle.

Hear Brian Skinner as he sounded on CHUM in 1965 here.
(The Charlie Ritenburg Collection)
---
Talent: RICK SHULTZ
Station: WHEE Martinsville, Va.
Date: December 26, 1965
Time: 4:37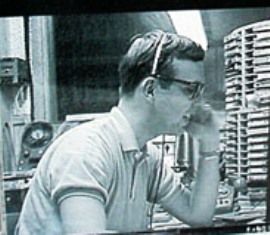 Top 40 radio not only used to entertain, it also influenced!
Barry Michaels tell us about his radio influence growing up - Rick Shultz.
"Rick is retired now ... I spent quite a bit of time growing up listening to him ... one of the people who got me interested in radio ... WHEE was a 5,000-watt radio station that was block programmed ... country in the morning ... MOR mid-days and in the afternoons rock and roll!. And, of course Rick's Sunday Session every weekend where he counted down the top songs ...You can tell it was the day after Christmas ... so not too many spots!"
Enjoy Rick Shultz with some classic '60s Top 40 radio here.
Not too long after, Barry Michaels embarked on a radio career of his own. In April, 1980, he was at WROV in Roanoke, Va.
Hear him here. (2:02)
(The Barry Michaels Collection)
---