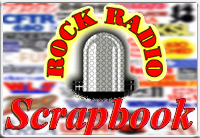 AIRCHECK OF THE WEEK

For week of February 26, 2017
Edition #926

Now in both Real Audio and MP3!


Talent: BOOGIE BELL
Station: KIMN Denver
Date: February 26, 1962
Time: Part 1 - 29:27 (unscoped)
Part 2 - 29:35 (unscoped)

It was a teen dream, and every competitor's nightmare.
KIMN was the station practically everyone - especially teenagers - listened to from the late '50s to the early '70s in Denver. Everything was aimed at the younger audience, from the music - rock & roll of course - to outlandish promotions and crazy jocks doing outlandish promotions. There was Pogo Poge broadcasting from a snake pit (and getting bit!), Roy "The Bellboy" Gunderson jumping on a trampoline while doing his show, and Steve Kelly sitting in every seat in Mile High City or visiting every phone booth in the city (probably a lot easier to do now, in the cell-phone era!). All of it was supplemented by brash newscasts emphasizing the sensational which not only appealed to the kids, it got their parents listening too. It was loud and proud and it worked, to the tune of a 56 share at its peak.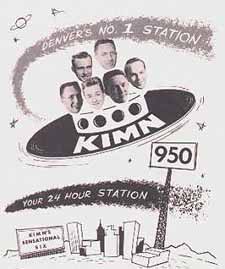 KIMN logo, 1960
Glen "Boogie" Bell was among the jocks who made KIMN tick. He jocked at the station from 1958 to 1963 and his show is typical of the sound of the station that flourished under the ownership of Ken Palmer, who bought KIMN in 1960 and sold it 10 years later. A shy but likeable man, Palmer was the one who helped make KIMN respectable for advertisers. "He played rock and roll, but he believed a radio station should be a servant to the community," recalls former KIMN traffic reporter Don Martin. "When we started a 15-minute daily newscast on a rock & roll radio station, everybody 'you're gonna get killed.' We made it No. 1."

Enjoy Boogie Bell on KIMN (Part 1) here.

Enjoy Boogie Bell on KIMN (Part 1) here.

Enjoy Boogie Bell on KIMN (Part 2) here.

Enjoy Boogie Bell on KIMN (Part 2) here.

(The Don Shuttleworth Collection)

More 1962 airchecks here!




Rock Radio Scrapbook pays
music licensing fees to the
Society of Composers, Authors and Music Publishers of Canada (License 22-F)


The Aircheck of the Week PREVIEW!



We're previewing the Aircheck of the Week on Facebook. Every Friday, we post the audio link to the Aircheck of the Week on Facebook with the full feature to follow on Sunday as usual.

Download your free RealPlayer
to hear the Aircheck of the Week via your PC or mobile device

Click here for technical help

---