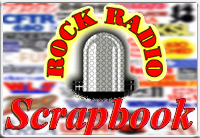 AIRCHECK OF THE WEEK

For week of January 1, 2017
Edition #918

Now in both Real Audio and MP3!

Talent

: RON O'BRIEN
Station: WCAR Detroit
Date: December 31, 1971
Time: 54:01 (unscoped)

Big Ron O'Brien hosted a show called "On the Radio" in the '80s and '90s, fitting for a guy who was on the air his entire adult life.
Born Richard Walls in Des Moines, Iowa, O'Brien started his professional career in 1969 in nearby Kansas City. His 49-year career took him all over the continental U.S., as far west as Los Angeles (KFI and KIIS), as far east as Boston (WRKO) as far north as Milwaukee (WOKY) and his southernmost stop, WQXI Atlanta. His resume also includes such biggies as KTLK in Denver, WCFL in Chicago, WPGC in Washington, D.C. and a trio of Philadelphia stations, WFIL, WYXR-WLCE Philadelphia and the station where he spent the last six years of his life, WOGL.
Ron O'Brien died April 27, 2008 of pneumonia at the age of 56.
Enjoy Ron O'Brien on WCAR here.

Enjoy Ron O'Brien on WCAR here.




(The Bill Dulmage Collection)

More 1971 airchecks here!

---
Subject: WGRQ preview and sign-on
Station: WGRQ Buffalo, N.Y.
Date: January 1, 1973
Time: 2:22

Contributor Dan Haber tells us the story behind this aircheck...
"I actually stayed home on New Year's Eve to record this. For years, WGR-FM was simply a placeholder on the dial, playing automated oldies at 96.9. But by 1973, the station changed, adding live personalities and playing more contemporary Top 40 hits with such greats as J.J. Jordan and Rufus Coyote, a clone of Wolfman Jack. This is the station's preview and sign-on at the stroke of midnight, as New Year gives away to a new Q."

Enjoy WGRQ's sign-on here.

Enjoy WGRQ's sign-on here.

(The Dan Haber Collection)

More 1973 airchecks here!




Rock Radio Scrapbook pays
music licensing fees to the
Society of Composers, Authors and Music Publishers of Canada (License 22-F)


The Aircheck of the Week PREVIEW!



We're previewing the Aircheck of the Week on Facebook. Every Friday, we post the audio link to the Aircheck of the Week on Facebook with the full feature to follow on Sunday as usual.

Download your free RealPlayer
to hear the Aircheck of the Week via your PC or mobile device

Click here for technical help

---