Rock Radio Scrapbook
Airchecks: 1973
Subject: CKGM COMPOSITE
Station: CKGM Montréal
Date: 1973
Time: 9:32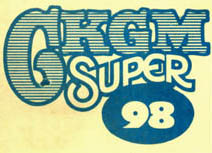 A Montreal-Toronto connection is very much evident in this wonderful CKGM composite from 1973.

Midday man Mike Williams was one of the first-year jocks when Toronto's CKFH switched to rock in 1967. He stayed there more than five years, before moving up the 401 to CKGM in '73.

Donny Burns was at CHUM Toronto for a few months in 1968. In 1973, he held down afternoon drive at CKGM. By the late 1970s, Burns had returned to Toronto, at CHFI.

Chuck Morgan was the all-night man at CHUM in 1975. But in 1973 he was the early evening jock at CKGM.

If CKGM's 1973 morning man Ralph Lockwood worked in Toronto radio, we're unaware of it. But Lockwood did spend nine memorable years (1972-1981) as CKGM's morning mayor.

Enjoy the 1973 CKGM Composite here.

Enjoy the 1973 CKGM Composite here.

(The Robert Parsons Collection)
---

Download your free RealPlayer to hear our airchecks

Click here for technical help

---
Talent: PAUL PALO
Station: WYSL Buffalo, N.Y.
Date: January 21, 1973
Time: 19:17
It's interesting to hear how a station's sound changes over the years. Check out this aircheck of Chris Clark on WYSL from January 8, 1967 and then listen to Clark - under his real name Paul Palo - six years later on January 21, 1973.
Enjoy Paul Palo on WYSL here.
(The Paul Palo Collection)
---
Talent: JACK ARMSTRONG
Station: WKBW Buffalo, N.Y.
Date: February 27, 1973
Time: 29:26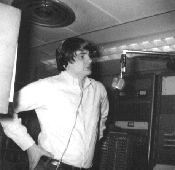 When Jack Armstrong left WKBW in February, 1973, the station was faced with a daunting task: how to replace him? The answer: they held a contest.
It was called the Great American Talent Hunt, and for 10 nights 'KB listeners were treated to a variety of jocks all competing for Armstrong's vacated 6-10 p.m. shift.
Here's the complete list of contestants and their station at the time if available:

Monday, March 5 - Dick Kemp

Tuesday, March 6 - Andrew Jackson (Big Ange, WPRO, Providence, R.I.)

Wednesday, March 7 - Judd Coursey

Thursday, March 8 - Shane (WLEE, Richmond, Va.).

Friday, March 9 - Greaseman (WAXC Rochester, N.Y.).

Monday, March 12 - Mike St. James (WFTL, Fort Lauderdale, Fla.)

Tuesday, March 13 - Bruce Clark (WKAZ, Charleston, W. Va.)

Wednesday, March 14 - The Janitor (WLOF, Orlando, Fla.)

Thursday, March 15 - Jim Carter (WBAB, Babylon, N.Y.)

Friday, March 16 - Super Shannon
The Janitor was declared the winner, but he didn't last long at 'KB and was replaced by Shane. Another contestant - Super Shannon - also did the evening shift at 'KB later in the decade.
NOTE: Albert Hammond, Harry Chapin and either Peter or Paul from Peter, Paul and Mary did guest shifts, co-hosted by Don Berns, February 28-March 2. They were not part of the contest, however.
Enjoy Jackson Armstrong's final show on WKBW here.
(The Craig Smith Collection)
---
Talent: JEFFERSON DAVIS
Station: CKOM Saskatoon
Date: March 30, 1973
Time: 57:20 (unscoped)

It's a prairie delight!
All the tunes, jingles and commercials are here along with one great jock in this rare unscoped treat from Canada's Wheat Province.
Enjoy Jefferson Davis on CKOM from March 30, 1973 here.
(The Don Shuttleworth Collection)



Rock Radio Scrapbook pays
online streaming fees to the
Society of Composers, Authors and Music Publishers of Canada (License 22-F)

---
Talent: KEITH RICH
Station: CKEY Toronto
Date: April 12, 1973
Time: 35:00 (Upgraded 11-16-08)

CKEY had two distinct eras as a rock station. First, there was the 1958-1965 period, where personalities such as Dave Mickey, Glenn Walters and Ray Starr rocked the dial. Then, there was the 1984-1991 era, when the station went to an oldies format with well-known personalities such as Terry Steele, Jay Nelson, Dan Williamson and John Rode.
In between - from 1965 to 1984 - CKEY was anything BUT a rock station, with a easy-listening music format and impressive news, sports and information programming. It was full-service AM radio at its best.
Some of Canada's best broadcasters did a turn at the 'EY mike during that period. Program hosts included the likes of Jim Paulson, Gene Kirby, Pat Murray and Jim Muir. The news staff included Joe Morgan, Bob Crabb, Phil Godin, Pete McGarvey and Robert Payne among many others. There was Jim Hunt and Brad Diamond on sports and Bob Rice, Dianne Pepper and Dini Petty with traffic. Another station highlight was commentary with Pierre Berton and Charles Templeton.
One man whose career encompassed CKEY's entire easy-listening era - and then some - was Keith Rich. The native of Dugaid, Man., was at 'EY - most of it in mornings - from 1964 to 1986. Rich earned his broadcasting stripes at CHOB Pembroke, Ont., CJBI Victoria and CJCA Edmonton before moving to CFRB Toronto in the late '50s. Later, he and Steve Woodman did a two-year stint at WNBC New York. After his CKEY days ended in 1986, Rich moved to the morning spot at Toronto's CJCL where he stayed until his retirement from radio in 1990. Rich, an aviation buff, farmed full-time and also bred Australian sheepdogs after his radio days ended. He died November 19, 2007 in Meaford, Ont., at the age of 80.
Enjoy Keith Rich on CKEY here.
(The Don Shuttleworth Collection)
---
Talent: BARRY SMITH
Station: CFPL London, Ont.
Date: April 12, 1973
Time: 11:29
Many radio stations trace their origins to a much-older medium: newspapers.
One example is CFPL.
The station that preceded CFPL was founded in 1922 by the London Free Press Printing Co. CJGC's studios were in the Free Press building with the transmitter in the publisher's office.
In 1933, CJGC and CKOK Windsor merged to form CKLW, the future Big 8. CJGC left the air but in 1934 the London Free Press replaced the former station's 730kc dial position with CFPL, the call letters standing for Free Press London. The station moved to 980kc in 1949.
The London Free Press no longer owns CFPL but its name remains in the call letters, a reminder of station's origins.
Enjoy Barry Smith on CFPL here.
(The Bill Dulmage Collection)
---
Talent: STIRLING FAUX
Station: CFTR Toronto
Date: June, 1973
Time: 6:00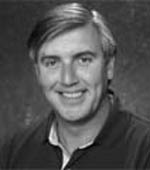 The contrast was dramatic when beautiful-music formatted CHFI-AM became Top 40 rocker CFTR in the early '70s. Instead of Don Parrish playing the Living Strings on Candlelight and Wine, we were hearing Doc Holliday blasting out the Edgar Winter Group's Frankenstein. It was quite an adjustment, even though the easy-listening sounds did continue on the FM side.
But CFTR was a great rock station, a perfect foil to the well-established CHUM. Deejays like Jim Brady, Steve Shannon, Holliday and others gave the station a somewhat raunchy quality missing from CHUM, for years Toronto's top 40 mainstay.
In 1973, Sterling Faux was on the 9 p.m. to 1 a.m. shift at CFTR. Here him here.
(The Gary Pfieffer Collection)
---
Talent: RICK ALAN (Rick Moranis)
Station: CFTR Toronto
Date: June, 1973
Time: 5:06

Rick Moranis, later of film and television fame, is heard doing the all-night show as Rick Alan on CFTR in 1973.
Moranis' middle name is Alan, hence his air name.
Hear it here.
(The Gary Pfeiffer Collection)
---
Talent: STEVE SHANNON
Station: CFTR Toronto
Date: June, 1973
Time: 5:50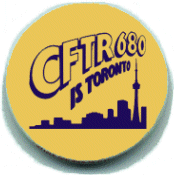 The contrast was dramatic when beautiful-music formatted CHFI-AM became Top 40 rocker CFTR in the early '70s. Instead of Don Parrish playing the Living Strings on Candlelight and Wine, we were hearing Doc Holliday blasting out the Edgar Winter Group's Frankenstein. It was quite an adjustment, even though the easy-listening sounds did continue on the FM side.
But CFTR was a great rock station, a perfect foil to the well-established CHUM. Deejays like Jim Brady, Steve Shannon, Holliday and others gave the station a somewhat raunchy quality missing from CHUM, for years Toronto's top 40 mainstay.
In June 1973, Steve Shannon did his first show at CFTR. Hear him here.
(The Gary Pfieffer Collection)
---
Talent: JIM VAN HORNE
Station: CHUM Toronto
Date: June 23, 1973
Time: 8:09
He established himself as one of Canada's leading sports anchors, on The Sports Network (TSN) and Sportsnet. But did you know that Jim Van Horne was a deejay - and a good one - at 1050 CHUM?
Van Horne starred at CHUM during the height of the Drake era in the 1970s. His outstanding straight-ahead Top 40 style kept him on the air there for years. Fans of CHUM's nostalgia show Canadian Graffiti may remember that Van Horne used to fill in for Scott Carpenter now and then on that popular show.
Rock Radio Scrapbook presents Jim Van Horne here.
(The Mark Young Collection)
For more great CHUM airchecks, visit The CHUM Archives
---
Subject: TED "THE BEAR" RICHARDS
Station: CKLW Windsor, Ont.
Date: June 29, 1973
Time: 10:36
(Photo courtesy Charlie O'Brien)
Hound Dog Lorenz ... Wolfman Jack ... Charlie Tuna ... Top 40 radio was full of great nicknames in its glory days. And many of those nom de plumes had to do with animals, fish and fowl.
There was Ralph "Birdman" Lockwood, Hoss Allen, Joe "The Rockin' Bird" Niagara, Johnny Rabbit (and Jimmy Rabbit and Wonder Rabbit), Alison "The Nightbird" Steele, Russ "The Moose" Syracuse, Jim "The Vanilla Gorilla" Wood, Coyote McCloud (and Rufus Coyote), Bob Robin, Tiger Bob Raleigh and Terry "The Bear" Steele. To name a few.
There was another "Bear" - Ted "The Bear" Richards. Enjoy him on CKLW here.
(The Tom Howard Collection)
For more classic 'CK airchecks, visit The CKLW Years
---
Talent: RALPH LOCKWOOD
Station: CKGM Montreal
Date: July 3, 1973
Time: 5:40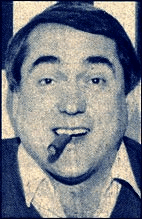 (Description by Marc Denis)
When it comes to the classic Top 40 radio "one-man show" morning host, look no further than to the legendary Ralph "The Birdman" Lockwood on Montreal's 980 CKGM from 1972 to year-end 1981. Prior to his arrival at CKGM, Lockwood is already a master of his craft as of 1968, hosting AM drive on rival Top 40 outlet 1470 CFOX. His arrival on CKGM mornings is a key element in the station's unprecedented popularity and success during the '70s and signals the beginning of the end for CFOX.

Although he eventually leaves Montreal to return home to Pennsylvania radio in 1988, Lockwood is still fondly remembered by all today as the master of the one-liner and of the latest groaner, always delivered with impeccable timing and often with back-up assistance from his zany cast of characters. Mention "Ralph Lockwood" and legions of Montrealers still today recall the Birdman's daily greeting of "How's Your Bird?", which he also delivered, tongue firmly in cheek, in Greek, Italian, Polish and French.
Ralphie tries to return to Montreal to visit once a year, usually on his birthday, which he celebrates with old friends and colleagues at Montreal's legendary ribs and chicken eatery, The Bar B Barn.
On this aircheck from July of 1973, veteran newsman Robert Vairo and sultry traffic reporter Terri Stacey are also featured. Hear Ralph cleverly use a fictional phone call from Expos' baseball hero Boots Day to set-up his latest joke and throw it to Professor Frydock for a couple of laughs as well. Let us not forget that yummy Colt cigar for breakfast either.
Enjoy Ralph Lockwood on CKGM here.
(The Dan Kowal Collection)
(CKGM 980 Ralph Lockwood July 3, 1973 aircheck reproduced and posted here through permission by marcdenis.com (Marc Denis's CKGM Super 70s Tribute Page). This aircheck cannot be duplicated or distributed without prior written permission and consent by the proprietor(s).)
For more super Montreal airchecks, visit The Mais Oui Files
---
Talent: WALLY CROUTER
Station: CFRB Toronto
Date: July 23, 1973
Time: 36:37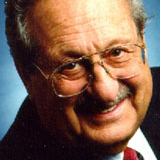 When Wally Crouter debuted on CFRB on November 1, 1946, little did he know that this - his second radio job - would also be his last. Nor could he foresee that he'd still be at that same job fifty years later.
Earlier that year, Crouter had started in professional radio at CHEX Peterborough, Ont., shortly after returning to his hometown after serving with the Canadian Army in World War II. He debuted at CFRB a few months later, beginning a career unmatched in Canadian broadcasting.
When he signed off for the last time on November 1, 1996, Crouter could look back on a career that saw him entertain for half-a-century in Canada's top market, most of it in the demanding morning slot. His relaxed personality woke up Torontonians from the time of Mackenzie King and Frank Sinatra into the era of Jean Chretien and Celine Dion. He did it without bells and whistles, by telling stories, making observations on life, or simply telling folks what the weather was going to be like that day, or what the Leafs did last night.
Off-the-air, Crouter was an avid golfer and traveller, who went afar to interview famous people from sports, entertainment and politics. He also survived wounds in World War II, an attempt on his life in Grenada, three plane crashes and a motorcycle accident. Prime Minister Trudeau presented him with a flag that had flown over Parliament Hill, and he was named to the Canadian Association of Broadcasters (CAB) Hall of Fame in 1996.
This aircheck begins with the conclusion of a newscast by Jack Dennett, who in 1973 had been at CFRB for 31 years. A veteran of NHL broadcasts for TV and radio since 1945, Dennett was inducted into the Canadian Sports Hall of Fame in August, 1975. Later that month, he died of cancer at the age of 59.
Also on this aircheck:
- Prior Smith with the traffic. Smith was at CFRB from 1969 to 1988 before leaving permanently to continue hosting Canada Calling, a Florida-based radio show aimed at Canadians.
- The Canadian Tire Sports Test with Bill Stevenson, the CAB Hall of Fame sportscaster who spent some four decades at CFRB as part of a 53-year broadcasting career.
- "Good News" reporter Sue Prestedge, who went on to a long and successful career with the CBC. She won the Foster Hewitt Award for Excellence in Sports Broadcasting in 1984 - the first woman to do so.
- A newscast with David Craig, a long-time fixture in southern Ontario newscasting.

Enjoy the Wally Crouter show on CFRB here.

Enjoy the Wally Crouter show on CFRB here.

(The Bill Dulmage Collection)

This aircheck is dedicated to my mother, Margaret K. (Margo) Patterson, who died of cancer May 4, 1998. My mother was an avid CFRB listener, for years she had it on all day from Wally Crouter in the morning until Ray Sonin at night, and Earl Warren, Bill McVean, Betty Kennedy, Bill Deegan and many other voices in between. Whenever I hear CFRB, I think of her.
---
Talent: BOB MacRAE
Station: WKBW Buffalo, N.Y.
Date: August 29, 1973
Time: 4:21
It was the summer of '73 and WKBW was about to became "A Thing of the Past." On September 1 of that year 'KB abandoned its successful personality approach in favour of a more music-oriented format called "KB 15: The Great American Music Machine." Promos just before the change trumpeted the fact that 'KB was going to become "A Thing of the Past." (More detail on this can be found lower on this page).
The 'KB lineup in 1973 before the switch was Dan Neaverth (6-10 a.m.), Don Berns (10 a.m.-2 p.m.), Sandy Beach (2-6 p.m.), The Janitor (6-10 p.m.), Bob MacRae (10 p.m.-1 a.m.) and Barney Luv (1-6 p.m.). This aircheck was made three days prior to the changeover.
Enjoy Bob MacRae here.
(Scrapbook archives)
---
Talent: DAN O'NEIL
Station: CKGM Montreal
Date: Late summer, 1973
Time: 3:50

Everybody has their very first favourite deejay. Mine was Dan O'Neil, who in 1967 held down the midday shift at Toronto's legendary CKFH. O'Neil was the first deejay I really sat up and took notice of. I thought his style was perfect for the Top 40 format.
I always wondered what became of Dan until June 1999, when quite to my surprise he e-mailed me out of the blue having seen Rock Radio Scrapbook. Dan let me know that he is very much alive and well and in sales at WNAV in Annapolis, Md. After leaving CKFH in '67, Dan told me he had stops in WOKO Albany, N.Y., WHAZ Troy, NY., WTLB Utica, N,Y., and Montreal stations CFOX, CJAD, CJFM,and CKGM. He also worked at CJOM Windsor, Ont., WYST Baltimore, WDJY Washington, D.C., WWJZ Philadelphia and WINX in Rockville, Md., in various on- and off-air capacities (a complete list is below).
Prior to CKFH, Dan worked at WTLB (twice) and also WKAL Rome N.Y., WOLF Syracuse, N.Y., WPOP Hartford, KBTR Denver and WIRY Plattsburgh, N.Y.
I thank Dan for sending this aircheck and now I would like to share it with you. He was - and is - one of the best.
Enjoy Dan O'Neil here.

CAREER-AT-A-GLANCE: DAN O'NEIL
Nov 62 - Jan 63 WTLB Utica NY
Jan 63 - July 63 WKAL Rome NY
Jan 64 - Apr 65 WTLB again
Apr 65 - Nov 65 WOLF Syracuse
Nov 65 - Jan 66 WTLB (again)
Jan 66 for two weeks WPOP Hartford CT
Jan 66 - Apr 66 WOLF Syracuse
Apr 66 - Dec 66 KBTR Denver
Feb 67 - Apr 67 WIRY Plattsburgh NY
Apr 67 - Dec 67 CKFH Toronto
Apr 68 - May 68 WOKO Albany NY
May 68 - Feb 73 WHAZ Troy NY
Apr 73 - Mar 75 CKGM Montreal
Apr 75 - Sep 77 CFOX Montreal
Jan 78 - Mar 79 CJFM Montreal
Mar 79 - Feb 81 CJOM Windsor ON
Aug 81 - Feb 84 WYST-FM Baltimore
Feb 84 - Aug 85 WDJY Washington DC
Aug 85 - June 87 WYST-FM Baltimore
June 87 - Jan 91 WYST-AM Baltimore
Jul 91 - Feb 92 WJZE Washington
June 92 - Dec 92 WNAV Annapolis MD
Dec 92 - Mar 93 WWJZ Mt. Holly NJ
Jun 94 - Jul 98 WINX Rockville MD
Aug 98 - present, WNAV Annapolis MD, sales only, sales manager since 2003.

Also did fill-in and part-time work for WSNY, Schenectady, NY; WABY Albany, NY; WBZA Glens Falls NY; WTLB Utica NY (while full time at WHAZ); CJAD Montreal; WAXC Wapakoneta OH; and split hours in 1993 and 1994 between WNAV and WINX before going full-time at WINX.

(The Dan O'Neil Collection)
---
Talent: JAY NELSON
Station: CHUM Toronto
Date: August, 1973
Time: 11:00
It was like losing a part of our youth.
On February 18, 1994, Toronto radio fans were shocked at the news that long-time CHUM morning man Jay Nelson had died. Nelson, whose real name was Frank Coxe, anchored some of the greatest radio lineups of all time during his 17 years as morning man at 1050 CHUM.
Jungle Jay Nelson was well-known to Toronto audiences when he arrived at CHUM in December, 1963, succeeding Al Boliska (trivia: Bob McAdorey did the morning show briefly between Boliska and Nelson). Nelson had done the morning show at WKBW for two years and also an afternoon TV show on WKBW-TV. But who would have thought he'd last 17 years in morning drive at CHUM, finally stepping down in 1980.
Nelson went on to gigs at CITY-TV, CKFM, CKEY, CHFI and CJEZ and was teaching radio at George Brown College in Toronto shortly before his death. He remains one of Toronto's most remembered personalities.
Rock Radio Scrapbook presents Jay Nelson here.
(The Bill Dulmage Collection)
---
Talent: DON VALLI
Station: CFTR Toronto
Date: September 15, 1973
Time: 18:12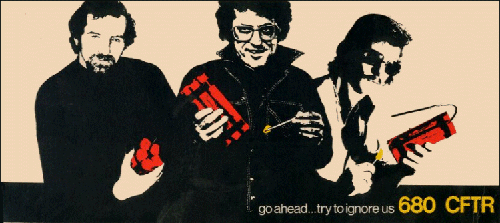 (l-r) Earl Mann, Bob McAdorey, Chuck Christian, 1972 (Courtesy: Bill Dulmage)
Nowadays, you're lucky to hear any AM stations in a given city playing contemporary hit music. But for a short time in the early '70s, Toronto had three.
There was CHUM, which became a full-time Top 40 station on May 27, 1957 and CKFH, which began playing contemporary hit music on January 2, 1967. Both were still going strong when CFTR joined the fray in March, 1972.
The three-way battle continued until CKFH switched to country in March, 1975. That left two. CHUM would drop Top 40 in favour of soft rock in June, 1986 while CFTR became an all-news station in June, 1993.
A key figure on CFTR's launch as a rock station was Keith Elshaw. He posted his memories of 'TR's early days to the Southern Ontario/Western New York message board in 2007 and has given us permission to republish it here:
"When they changed the name from CHFI in '71, it hobbled along for almost a year still very MOR. Ted and Keith Dancy sucked it up and went for the big change they knew was needed. On March 1, 1972, George Johns became Station Manager. On March 2, I became Assistant PD/Music Director. (Ted and Dancy were stingy with the titles they handed out). There are reasons George is a legend in Canadian radio. His 14 months at TR a big part of it, of course.

It was kind of obvious what the station should do: go rock. But, Ted had been hoping he could beat CFRB. Well, changing the focus to go after CHUM made sense. After-all, they paid Buzz Bennett a whack of dough to tell them that was what they should do. Buzz (with spurs, saddlebags, leather) came for a couple of weeks and scared the pants off the competition (who reportedly put guards at their transmitter site) and Ted bought into the program. Then George was given the go ahead. So Keith E. had to go out and scrounge up records and talent. Both were not that easy to come by in the first days, actually. If you can believe it, even after ordering everything we could from the record companies and buying everything worthwhile at Sam's and A&A's, I still had to drive to Hamilton and Sarnia to empty out the libraries of the company's stations there for old hits. To build a library, you had to work.

On the talent end, we started with the announcers already on staff. Great people who were really well paid - but not really wanting to be rock jocks again. But, they were pros and did what they were told. Bob McAdorey, Earl Mann, R.O. Horning, Jr.; John Woodbridge; Todd Russell. Here they were, playing Sinatra and Peggy Lee and Matt Monroe and just gliding through life, and all of a sudden they had to turn on the juice and make like CHUM was about to be taken. And it WAS all-of-a-sudden.

I had collected the music and put a system together and George had finalized the format he wanted. We just sat around in the office (I had to share his in the old building at 13 Adelaide) telling people we weren't going to be a rock station. (Yah, right). One morning, in the middle of the March (72) ratings, we got knocked off the air by an electrical storm for a couple of hours. George looked at me and said, OK - let's go. We've got no listeners anyway! So he went into the booth where Earl was on the air to give him the format and liners and I went into the control room with the op to hand him the records and the clock. The first record was Spinning Wheel. Earl said, who? Blood Sweat and Tears? You don't mean Peggy Lee?

Anyhow, those first jocks were real troopers. It wasn't in the cards that they (or we!) would stay around that long, but they answered the call. Especially wonderful Todd. I believe he was about 65 at the time; and for a few weeks, he rocked the pants off the other guys. We played airchecks of him to the other guys to show them what we wanted. Todd was the first Good TR Rock Jock. Trust me. Todd Russell - you de man, sir. As I say, it was not that easy to find the talent we really wanted in the early days. I mean, there weren't many believers - even if it was Ted Rogers' company. Maybe especially because.

A first big catch was Mike Marshall. He was a name because of his CKLW background, of course. But just as important was the stealing of Sandy Hoyt from CKFM. Sandy was my PD in Orillia when I was 15 and first got on the air. Introducing him to George and convincing him to come with us crazy people was a thing that worked out well. Both Sandy and Mike were good for Rogers for decades. Sandy was a BIG influence on one of our ops - Rick Moranis -whom George put on the air for the first time. We were so short of people who had an idea of what to do. So, Rick got his shot and George brought in his friend the wonderful Roger Klein from Ottawa ("Don Valley"!) and I even did some shifts as "Steve Yonge."

We are the crew no one remembers, I think. We did outrageous things (yes - there are many stories). We were bold, cheeky in the old radio way, totally committed. You wouldn't believe the tales and the tricks. But I was part of George's team and he was destined for bigger things. Off he went to the US, and that was that. Not for the last time, I showed my preference for staying in Canada. I was there long enough to be able to design my new digs when we moved to 25 Adelaide on the 13th floor. The company was growing. The station was soon to get traction.

It did become something and have a life. It was fun for me to look at what good friends of mine like Dan Williamson and Tom Rivers and so many others did with it as time went by. Because ... it did have a beginning that worked. It was SO crazy in the beginning. So great. We brought in the The Magic Christian. The Duker.

I was 22 in 72. Oh, don't get me started. I wasn't at the Q reunion (there at the beginning, of course and a couple of times after). But if there is a TR reunion, don't forget the guys who started it and paved the way. Even if you've never heard of them."

One of the jocks during CFTR's early time as a rock station was Roger Klein. Except didn't use that name. Rather, he called himself Don Valli, inspired by that much-travelled Toronto highway - the Don Valley Expressway.

Enjoy Don Valli on CFTR here.

Enjoy Don Valli on CFTR here.

(The Bob Seed Collection)
* Sent to Rock Radio Scrapbook by Don Shuttleworth
---
Talent: DOC HOLIDAY
Station: CFTR Toronto
Date: September, 1973
Time: 12:10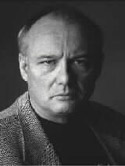 Another jock during CFTR's early time as a rock station was Doc Holiday, who later went on to a long career in Vancouver radio as Doc Harris.

Enjoy Doc Holiday on CFTR here.

Enjoy Doc Holiday on CFTR here.

(The Bob Seed Collection)
* Sent to Rock Radio Scrapbook by Don Shuttleworth
---
Talent: STEVE SHANNON
Station: CFTR Toronto
Date: September, 1973
Time: 19:51
Steve Shannon came to CFTR from CKGM Montreal in 1973, returning to CKGM by 1974. He also jocked in the early '70s at Montreal's other major anglophone Top 40 outlet, CFOX.
Enjoy Steve Shannon at CFTR here.
(The Bob Seed Collection)
* Sent to Rock Radio Scrapbook by Don Shuttleworth
---
Talent: KEN McDERMID & KEITH O'BRIEN
Station: CKOC Hamilton, Ont.
Date: September 15, 1973
Time: 46:46 (unscoped)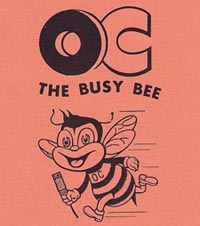 For 55 years, CKOC played the hits.
The Top 40 era at the Hamilton station began on October 3, 1960 when the station started playing the hits of the day as "The Busy Bee." Previously CKOC had run a mixed bag of programming. Let's look back at a CKOC Top 40 schedule from that first month (from the Toronto Star radio listings for October 29) :
George Balcaen (6-9 a.m.) - Balcean was the first morning man of the Top 40 era. The native of St. Boniface, Man., had been with CKOC since 1956 after previous stops at CKDM Dauphin, Man., and CKY Winnipeg. Balcaen left CKOC in 1963 for a 35-year reign as morning man at CJAD Montreal where he spelled his name Balcan. He died in 2004 and was inducted into the Canadian Association of Broadcasters Hall of Fame the following year.
Stu Daly (9 a.m.-12 noon) - Daly had previously been at CHUC in Cobourg, Ont. He moved to CKOC in 1958 but didn't like the switch to the rock format two years later; he left in 1961 for CHOW Welland, Ont. After a short stay at CHOW, he left the station for CKLG Vancouver but lasted only three weeks before contracting hepatitis. Daly returned to Hamilton in 1962 at CHML but moved to CKFM Toronto in 1967 for a two-year stint in the morning show. He left CKFM in 1975 to concentrate on his free-lance voice career. He later retired to Florida.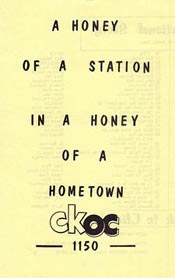 Gary Summers (noon-1 p.m.) - Summer did a mid-morning music show at CKOC until 1964, before giving it up to concentrate on sports. Summers spent more than three decades at CKOC, missing only one day of work when he came down with laryngitis. In addition to being CKOC's long-time sports director, he was also sports director at the station's FM outlet, CKLH.
Tommy Hunter (1-1:45 p.m.) - CBC programming.
George Dawes (1:45-3 p.m.) - Dawes was a carryover from the mixed bag era and was gone by 1961.
Randy Ferris (3-6 p.m.) - Ferris left the station by 1962.
Ron Smith (6-7 p.m.) - Smith later moved to afternoons before leaving around 1967.
Echoes of Italy (7-8 p.m.) - Foreign-language programming.
Hi Fi Club (8-8:30 p.m.) - 8 p.m.-8:30 p.m. - No host indicated.
Bill Bright - 8:30-10 p.m. - Bright also worked for CHUM, CFRB, CKFM and CJEZ. He died in 2013 at age 87.
Bill Holland - 10-10:30 p.m. - Started in broadcasting at CFRA Ottawa after graduating from the Lorne Green School of Broadcasting in 1953. Began at CKOC as a news announcer in 1958.
Moonglow (10:30 p.m.) - No host indicated.
By 1973, all of the originals were gone except for Summers who was now sports director. But CKOC continued to play the hits of the day until 1992 when it changed format to oldies and call letters to CKMO (More Oldies). CKOC bowed to listener pressure the next year and reverted to its heritage call letters which had been in use beginning with the station's founding in 1922. The oldies format continued until September 7, 2015, when CKOC flipped to a sports format as TSN 1150 after Ted Yates, Dave Smith, Rockin' Ray Michaels and Mike Nabuurs counted down the Big 500 one last time.

Enjoy Ray McDermid and Keith O'Brien on CKOC from September 15, 1973 here.

Enjoy Ray McDermid and Keith O'Brien on CKOC from September 15, 1973 here.

(The Bob Seed Collection via Don Shuttleworth)



Rock Radio Scrapbook pays
online streaming fees to the
Society of Composers, Authors and Music Publishers of Canada (License 22-F)

---
Talent: JOHN NOVAK
Station: CKOC Hamilton, Ont.
Date: September 18, 1973
Times: Part 1 - 44:12 (unscoped)
Part 1 - 14:02 (scoped)
Part 2 - 45:43 (unscoped)
Part 2 - 15:08 (scoped)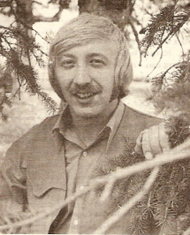 (Photo courtesy: Ted Wendland/radiowest.ca)
In a business where people come and go like the wind, John Novak is a constant.
Novak started at CKOC on June 6, 1972 and was on-air there an amazing 37 years and two months before he and the station parted ways in August, 2009. Novak, chief engineer Les Horton (51 years of service beginning in 1922) and program director Nevin Grant (38 years ending in 2003) are the top three longest-serving employees in the long history of CKOC. But no one was on the air longer at CKOC than this native of Winnipeg.
In his long service at CKOC, Novak did most of the air shifts, from middays to afternoon drive to mornings. He also served as music director and assistant program director and additionally did a stint at CKOC's sister station, K-LITE FM (CKLH).
Novak talked to Rock Radio Scrapbook about his early days in the business:
"I began my career Oct.30, 1966 at (the now defunct.....as so many AMs now are) CJLX in Thunder Bay, Ontario. I was the mid-day announcer and music director at 92 CJCH for a year ('71-'72). They were the CHUM station in Halifax and sounded GREAT! You could've plunked that station into any big market and they would have been competitive. We had a lot of extremely talented people on board when I was there. Gord Martineau (CITY TV) was our morning news anchor, Danny Roman (Duff's little bro) was the PD and CJCH is where CHUM actually recruited John Gilbert from to do the talk show they ran mid-days (remember?). He was doing a mid-day talk show, same kind, same time, on CJCH before he came to Toronto. We were also consulted (because of the CHUM connection obviously) by non other than the legendary Ted Randall. I can remember how intimidating it was sitting in a session with this guy whom I considered even then to be an absolute radio guru, telling me face to face what I was doing right and what was not so right. I learned an awful lot there in that one year.

After Halifax, I got a chance to be a PD for the first time in my career. An offer came from CHSJ in Saint John, N.B., to be PD/morning host. I was there for only two months (my young wife and myself didn't even have the boxes all unpacked) when the offer from CKOC came in May of 1972. I'd wanted to get into the Southern Ontario market for some time. Actually that's a big part of the reason I went to Halifax. I was hoping big brother CHUM might call me up from the farm team, but that never did happen. Also, I quickly discovered being a PD and a morning guy in a market like Saint John, meant starting your day at 4 a.m. and more often than not, not getting home 'til after 7 or 7:30 most nights. I'm devoted but I figured, after a while, that pace would kill anybody. My wife wasn't too enthralled with the scenario either. CKOC offered me the same money at roughly half the work day 'and' it was Southern Ontario, so I didn't have to wrestle with that decision at all. Thirty-seven years later and the rest is, much as I try to avoid cliches, history.

I grew up in Winnipeg, which was a wonderful hot-spot to be in for any kid enamoured by/with radio in the '50s and '60s. I decided there, that being the guy on the radio playing all those cool songs what was what I wanted to do for a living. I used to listen to great announcers like Jim Paulsen, Doc Steen, Boyd Kozak, Peter Jackson (PJ the DJ) and all the rest of them on CKY and CKRC. Not only that, but geographically, Winnipeg was in a great place on the continent to pick up the big legendary stations from all over the states. For example, I'd listen to Dick Biondi on WLS at night religiously along with tons of others too numerous to mention. I even kept a log book (which I still have to this day) of all the stations I'd pick up and listen to, along with their frequency and what city they were in.
I found out after I'd arrived at CKOC, that one of the contributing factors to my getting the job there was because the GM at the time, R.K. (Bob) MacDonald, heard me doing the morning show on CKXL while driving through Calgary on a motor trip in 1969. He later told told me he'd made a mental note that I might be a possible prospect for his station, CKOC, in the future. Not only that, but my name 'Novak' rang a bell with him because he'd been the PD at CKRC in Winnipeg earlier in his career and had a lot of dealings with an uncle of mine (Bill Novak) who was a theatre manager in the city. The station and the theatre (The Metropolitan, I believe) would get involved with special promotions and premiere nights, etc. and he wondered if I was from the same 'Novak' family in Winnipeg because on my resume, I'd mentioned that, that's where I grew up. Turns out, that connection got me noticed and as I learned after I got to CKOC, probably resulted in a leg-up on the competition for the position they were hiring for. Bob MacDonald and my uncle apparently worked well together and liked each other, so Mr. Mac assumed I was from 'OK' roots. Guess there's some truth to the old saying, "It's not what you know, it's who you know".

The other interesting tidbit, is that my replacement at CJCH in Halifax when I came to Hamilton was a guy named Jim Keith. He replaced me on the mid-day show there and eventually went on to become the station's P.D. His real name is Jim McLeod, who later on became one of CKOC's co-owners and our GM. After selling his shares in the place to Telemedia, along with his other two partners in the company (Radio Corp.) who owned it, Jim of course went on to head the BBM for a few years. He was/is a very smart man whom I always got along well with and respect immensely. By the way, the station Mr. McLeod/Keith was working for just before he got my job in Halifax??? You guessed it, CKOC!

People say the radio business and culture in Canada is a 'small world' and it's so true."
Novak also worked at KGA Spokane, Wash., and KSTT Davenport, Iowa, prior to CKOC.
In January 2010, he began doing middays at Hamilton's Vinyl 95.3 (CING-FM). That gig ended when the station changed format in 2013.

Enjoy Part 1 of John Novak on CKOC (UNSCOPED) here.

Enjoy Part 1 of John Novak on CKOC (UNSCOPED) here.

Enjoy Part 1 of John Novak on CKOC (SCOPED) here.

Enjoy Part 2 of John Novak on CKOC (UNSCOPED) here.

Enjoy Part 2 of John Novak on CKOC (UNSCOPED) here.

Enjoy Part 2 of John Novak on CKOC (SCOPED) here.

(The Bob Seed Collection) *
* Sent to Rock Radio Scrapbook by Don Shuttleworth



Rock Radio Scrapbook pays
online streaming fees to the
Society of Composers, Authors and Music Publishers of Canada (License 22-F)

---
Talent: ROCKIN' RON (BAPTIST)
Station: CHAM Hamilton, Ont.
Date: September 21, 1973
Time: 22:27

If listening to CHAM wasn't enough, you could also watch!
During its Top 40 era, the Hamilton station was located inside a shopping mall called the Terminal Towers. Since all the stores in the mall had glass for walls, you could actually stand outside and watch the announcers working in the control room. Among the jocks you would have seen through the glass in those days were Gil Harris, Dick Joseph, Ike Isaac, Ken Packham, Ravin' Dave Mitchell, Skip Dewling, Don Collins, Bob Wood, Ted Michaels, Don West, J.J. Clarke, Len Robinson and Dave Fisher. Also on staff was newscaster Glen Darling, the son of Canadian broadcaster Tom Darling who would later become program director of FM 108 in Burlington.
CHAM went on the air in 1959 under the call letters CHIQ. David Marsden was one of the early deejays, appearing there in 1964 after his CKEY Toronto days. The call letters were changed to CHAM after Rogers Broadcasting purchased the station in 1967. The station went Top 40 in 1970 in direct competition with CKOC, and published a weekly music chart for a time. CHAM was sold to Dancy Broadcasting in 1976, which promptly changed the call letters to CJJD and moved the broadcast facility to Lloyd D. Jackson Square, ending the days of public viewing of the deejays. The old CHAM call letters were restored in 1981 and the format changed to country when the station was purchased by Moffat Communications. In 1985, CHAM moved to 820 on the AM dial.

One of CHAM's most memorable jocks was Rockin' Ron (Baptist), who landed in Hamilton in 1973 after stops at WIST Charlotte, N.C., and WAPE Jacksonville, Fla. After leaving CHAM in 1974, he worked at WDRQ Detroit, XEROK Juarez, Mexico (as Ron Starr), WSGN Birmingham, Ala., (as Ron Roddy), WKVQ Knoxville, Tenn., WBBF Rochester, N.Y., and WDMN/WXQQ Toledo, Ohio (the latter two stations as Ron Denver).

Hear Rockin' Ron on CHAM here.

Hear Rockin' Ron on CHAM here.

(The Bob Seed Collection)
* Sent to Rock Radio Scrapbook by Don Shuttleworth
---
Talent: MICHAEL GODIN
Station: CFCF Montreal
Date: September 22, 1973
Time: 4:11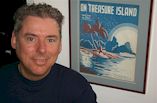 Many oldies buffs make Michael Godin's Treasure Island Oldies a regular stop on the web. His weekly oldies show there has won much well-deserved praise. But Godin's broadcast and musical background far pre-dates the World Wide Web. Starting in 1969, he was a program host and music director at Montreal stations CFQR, CFCF and CJFM and CFOM in Quebec City. In 1975, he became Director or Artist and Repertoire at A&M Records in Canada, signing and developing stars such as Bryan Adams and winning many platinum, gold and diamond records. It was the beginning of an incredible career in the music business for Godin. Read more about that career here.
In 1973, Godin was at the legendary CFCF Montreal. He told Rock Radio Scrapbook about his time there...
"CFCF was a great time for me. I started in 1971 at their FM station, CFQR, as an operator. Within the year I was made Music Director and at the time it was the #1 FM station in Montreal. A year later I was moved over to CFCF as Music Director and also ended up with weekend airshift, courtesy of Jim Kidd, the Program Director (who also had previously made me MD of CFQR-FM).
CFCF was my first real on-air shift and while was clamouring for a Top 40 forma, this AC station was a tremendous entry point for me on air. There were also many radio veteran personalities there: Ned Conlon, Jimmy Tapp, Jack Curran, Gordon Sinclair and Ken Dobson. CFCF was an amazing learning opportunity as I was so fortunate to work there and not have to get my start in "Small Town" Canada. It was also special to be working at the first commercially licensed radio station in North America. In fact, CFCF stood for Canada's First, Canada's Finest.
I was about 17 or 18 at the time of this aircheck and although I do sound like a young kid, and an inexperience DJ it is a treat to hear myself way back then."
Highlights of this aircheck include Jimmy Tapp voicing a spot for Acrilan Velvet and an upcoming Gilbert O'Sullivan concert, sports talk host Ted Tevan for Western Exterminating and Michael cross-plugging the Monday morning breakfast show with Ned Conlon.
Enjoy this aircheck of Godin on CFCF here.
(The Marc Denis Collection)
---
Talent: DAN NEAVERTH and BARNEY LUV
Station: WKBW Buffalo, N.Y.
Date: September, 1973
Time: 7:51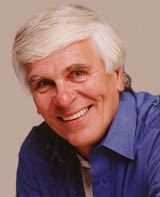 'Long-time KB morning man Dan Neaverth
WKBW listeners, so used to hearing personality-style radio, were in for a shock in 1973.
In September of that year, 'KB abandoned its long-standing personality strategy and moved to a more music, less talk approach. It was called the Great American Music Machine and it met with less than rousing reviews.
Ratings sagged except in morning drive, where Dan Neaverth was basically allowed to continue what he was doing. Program director Jeff Kaye and popular afternoon driver Sandy Beach both left the station after the "Music Machine" switch.

In mid-1975, 'KB was repositioned as A Friendly Place and restored the personality with jocks like George Hamberger, Jim Quinn and Super Shannon. Beach was also back, this time as PD. The ratings improved and stayed solid until 1979, when the influence of FM and the emergence of WBEN as a full-service AC began eroding 'KB's numbers.
This aircheck showcases 'KB just before the switch to The Great American Music Machine. Included in this aircheck is a newscast by long-time Buffalo announcer John Zach. You can hear it here.
*Thanks to Bob Smith for helping with historical background
(Man From Mars Productions)
---
Talent: TOM "JIVIN'' JEFFRIES
Station: WGCL Cleveland
Date: December 27, 1973
Time: 1:07:40 (unscoped)

The Top 40 format worked so well on AM, why not do it on FM?
That's what programmers were doing in the late '60s and early '70s.
One station that jumped on the bandwagon back then - and did it well - was WGCL Cleveland. New owner General Cinema Corp. launched the high-energy Top 40 powerhouse in August 1972 as a successor to WERE-FM. It lasted for 14 years until the calls were changed to WNCX in October 1986.
Contributor Charlie Ritenburg has called WGCL the "KCBQ of the East." A listen to this aircheck will show you why.
Enjoy Tom "Jivin'" Jeffries on WGCL here.
(The Charlie Ritenburg Collection)



Rock Radio Scrapbook pays
online streaming fees to the
Society of Composers, Authors and Music Publishers of Canada (License 22-F)

---
Talent: DON PERCY
Station: CKPR Thunder Bay, Ont./CKPT Peterborough, Ont.
Date: 1973 (October 24, 1962)
Time: 10:29
It's an aircheck within an aircheck.
Legendary deejay Don Percy - who would go on to success in many other Canadian markets - was morning man at CKPR Thunder Bay, Ont., in the early-to-mid-'70s. One morning, he decided it would be fun to play one of his early airchecks, from CKPT Peterborough, Ont., on October 24, 1962.
The results were hilarious, as Percy makes numerous self-effacing comments during the playing of the aircheck. So not only do we get to hear what Percy sounded like in his early days in radio, we get to hear him about a decade later.
Hear Percy - in this one-of-a-kind aircheck within an aircheck - here.
(The Don Shuttleworth Collection)
---