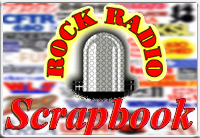 AIRCHECK OF THE WEEK
Edition #972 - Week of January 14, 2018

Talent: RED KNIGHT
Station: CFTR Toronto
Date: December 17, 1977
Time: 21:30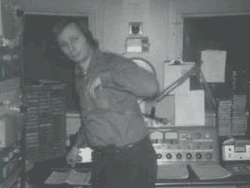 Red Knight is at his smokin' best in this red-hot aircheck from CFTR's glory years.
Knight and morning man Jim Brady provided a solid afternoon-morning punch for CFTR in 1977, which more than doubled its listenership from just three years earlier. The fall book showed 1.33 million listeners, most ever for an autumn ratings period at CFTR during the music era. This was CFTR at its peak - the listenership would drop below one million by the fall of 1981 as the halcyon days of AM Top 40 radio were becoming but a memory. CFTR hung in tough during the'80s - once again surpassing the million mark in listenership in the spring of 1985 - but eight years later the party ended as the Super 680 became 680 News.
Knight - whose real name is Peter Thompson - got his start at CJBQ Belleville, Ontario, in 1967. After spending time at CKEY and CKFM Toronto, and CJRN Niagara Falls, he returned to CJBQ for a four-year stint. He then went to CKSL London as Steve Bradley (a name picked out at random from the phone book). After that, it was on to CFTR where he chose the name Red Knight because he was a fan of Red Robinson and Russ "Weird Beard" Knight. After leaving CFTR in 1978, he popped up in afternoon drive at CKLW Windsor, then moved to CJSB in Ottawa for about six months. He returned to CJBQ where he was morning man, talk show host, program director and operations manager until his retirement in 2006, ending a 39-year career in radio.
Enjoy Red Knight on CFTR here.

(The Clint Nickerson Collection via Dan Haber)




Rock Radio Scrapbook pays
music licensing fees to the
Society of Composers, Authors and Music Publishers of Canada (License 22-F)


The Aircheck of the Week PREVIEW!



We're previewing the Aircheck of the Week on Facebook. Every Friday, we post the audio link to the Aircheck of the Week on Facebook with the full feature to follow on Sunday as usual.
---
RETURN TO ROCK RADIO SCRAPBOOK