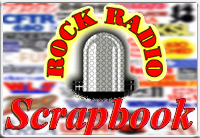 AIRCHECK OF THE WEEK
Edition #1101
Week of July 19, 2020

Talent: ALAN FREED
Station: WINS New York
Date: June 10, 1957
Time: 30:21 (unscoped)
4:49 (scoped)


Much has been written and said about Alan Freed, the pioneering deejay known as The King of The Moondoggers. But here's a few interesting tidbits about Freed that you may not be aware of:

- He was originally a classical music announcer, and was quite knowledgeable about that genre of music.

- Freed was a tee-jay (we now call them vee-jays) at WXEL-TV in Cleveland for a short time in the late '40s.

- He played trombone, and once had his own band, the Sultans of Swing.
- At one time, his syndicated show was heard on Radio Luxembourg.

- Late in his career, Freed did an all-night jazz show at KNOB in Los Angeles.
- His middle name was James.
- He had three children, Lance, Al, Junior, and Alana.
- He was married three times.
- Studied engineering at Ohio State University, but didn't graduate.
- Served in the U.S. Army, in the Ski Patrol.

- He once applied for a job at CBS but they told him to "find a better profession."
In 1957, Freed was doing a "split-shift", that is working two separate airshifts in one day. It was a common practice at the time. Freed did his After School Rock from 3:30-4:25 p.m., then came back for the Rock 'N' Roll Party from 7-11 p.m. We can only assume his young listeners did their homework between 4:25 and 7:00 p.m.
Enjoy Alan Freed on WINS (UNSCOPED) here.

Enjoy Alan Freed on WINS (SCOPED) here.

(The Tom Howard and Joe Fazio Collections)




Rock Radio Scrapbook pays
music licensing fees to the
Society of Composers, Authors and Music Publishers of Canada (License 22-F)


The Aircheck of the Week PREVIEW!



We're previewing the Aircheck of the Week on Facebook. Every Friday, we post the audio link to the Aircheck of the Week on Facebook with the full feature to follow on Sunday as usual.
---