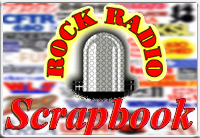 AIRCHECK OF THE WEEK
Edition #999 - Week of July 29, 2018
Talent: DEAN HAGOPIAN
Station: CKOY Ottawa
Date: August 2, 1982
Time: 37:43 (unscoped)
18:03 (scoped)

It's a tale of two cities, and one very talented jock.
From 1965 to 1970, Dean Hagopian established himself as "The Dean of Montreal" in morning and then afternoon drive at Montreal's legendary 1470-CFOX. By 1974, he had moved about 100 miles west and established himself as morning man in Ottawa at CFGO. He also had a brand-new title: "The Dean of Ottawa."
Hagopian's stints at 1470-CFOX and CFGO are just part of a long radio career that has included stops at CJFM Montreal (where he did "The Solid Gold Show"), CKOY Ottawa, CKVN Vancouver, CKGB Timmins, Ontario (on-air and as PD), and CKMR Windsor, Ontario. He was also at CHUM Toronto briefly as a guest deejay in 1968.
Before he played the hits, Hagopian sang them as the lead singer for the Staccatos (later The Five Man Electrical Band) in 1963 and 1964. He's also an accomplished actor, having appeared in such films as Brainscan, A Killer Upstairs, A Woman Hunted, Visiting Hours and Jesus Of Montreal. Hagopian has also served as a representative/consultant for a network marketing company providing natural supplement health products.
(Radio trivia note: Dean also appeared in a movie filmed in Montreal, the 1981 thriller Scanners, a film that also featured Lee Murray (Murray Cruchley), the ex-CKGM early 70s jock. Murray was "programmer 1" and Hagopian was "programmer 2".)

Enjoy Dean Hagopian on
CKOY
(UNSCOPED)

here.

Enjoy Dean Hagopian on
CKOY
(SCOPED)
here.

(The Don Shuttleworth Collection)




Rock Radio Scrapbook pays
music licensing fees to the
Society of Composers, Authors and Music Publishers of Canada (License 22-F)


The Aircheck of the Week PREVIEW!



We're previewing the Aircheck of the Week on Facebook. Every Friday, we post the audio link to the Aircheck of the Week on Facebook with the full feature to follow on Sunday as usual.
---
RETURN TO ROCK RADIO SCRAPBOOK