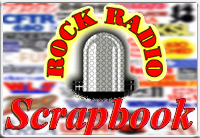 AIRCHECK OF THE WEEK
- Edition #945 - July 9, 2017 -

Talent: HAL RAYMOND
Station: WDGY Minneapolis
Date: July 3, 1963
Time: 22:26

Hal Raymond saw a lot of America during a career that lasted nearly half a century.
His first radio gig came in 1950 when he was a senior at Hillsboro High School in south-central Illinois. His family thought he should go into radio, so he did at WSMI in nearby Litchfield. With his quick wit and mellifluous voice, Raymond was off and running toward an amazing radio career.
For the next 48 years, Raymond jocked on the west coast, in Portland, Ore., (KISN, KGW, KEX) and Seattle (KAYO), in the south, in Dallas (KBOX), in the mid-west, in Peoria, Ill., (WEEK) and Decatur, Ill., (WDZ), in the east, in York, Pa., (WSBA, WOYK-AM) and in the north, in Minneapolis (WDGY), where he can be heard in this aircheck at "The Station With the Happy Difference", a tenure that lasted from July 1963 to September 1964.
While Raymond moved around a lot, he did spend nearly half his career - 22 years - at WSBA, his longest time at any one station. WSBA's Operations Manager Jim Horn said of Raymond, "he was a superheavyweight." Raymond was at WSBA from 1973 to 1995. He then moved cross-town to WOYK where he stayed until his retirement in 1998. He died in 2005, aged 73, after a two-year battle with ALS (Lou Gehrig's Disease).
"Hal was Mr. Everyday - goes to work, boss yells at him, can't get a break. All the tribulations an everyday guy went through," said his co-worker and friend Jim Horn. "He was either the hero or the butt of the joke. He was an absolutely hilarious theatre of the mind - stunts jokes and pranks. Hal had a remarkable gift for writing comedy that people would belly-laugh out loud to."
Hear Hal Raymond on WDGY here.

Hear Hal Raymond on WDGY here.

(The Bill Dulmage Collection)




Rock Radio Scrapbook pays
music licensing fees to the
Society of Composers, Authors and Music Publishers of Canada (License 22-F)


The Aircheck of the Week PREVIEW!



We're previewing the Aircheck of the Week on Facebook. Every Friday, we post the audio link to the Aircheck of the Week on Facebook with the full feature to follow on Sunday as usual.
---
RETURN TO ROCK RADIO SCRAPBOOK