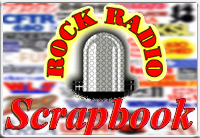 AIRCHECK OF THE WEEK
Edition #991 - Week of June 3, 2018
Talent: DICK BIONDI
Station: WSAI Cincinnati
Date: August 16, 1972
Time: 43:48 (unscoped)
15:13 (scoped)

Dick Biondi is best known as a Chicago jock, but he had plenty of gigs in other markets.
In between a 12-year run at the Windy City's WLS and WCFL (1960-72), and a decade at WNMB Myrtle Beach (1973-1985), Biondi squeezed in a short gig at Cincinnati's WSAI. On this aircheck, Biondi says he's part of the "Great Audition" and mentions some of the other jocks vying for a gig at WSAI (hard to imagine that happening today).
Biondi got the gig and did morning drive at the Cincinnati station for about a year before heading to Myrtle Beach, a perfect spot for Biondi who loved to golf. He returned to Chicago radio at WBBM-FM in 1982. He stayed on the air in the Windy City until he was sidelined with a leg ailment in 2017 at age 84, after 67 years in radio and some 28 stations.
Enjoy Dick Biondi (UNSCOPED) here.

Enjoy Dick Biondi (SCOPED) here.

(The Don Shuttleworth Collection)



Rock Radio Scrapbook pays
music licensing fees to the
Society of Composers, Authors and Music Publishers of Canada (License 22-F)


The Aircheck of the Week PREVIEW!



We're previewing the Aircheck of the Week on Facebook. Every Friday, we post the audio link to the Aircheck of the Week on Facebook with the full feature to follow on Sunday as usual.
---
RETURN TO ROCK RADIO SCRAPBOOK