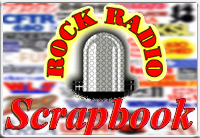 AIRCHECK OF THE WEEK
Edition #1092
Week of May 17, 2020


Talent: MIKE HOLLAND
Station: KXYZ Houston
Date: September, 1977
Time: 10:05

Mike Holland didn't just play the music, he made it.
In addition to being a jock, the native of Bristol, Connecticut, was a talented musician who recorded under his real name Michel Bouyea. He did several recordings for CBS and Columbia Records that got significant airplay in the U.S. and Canada. In 1981, Bouyea recorded an album called "Do She Want Love" for the unfortunately named "Bomb Records."
This KXYZ aircheck was his audition tape for CHUM, and not surprisingly the smooth, caramel-voiced jock got the job. Holland-Bouyea spent nearly a decade at CHUM, including a short-lived pairing with Roger Ashby on the morning show in the mid-'80s. After leaving CHUM, Bouyea retired from radio to focus on his music.
Prior to CHUM and KXYZ, Holland-Bouyea jocked at the legendary WDRC Hartford, where he did the 7 p,m.-midnight shift, and at WAVZ New Haven, Connecticut.
Enjoy Mike Holland on KXYZ here.

(The CHUM Archives/Doug Thompson)

More from Doug Thompson's Production Corner!




Rock Radio Scrapbook pays
music licensing fees to the
Society of Composers, Authors and Music Publishers of Canada (License 22-F)


The Aircheck of the Week PREVIEW!



We're previewing the Aircheck of the Week on Facebook. Every Friday, we post the audio link to the Aircheck of the Week on Facebook with the full feature to follow on Sunday as usual.
---