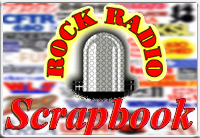 AIRCHECK OF THE WEEK
Edition #989 - Weeks of May 20, 2018
Subject
:
ROCK 'N' ROLL RADIO REWIND
Station:
Various
Date:

Early '70s
Time:
31:38
Ready for a Top 40 radio smorgasbord?
This montage has everything a Top 40 radio junkie could ask for. It starts off with an extensive jingle collage featuring such biggies as CHUM, CKLW, WCBS-FM, WCFL, KCBQ, WKNR, KJR, KHJ, WKBW, WIBG and WABC. Then there are countless snippets of some of the greatest jocks of all time, including Wolfman Jack, Tom Shannon, Larry Lujack, John Landecker, Jack Armstrong, Larry O'Brien, J. Michael Wilson, Dan Donovan, Dan Ingram, Cousin Brucie, Charlie Tuna and many many more.
Dan Haber gave this to us in the mid-'80s (after someone gave it to him in 1972) and we've treasured it ever since. Now, thanks to the magic of the Internet, you can hear it too.
Enjoy the Rock 'N' Roll Radio Rewind here.
(The Dan Haber Collection)




Rock Radio Scrapbook pays
music licensing fees to the
Society of Composers, Authors and Music Publishers of Canada (License 22-F)


The Aircheck of the Week PREVIEW!



We're previewing the Aircheck of the Week on Facebook. Every Friday, we post the audio link to the Aircheck of the Week on Facebook with the full feature to follow on Sunday as usual.
---
RETURN TO ROCK RADIO SCRAPBOOK