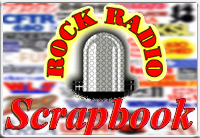 AIRCHECK OF THE WEEK
Edition #990 - Week of May 27, 2018
Talent: TOM RIVERS
Station: CHUM Toronto
Date: May 8, 1981
Time: 33:12 (unscoped)
20:28 (scoped)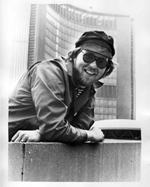 (The CHUM Archives/Doug Thompson)
Tom Rivers had rather large shows to fill when he took over for Jay Nelson in mornings at CHUM in January 1981.
Nelson was a Toronto institution, having done AM drive at CHUM for 17 years following his debut in December 1963. Rivers was no stranger to the CHUM air chair, having jocked at the Toronto station first in early evening then in afternoon drive since his arrival in 1970. But morning drive was a whole new ball of wax, and he would be only the station's fourth morning man in the rock era following Phil Ladd, Al Boliska and Nelson. Rivers would surrender the CHUM morning mike to Roger Ashby in 1982 on his way to the morning show at rival CFTR.
Rivers had four stints of duty at CHUM, the most of any jock there. The first was from 1970 to 1971, when he left CHUM for CKLW. Big Tom returned to CHUM in 1972 but left later in the decade, only to return to CHUM from 1981 to 1982 for mornings. His fourth and final stint of duty came in 2003 when Rivers did afternoon drive (voicetracked) and filled in for Brian Henderson on the morning show not long before Rivers's death in 2004.
Enjoy Tom Rivers (UNSCOPED) here.

Enjoy Tom Rivers (SCOPED) here.

(The CHUM Archives/Doug Thompson)



Rock Radio Scrapbook pays
music licensing fees to the
Society of Composers, Authors and Music Publishers of Canada (License 22-F)


The Aircheck of the Week PREVIEW!



We're previewing the Aircheck of the Week on Facebook. Every Friday, we post the audio link to the Aircheck of the Week on Facebook with the full feature to follow on Sunday as usual.
---
RETURN TO ROCK RADIO SCRAPBOOK