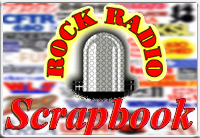 AIRCHECK OF THE WEEK
Edition #1090
Week of May 3, 2020


Talent: JEFFERSON STONE
Station: WMJX (96X) Miami
Date: May, 1978
Time: 46:45 (unscoped)
10:05 (scoped)

Many AM Top 40 stations disappeared in the early '80s, but Miami's WMJX was a rare case of an FM Top 40 station vanishing into the ether.
In 1981 - in a rare FCC action - WMJX was told to surrender its license because of a series of fraudulent contests during its days as WMYQ in the early '70s. WMYQ, which originated as WGBS-FM in 1948, became Top 40-formatted WMJX (96X) in October 1975. It switched to a disco format as Disco 96 in 1979 before returning to Top 40 the following year. But on February 15, 1981, deejay Stuart Elliot signed the station off by playing "The Long and Winding Road" and tearfully uttering, "96X is WMJX Miami." Then silence until Top 40 WCJX took over the 96.3 frequency in 1986 and revived the 96X branding.
Enjoy Jefferson Stone on WMJX (UNSCOPED) here.

Enjoy Jefferson Stone on WMJX (SCOPED) here.

(The Charlie Ritenburg Collection)




Rock Radio Scrapbook pays
music licensing fees to the
Society of Composers, Authors and Music Publishers of Canada (License 22-F)


The Aircheck of the Week PREVIEW!



We're previewing the Aircheck of the Week on Facebook. Every Friday, we post the audio link to the Aircheck of the Week on Facebook with the full feature to follow on Sunday as usual.
---