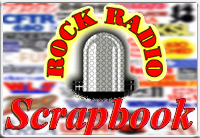 AIRCHECK OF THE WEEK
Edition #988 - Weeks of May 6-13, 2018
Talent:
DAVE SHAFER
Station:
CKLW Windsor, Ont.
Date:

May 25, 1967
Time:
38:24
(unscoped)
15:03 (scoped)



CKLW began tightening its format in the spring of 1967, but it wasn't the Big 8 yet.
It was called "Fun Radio" then and many of the Drake-style elements were in play, including less jock talk, more rock and a smoother, tighter, less-cluttered sound. In mid-July, CKLW changed its branding to "The Big 8" and the Drake era officially began. Epochal ratings would follow.
Dave Shafer first arrived at 'CK in 1964 and was the morning man during the transition to the Big 8 in 1967. He left in 1968, returned three years later before leaving again by 1974. Shafer came back a third time later in the '70s to serve as CKLW program director.
Shafer died May 7, 2006 of complications from out-patient surgery. He was 73.
Hear Dave Shafer on CKLW from May 25, 1967 (UNSCOPED) here.

Hear Dave Shafer on CKLW from May 25, 1967 (SCOPED) here.

(The Charlie O'Brien Collection)

More from the CKLW Years here!
---
Talent: BOB SHANNON
Station: WKBW Buffalo, N.Y.
Date: July, 1968
Time: 14:05 (scoped)

WKBW was just one of many high-profile radio stops for Bob Shannon. The western New York native also plied his trade at KXOX St. Louis, KDWB Minneapolis/St. Paul, WIXY Cleveland, KCBQ San Diego, KJR Seattle, KFI, KHJ and KRTH-FM Los Angeles. At 'KB, Shannon - a native of nearby St. Catharines, Ontario, was part of a lineup that included future Buffalo Broadcasters Hall of Famers Stan Roberts, Fred Klestine, Dan Neaverth and Sandy Beach.
Enjoy Bob Shannon on WKBW from July, 1968 (UNSCOPED) here.




Rock Radio Scrapbook pays
music licensing fees to the
Society of Composers, Authors and Music Publishers of Canada (License 22-F)


The Aircheck of the Week PREVIEW!



We're previewing the Aircheck of the Week on Facebook. Every Friday, we post the audio link to the Aircheck of the Week on Facebook with the full feature to follow on Sunday as usual.
---
RETURN TO ROCK RADIO SCRAPBOOK