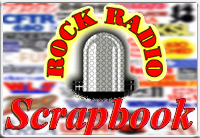 AIRCHECK OF THE WEEK
Edition #963 - Week of November 12, 2017

Talent: BOB GREEN
Station: WKNR Dearborn, Mich.
Date: December 4, 1965
Time: 14:28

It wasn't just radio. It was art.
The epitome of the smooth '60s Top 40 jock, Bob Green performed his show the way an artist might paint a picture. Tight and bright, the show moved along quickly without sounding hurried. Green sprinkled in personality and humour while juggling spots, jingles, music, weather and sports updates effortlessly.
A native of Rochester, New York, Bob Greenstone got his radio start at WSAY in his hometown in 1958, where he did a nine-hour shift daily as Mac McGuire. He wasn't there long, soon moving to WGVA in nearby Geneva. Green arrived in the Motor City in 1962 at WKMH then moved south to WQAM Miami. His audience share nearly tripled from nine per cent to 24 per cent in his nine months there.

Green returned to Detroit to join the brand-new WKNR in the fall of 1963 (in an interview with keener13.com he notes that WKNR was one of the first stations to brand with a word, rather than call letters). After its launch on Halloween night, Keener 13 jumped from a 0.9 share to a 16 in just four short weeks. With its tight playlist and personality jocks, Keener would leap to a 30 share by the time the first year was up, despite a night-time signal that didn't cover Detroit's east side.
After nine years at WKNR, and with the end of the Keener era in sight, Green left for KULF Houston in 1972, where he was program director. The following year he founded Bob Green Productions, which has offered high quality commercial audio production to agencies and corporations for several decades.
Enjoy Bob Green on WKNR here.

Enjoy Bob Green on WKNR here.

(The Bill Dulmage Collection)




Rock Radio Scrapbook pays
music licensing fees to the
Society of Composers, Authors and Music Publishers of Canada (License 22-F)


The Aircheck of the Week PREVIEW!



We're previewing the Aircheck of the Week on Facebook. Every Friday, we post the audio link to the Aircheck of the Week on Facebook with the full feature to follow on Sunday as usual.
---
RETURN TO ROCK RADIO SCRAPBOOK