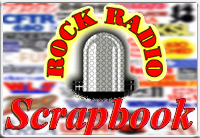 AIRCHECK OF THE WEEK
- Edition #957 - October 1, 2017 -

Talent: DICK ROBINSON
Station: WDRC Hartford
Date: October 21, 1965
Time: 9:17

"Deejays were big brothers and Dick was one of the best."
Dick Robinson's radio was almost over before it started.
In 1956, Robinson was badly injured when he was attacked by hooligans at a school dance. Not only did he suffer a fractured nose, but surgeons nicked his vocal cords as they performed a tracheotomy. Doctors told him he may never regain the use of his voice, but he recovered and went on to a brilliant radio career.
His father had told him that "only clowns got into broadcasting", but Robinson followed his dream and by 1957 was at WARE in Ware, Massachusetts. He slowly worked himself up to larger markets - WRED in Holyoke, Massachusetts, WSPR in Springfield, Massachusetts, and WPRO and WHIM (where he was program director) in Providence, Rhode Island. In 1963, Robinson moved into the biggest market of his career - WDRC - where he would spent the next 13 years, first as the station's evening jock, and later and vice-president and station manager.
Robinson's night-time show became "DRC on DRC" or the "Dick Robinson Company." His show was a cacophony of drop-ins, plus Lone Ranger and Tonto jokes, and he did a nightly Big D Late Show involving puns on show biz celebrities appearing in mythical. It was theatre of the mind and there was much telephone interaction with listeners.

Robinson branched out in 1964 by starting his own broadcast school - the Connecticut School of Broadcasting. In 1967, he moved into sales part time, and moved to broadcasting weekends only the following year. By 1969, he was gone from the WDRC airwaves completely while continuing to work in sales. Robinson was named vice-president and station manager of WDRC AM-FM before leaving the station three years later to focus on his broadcast school. The veteran broadcaster returned to the airwaves with a syndicated show called American Standards By The Sea, broadcasting from his yacht sailing along the U.S. eastern seaboard. Naturally, one of his affiliates was WDRC. Robinson also has his own radio station, Legends 100.3 (WLML) Lake Park, Florida, and his broadcasting school has grown to 12 locations from Massachusetts to Miami.
"He entertained. He didn't just through the motions," Ed Brouder, a deejay and radio historian, told the Hartford Courant. "I think all the deejays back then were a bridge ... deejays were big brothers and Dick was one of the best."

Enjoy Dick Robinson on WDRC here.

Enjoy Dick Robinson on WDRC here.

(The Bill Dulmage Collection)



Rock Radio Scrapbook pays
music licensing fees to the
Society of Composers, Authors and Music Publishers of Canada (License 22-F)


The Aircheck of the Week PREVIEW!



We're previewing the Aircheck of the Week on Facebook. Every Friday, we post the audio link to the Aircheck of the Week on Facebook with the full feature to follow on Sunday as usual.
---
RETURN TO ROCK RADIO SCRAPBOOK