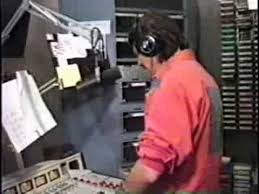 The legendary WIXY 1260 came back for one magical weekend.
On the first weekend of October 1988, several former WIXY jocks returned to relive the glory years of the legendary radio station. On hand at WMJI were Jim LaBarbara, Lou "King" Kirby, Larry "The Duker" Morrow, Paxton Mills, Chuck Knapp, Billy Bass and the always entertaining Jack Armstrong.
Armstrong first came to Cleveland at WIXY then moved to WKYC the following year. Because of a non-compete clause, Armstrong couldn't use his usual on-air name, so he called himself Big Jack or Jack W. Armstrong. He left the Forest City in 1968 for WMEX Boston and later that year, CHUM.
Enjoy Jack Armstrong (UNSCOPED, Pt. 1) here.

Enjoy Jack Armstrong (SCOPED, Pt. 1) here.


(The Don Shuttleworth Collection)