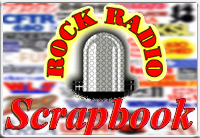 AIRCHECK OF THE WEEK
- Edition #960 - October 22, 2017 -

Subject: DAVE SHAFER
Station: CKLW Windsor, Ont.
Date: February 2, 1965
Time: 57:44 (Partially scoped)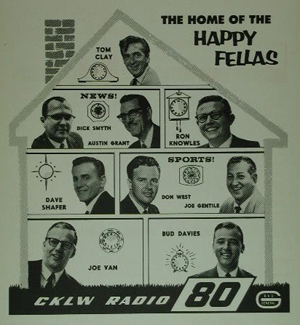 "Wonderful things happen to people who listen to Radio 8-0"
Bud Davies, Joe Van, Dave Shafer, Tommy Shannon, Ronald Knowles ... they were the "Happy Fellas" in February 1965. But what happened to them?
Bud Davies (6-10 a.m.): - Windsor-born Davies started as a mail boy assistant at CKLW, then was a mail boy. After a three-year stint in the Navy during the Second World War, Davies returned to CKLW as a junior announcer in 1945. He spent 21 more years at 'CK, transitioning from big bands to rock 'n' roll in the '50s and '60s. He also hosted the "Bud Davies Top 10 Dance Party" on CKLW-TV in the late '50s. Davies left CKLW in 1966 and later worked at CKEY and CFRB Toronto. He moved to Florida in 1978 where he appeared on WGMW in West Palm Beach. He retired from radio in 1989 and died 17 years later. He was 82.
Joe Van (10 a.m.-2 p.m.): Detroit native Joe Van came to CKLW in 1959 from WDSU New Orleans. His real name was Joseph Van Doninck and his nickname was "Ole Lover Boy." He left the station just before it became the Big 8 in 1967. Van moved to Montreal where he hosted a TV show in the early '70s. He died in 1973 of cancer in Montreal at the age of 47.
Dave Shafer (2-6:30 p.m.) - Shafer started in Detroit radio as a librarian at WJBK in 1961, moving into the night-time jock position by the fall of that year. He was called Jack the Bellboy at WJBK, and he also became known for his record hops which included some of Motown's biggest stars. Shafer left CKLW in 1968, only to return in 1971. After leaving for a second time, he served as program director at WCAR, WOMC, WCZY, as well as CKLW in his third stint at the Windsor station. He moved to Florida where he died in 2006. The native of Rochester, N.Y., was 73.
Tom Shannon (7 p.m.-midnight) - Shannon arrived at CKLW in 1964 after previous stints at WKBW and WGR in his hometown of Buffalo, New York. He spent five years at CKLW, before moving across the river to WJBK Detroit in 1969. He later worked in Detroit at WTWR (Tower 92.5) and WMJC, while also returning to Buffalo for stints at WKBW and WGR. He also found time to work at KHOW and KLZ in Denver. Shannon ended his career in 2005 at Buffalo's WHTT (Oldies 104).
Ron Knowles (All Night Show) - Knowles, your "swing and sway" deejay, got his radio start in Chatham, Ontario, in 1953. The native of Stratford, Ontario, moved to CKLW in 1954, first as a disc jockey then as a staff announcer the following year. Knowles was gone from CKLW when it became the Big 8 in 1967.
Enjoy Dave Shafer on CKLW from February 2, 1965 here.

Enjoy Dave Shafer on CKLW from February 2, 1965 here.

(The Charlie O'Brien Collection)




Rock Radio Scrapbook pays
music licensing fees to the
Society of Composers, Authors and Music Publishers of Canada (License 22-F)


The Aircheck of the Week PREVIEW!



We're previewing the Aircheck of the Week on Facebook. Every Friday, we post the audio link to the Aircheck of the Week on Facebook with the full feature to follow on Sunday as usual.
---
RETURN TO ROCK RADIO SCRAPBOOK