Talent: JOHN MAJHOR
Station: CHUM Toronto
Date: September 22, 1977
Time: 57:34 (unscoped)
13:02 (scoped)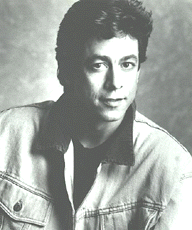 Whether behind the mike, in the lens of a TV camera or in cyberspace, John Majhor was always on the cutting edge of the electronic media.
The San Bernadino, California, native first came to the attention of Toronto radio fans in 1975, as a deejay at 1050 CHUM. For the better part of 11 years, Majhor enjoyed killer ratings with his energetic show at Canada's legendary Top 40 station.
In 1983, Majhor broke new ground in television with Video Singles, a daily 4 p.m. music video show that pre-dated Much Music and earned an astounding 23 rating. That led to another popular video show, Toronto Rocks, on CITY-TV.
After a stop in the much-desired CHUM morning show in 1985-86, Majhor headed west for a groundbreaking talk and country music show at KLAC Los Angeles. That was followed by gigs on the widely-syndicated After Hours TV show and a role as anchor and producer on the newly-launched E! Television. Then it was back to radio as a deejay at KCBS-FM alongside legends such as Charlie Tuna and The Real Don Steele.
In 1990, Majhor returned to Toronto for the morning show at CJEZ-FM followed by a talk show at CFRB and two-year run as host of the popular Lunch Television at CITY-TV. He was also the promo voice for 680 News from 1993 to 1999.
After a year at Q101 in Santa Fe, New Mexico. (1999-2000), Majhor co-created and programmed Quickradio.com, a streaming Internet radio station.
John Majhor died of cancer January 23, 2007. He was 53.
Rock Radio Scrapbook presents John Majhor on CHUM (UNSCOPED) here.

Rock Radio Scrapbook presents John Majhor on CHUM (SCOPED) here.

(The CHUM Archives/Doug Thompson)