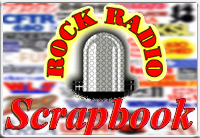 AIRCHECK OF THE WEEK
- Edition #956 - September 24, 2017 -

Talent: CARL RUSSO
Station: WGRQ (97 Rock) Buffalo, N.Y.
Date: October 8, 1984
Time: 9:09

Carl Russo is a rare breed - a jock who spent most of a very long career at the same station.
Russo started at Buffalo's 97 Rock in August 1980 after graduating from Medaille College earlier that year. It was the beginning of a four-decade career at WGRQ/WGRF. Prior to graduating, Russo jocked a few months at Buffalo Top 40 outlet WYSL. In fact, for a while he did a 6 p.m.-midnight shift at WYSL then literally ran across the street to do his midnight-6 a.m. shift at 97 Rock.
After 97 Rock fired its entire staff in 1985 to move to a light rock format, Russo headed to the 7 p.m.-midnight shift at WFBQ-FM Indianapolis. He earned the highest ratings of any night time jock in the U.S. at WFBQ-FM. He moved to another successful stint at KZEW Dallas/Fort Worth before returning to 97 Rock as the Buffalo station returned to its rock roots, hiring back many staffers in the process.
Russo, who was on the evening shift before 97 Rock cancelled rock, returned to the station in the same time slot and later moved to afternoon drive. He was still there in 2017 when he was chosen for the Buffalo Broadcasters Hall of Fame. Russo, whose radio duties also include two five-hour classic rock shows seven days a week at Westwood One, joined 97 Rock morning man Larry Norton who was inducted into the Hall a year earlier.
Enjoy Carl Russo on 97 Rock here.
Enjoy Carl Russo on 97 Rock here.
(The Carl Russo Collection)



Rock Radio Scrapbook pays
music licensing fees to the
Society of Composers, Authors and Music Publishers of Canada (License 22-F)


The Aircheck of the Week PREVIEW!



We're previewing the Aircheck of the Week on Facebook. Every Friday, we post the audio link to the Aircheck of the Week on Facebook with the full feature to follow on Sunday as usual.
---
RETURN TO ROCK RADIO SCRAPBOOK