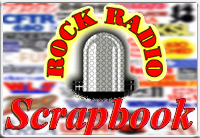 AIRCHECK OF THE WEEK
Edition #1056
Week of September 8, 2019

Talent: JACK SPECTOR
Station: WMCA New York
Date: September 10, 1965
Time: 1:01:39 (unscoped)
29:20 (scoped)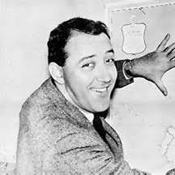 "Look out street, here I come!"
To a generation of New Yorkers, Jack Spector was "Your Main Man."
The native of Mineola, New York, spent some four decades entertaining New York and area listeners. Spector started his career in 1955 and had gigs in West Virginia, Albany and Chicago. He arrived at WMCA in 1962 just around the time the station re-branding its jocks as "The Good Guys." All of the jocks had a schtick, so to speak, and Spector's was that he closed his 1-4 p.m. show every day with a line given to him by R&B great Jackie Wilson, "Look out street, here I come!"
Spector - who in December, 1963 became the first New York jock to play a Beatle record (I Want to Hold Your Hand) - stayed with the station until 1969 when he moved to WNBC. That was the same year he released a break-in record called "Moonflight" under the name "Vik Venus, Alias: Your Main Moon Man."
When WMCA dropped Top 40 in favour of talk in 1970, Spector stayed on as a sports-talk host. In 1971, he moved to WHN, an easy-listening station that became a country music station during his time there. Spector left WHN in 1974 to go to all-oldies WCBS-FM, where he hosted "The Saturday Night Sock Hop" and another weekend shift plus serving as a swing announcer. After leaving WCBS-FM in 1985, he returned to WNBC where he hosted "Sports Night" for a short time. then it was off to WPIX-FM and its adult-contemporary format. He stayed on when the station switched to a smooth jazz format as CD 101.9 (WQCD).
Spector's last radio stop was adult standards-formatted WHLI in Hempstead, New York. He also did some fill-in shifts at WCBS-FM. On March 8, 1994, he collapsed and died of an apparent heart attack while on the air at WHLI. The last song he played by Louis Prima's "I'm in The Mood For Love." He was 65.
Enjoy Jack Spector on WMCA (UNSCOPED) here.

Enjoy Jack Spector on
WMCA
(SCOPED) here.

(The Charlie Ritenburg Collection)

RESTORATION BY ROB FRANKEL




Rock Radio Scrapbook pays
music licensing fees to the
Society of Composers, Authors and Music Publishers of Canada (License 22-F)


The Aircheck of the Week PREVIEW!



We're previewing the Aircheck of the Week on Facebook. Every Friday, we post the audio link to the Aircheck of the Week on Facebook with the full feature to follow on Sunday as usual.
---
RETURN TO ROCK RADIO SCRAPBOOK