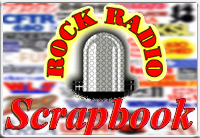 "AIRCHECK OF THE WEEK
Edition #1121
Week of December 6, 2020


Talent: CHUCK COOPER & TOM MAULE
Station: KGB San Diego
Date: December 7, 1964
Time: 46:30 (unscoped)
18:40 (scoped)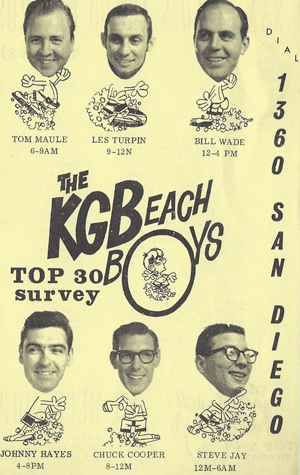 Many people believe Boss Radio started in Los Angeles at KHJ. But it had already been around for about a year before it came to the City of Angels in April 1965.
The streamlined format that changed the sound of Top 40 radio - the brainchild of Bill Drake and Gene Chenault - was launched in 1964. It was heard first at KYNO Fresno, then KSTN Stockton, California, before arriving at KGB San Diego in mid-'64.
Goodbye "Silver Dollar Survey", hello KGB "Beach Boys."
The original KGB Beach Boys were an awesome array of talent. Tom Maule - who would later go to KHJ and KFRC San Francisco - handled morning drive, followed by Les Turpin - inbound from KYNO and later to go to KFRC. Bill Wade - who jocked at KHJ before and after Boss Radio - did afternoons. Johnny Hayes and Steve Jay alternated weekly on afternoon drive and the all-night show. The arrangement didn't last long as Hayes left for KRLA Los Angeles the first chance he got. Chuck Cooper came over to KGB in '64 from KMAK Fresno and left two years later. He later jocked in the '70s at rival KCBQ.
This aircheck is actually two airchecks in one. First, you'll hear a brief sample of Chuck Cooper wrapping up his evening shift. Then, after a full newscast you'll hear Tom Maule on a "Million Dollar Weekend."
Hear Chuck Cooper and Tom Maule on KGB (UNSCOPED) here.




Hear Chuck Cooper and Tom Maule on KGB (SCOPED) here.

(The Joe Fazio Collection)



The Aircheck of the Week PREVIEW!



We're previewing the Aircheck of the Week on Facebook. Every Friday, we post the audio link to the Aircheck of the Week on Facebook with the full feature to follow on Sunday as usual.
---