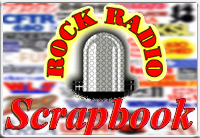 AIRCHECK OF THE WEEK
Edition #1131
Week of February 14, 2021

Talent: MAD DADDY
Station: WJW Cleveland
Date: February 8, 1958
Time: 29:49 (Part 2, unscoped)
10:16 (Part 2, scoped)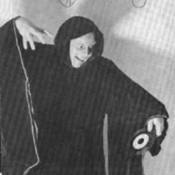 "Your ding-dong daddy."
He was one of rock 'n' roll radio's zaniest characters, a man whose time came and went far too quickly.

San Francisco-born Pete Myers introduced the wild antics of Mad Daddy to WHKK in Akron, Ohio in 1957. He had travelled cross-country from KCBQ San Diego where he was struggling to find work as an actor. A certified genius (his IQ was 175), Myers moved his rhyming, fast-paced patter to WJW Cleveland in 1958 then zipped over to cross-town rival WHK later that year for twice the money. Myers moved to New York in 1959 but his manic antics and spooky laugh did not play well at WNEW. He lasted exactly one shift at staid old 'NEW as Mad Daddy but continued there as "lovable, laughable Pete Myers." He revived his Mad Daddy personna in WINS from 1963 until the station went to an all-news format in 1965.

Myers, an excellent middle-of-the-road announcer in his own right, returned to that style at WNEW-AM from 1965 to 1968. He shot himself to death October 4, 1968. The New York Times reported that a note was found near his body saying Myers was despondent about his shift moving from afternoons to evenings.
(NOTE: The newscaster on this aircheck is Pete Myers - who is also Mad Daddy - one and the same. Hard to believe, but true.)
Enjoy Mad Daddy on WJW (Pt. 2, UNSCOPED) here.

Enjoy Mad Daddy on WJW (Pt. 2, SCOPED) here.

(The Bill Dulmage Collection)


The Aircheck of the Week PREVIEW!



We're previewing the Aircheck of the Week on Facebook. Every Friday, we post the audio link to the Aircheck of the Week on Facebook with the full feature to follow on Sunday as usual.
---