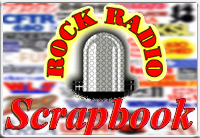 AIRCHECK OF THE WEEK
Edition #1233
Week of February 19, 2023


Talent: RUFUS COYOTE
Station: WYSL Buffalo, N.Y.
Date: February 5, 1971
Time: 34:36 (unscoped)
6:30 (scoped)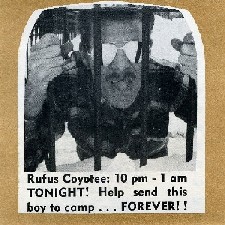 Wolfman Jack was never a regular on Buffalo radio, but Buffalonians had the next best thing. His name was Rufus Coyote, and he sounded remarkably like the Wolfman. Contributor John Bisci picks up the story from here...
"While Lee started out as Lee Poole, he developed a voice that was a tribute to Wolfman Jack. Lee's radio boss asked him to do the voice for the entire show. Thus Rufus Cayote was born. Lee started the Rufus alter ego in 1966 at KTKT Tucson, Arizona. His career started at KTKT,went to Dallas and KLIF,back to KTKT stopped in Buffalo for WYSL/WPHD, headed back to Dallas and KRLD. It was back to Buffalo for WGRQ and ended in Yuma, Arizona at KBLU. Lee is pursuing other interests and is out of radio at this time."
Enjoy Coyote on WYSL (UNSCOPED) here.

Enjoy Coyote on WYSL (SCOPED) here.

(The John Bisci Collection)

The Aircheck of the Week PREVIEW!



We're previewing the Aircheck of the Week on Facebook. Every Friday, we post the audio link to the Aircheck of the Week on Facebook with the full feature to follow on Sunday as usual.
---