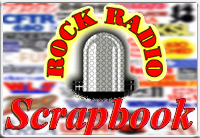 AIRCHECK OF THE WEEK
Edition #1184
Week of February 27, 2022


Talent: GENE NOBLES
Station: WLAC Nashville
Date: 1960
Time: 33:34 (Pt. 2 - unscoped)
14:52 (Pt. 2 - scoped)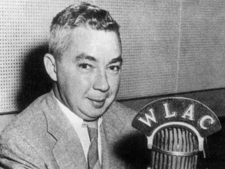 Gene Nobles was born to sell and be on the radio - not necessary in that order.
A former carnival barker and bingo caller, Nobles was perfect to be a radio announcer and salesman. In fact, he was WLAC's sales manager for a while, but Nobles really made his mark as one of the first white disc jockeys in the U.S. to play African-American "race" music - as they called it at the time. Nobles joined the station in 1943 and three years later began the then unheard-of practice of playing African-American music on a white station. He would be joined on the WLAC air staff by three other white jocks - John R. (Richbourg), Bill "Hoss" Allen and Herman Grizzard - also playing the African American music that many other stations were ignoring. Together, they were known as "The 50,000-Watt Quartet", and that monster WLAC signal could be heard all over the eastern U.S. at night, also getting into Canada, Mexico and the Caribbean.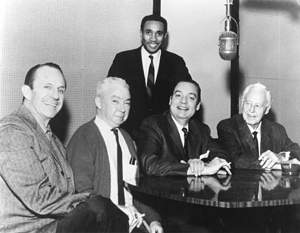 (l-r) John R, Gene Nobles, Don Whitehead, Hoss Allen, Herman Grizzard, circa 1970
Nobles and the three other members of "The 50,000-Watt Quartet" did much to introduce African-American music to white audiences during the '50s, '60s and early '70s. They played R&B, blues and gospel music. Nobles and Richbourg left the station in the '70s (Grizzard died in 1971 and John R. in 1986), leaving Allen as the final remaining member still at WLAC. He did a gospel show at WLAC until 1993, four years before his death.
Nobles - a native of Hot Springs, Arkansas - was known for his snappy repartee and colourful "slamguage" radiospeak.
His expressions included:
"Jerks/fillies" – boys/girls.
"From the heart of my bottom" – a suggestive inversion of the traditional testimony to sincerity.
"That's G-A-double L-A-T-I-N, folks", spelling the name of the town where Randy's Record Shop was located.
Gene Nobles died September 21, 1989 at the age of 76.
Enjoy Gene Nobles with the "Dance Hour" on WLAC (Pt. 2, UNSCOPED) here.

Enjoy Gene Nobles with the "Dance Hour" on WLAC (Pt. 2, SCOPED) here.




(SPECIAL BONUS: Hoss Allen appears briefly at the end of this aircheck)

(The John Harrison Collection)

The Aircheck of the Week PREVIEW!



We're previewing the Aircheck of the Week on Facebook. Every Friday, we post the audio link to the Aircheck of the Week on Facebook with the full feature to follow on Sunday as usual.
---