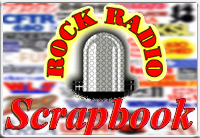 AIRCHECK OF THE WEEK
Edition #1130
Week of February 7, 2021

Talent: BOB LAINE
Station: CHUM Toronto
Date: February 6, 1965
Time: 20:02
Bob Laine is CHUM's best-remembered all-night man. But a few other folks, some well-known and some not-so well-known, also did the midnight-to-dawn shift over the years.
When CHUM debuted as a Top 40 station on May 27, 1957, the midnight-to-6 a.m. shift was held by Hank Noble, but not for long. About eight months later - in January of 1958 - Noble was replaced by Jay Jackson. Jackson didn't last much longer than Noble, leaving in mid-year to make way for Laine. Except for a departure of a few months in 1962 while he did mornings at CFGM, Laine owned the all-night slot for a decade. He finally moved to middays in August of 1968. Laine's replacement: "The Prez" Brian Skinner, who had been the station's zany evening personality from 1965 to 1968.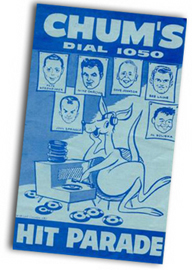 In August, 1969, Skinner was gone only to be replaced by a future morning man - Roger Ashby. By March, 1972. Ashby was in middays and replaced by another future morning man - Mark Edwards a.k.a. Bob Magee.
A succession of all-night hosts continued throughout the '70s, with jocks like Pat St. John, Mike Cooper, Steve Elliot, Chuck Morgan and Dan Foreman working the graveyard shift. In the '80s, personalities like Steve Bolton, Gregg Lee, Jack Dennis, Melanie Deveau, Jeremy Smith and Kori Skinner (the son of Brian!) entertained on the all-night show.
CHUM all-night hosts in the '90s included Kori Skinner, Andy K., Roger Kelly, Jack Dennis and Doug Kirkwood. By 2000, Bruce Marshall was voice-tracking the overnight show. CHUM switched to a sports-talk format as The Team in May, 2001, and ran syndicated talk overnight. When CHUM returned to music in August, 2002, the all-night shift was unfilled, they just played music - no jock, though Roger Ashby's son Regan Ashby sometimes filled in.
Enjoy Bob Laine on CHUM here.

(The CHUM Archives/Doug Thompson)

More from the CHUM Archives here!

The Aircheck of the Week PREVIEW!



We're previewing the Aircheck of the Week on Facebook. Every Friday, we post the audio link to the Aircheck of the Week on Facebook with the full feature to follow on Sunday as usual.
---