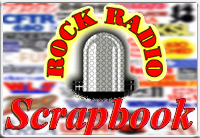 AIRCHECK OF THE WEEK
Edition #1203
Week of July 10, 2022


Talent: LARRY NEAL w/THE WAX MUSEUM
Station: KOMA Oklahoma City
Date: July 16, 1995
Time: 44:24 (unscoped)
7:38 (scoped)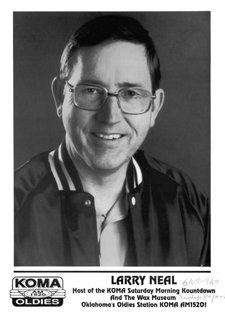 It was a big station with a big signal.
KOMA's story as a Top 40 station began in 1958, when legendary programmer Todd Storz bought the 50,000-watt monster and turned it into a hit parade station. Storz, whose earlier projects included WHB Kansas City and WQAM Miami (the station CHUM was modelled after), fought cross-town rival WKY for Top 40 supremacy in Oklahoma City for years. In 1974, KOMA symbolically surpassed WKY when it was named Billboard Station of the Year (Storz didn't live to see it - he died 10 years earlier). Helping KOMA was its massive night-time signal, heard all over the western U.S. as far away as Los Angeles. Such was its reach that American soldiers in Vietnam listened via the skywave to get a taste of home.
KOMA's Top 40 years ended in 1980 when it flipped to a country format. Price Communications purchased KOMA from the Storz family in 1984 and switched it to a beautiful music format the next year. The hits of the '50s and '60s returned to KOMA in 1988 when the legendary station adopted an oldies format. The station moved to FM in 1992 as KOMA-FMand the beat goes on there to this day under the branding "Oklahoma's Greatest Hits."
For years, one of the attractions of KOMA's oldies format were two shows hosted by Larry Neal, "The KOMA Saturday Morning Countdown" and "The Wax Museum" on Sunday nights. Neal did the Wax Museum for 15 years - 1988 to 2003 - and only once missed a show.
Enjoy Larry Neal with "The Wax Museum" on KOMA, Pt. 6 (UNSCOPED) here.

Enjoy Larry Neal with "The Wax Museum" on KOMA, Pt. 6 (SCOPED) here.


(The Steve Green Collection)

The Aircheck of the Week PREVIEW!



We're previewing the Aircheck of the Week on Facebook. Every Friday, we post the audio link to the Aircheck of the Week on Facebook with the full feature to follow on Sunday as usual.
---