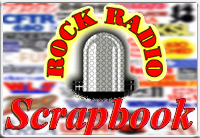 AIRCHECK OF THE WEEK
Edition #1205
Week of July 24, 2022


Talent: DON K. REED
Station: WCBS-FM New York
Date: June 10, 1990
Time: 46:30 (unscoped)
16:08 (scoped)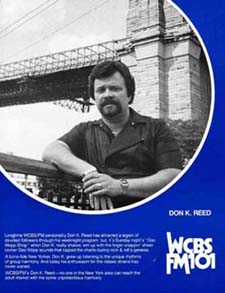 (Larger view here)
For 27 years, Don K. Reed's Doo-Wop Shop was a Sunday night institution at WCBS-FM. It was part of what made the station so special. But that history ended with the cancellation of the show as WCBS-FM began moving away from '50s music. The final Doo-Wop Shop was August 25, 2002.
The history of Sunday night Doo-Wop in New York radio began with Gus Gossert on WCBS-FM in 1969. Gossert moved the program to WPIX-FM in 1971, left the station in 1972 and died under mysterious circumstances in 1976. Rock historian and broadcaster Norm N. Nite picked up the Doo-Wop baton in May 1973 with his Sunday night "Nite Train" oldies show on WCBS-FM. Nite left for WNBC two years later and was replaced in the Sunday night slot at WCBS-FM in June 1975 by Don K. Reed, who revived the Doo-Wop Shop name.
For more than a quarter-century, Reed played the great street-corner sounds of the '50s and early '60s on Sunday nights in the popular Doo-Wop Shop. He simultaneously did a regular late-night oldies show at WCBS-FM until 1995, when he moved to the all-night slot. Reed was still burning the midnight oil when WCBS-FM switched to the Jack format in June 2005. It concluded a 34-year career at WCBS-FM for Reed, who started there during the station's "free form" days in 1971. Prior to WCBS-FM, Reed was at WLIR on Long Island where he started in 1963.
Reed died July 16, 2022 at the age of 77.
Hear Don K. Reed with the Doo-Wop Shop (UNSCOPED) here.


Hear Don K. Reed with the Doo-Wop Shop (SCOPED) here.

(The Don Shuttleworth Collection)


The Aircheck of the Week PREVIEW!



We're previewing the Aircheck of the Week on Facebook. Every Friday, we post the audio link to the Aircheck of the Week on Facebook with the full feature to follow on Sunday as usual.
---