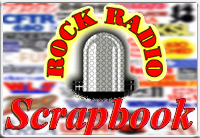 AIRCHECK OF THE WEEK
Edition #1269
Week of November 12, 2023


Talent: BOB LEWIS
Station: WABC-FM New York
Date: November 14, 1969
Time: 40:05 (unscoped)
26:33 (scoped)

It was a decision that would change the radio landscape forever.
In 1965, the Federal Communications Commission (FCC) ruled that FM stations must have at least 50 per cent
original programming separate from their AM partner. Suddenly FM stations. up until now the poor stepsisters of their AM counterparts, needed a lot of fresh content.
As luck would have it, album rock was on the rise. FM stations that had been playing classical music and easy listening tunes began to switch to rock. It was uncharted territory and jocks were given freedom to let their creative juices flow.
One of those jocks was Bob Lewis, a popular WABC presence who moved to the station's FM side in the spring of 1967 with a weeknight show from 7-11 p.m. It was a musical smorgasbord with a much more subdued approach than its AM
counterpart, and lots of tunes no one else was playing - all in stereo.
In late 1969, Lewis began exploring the "Paul is Dead" controversy. He was skeptical of the entire affair as you'll hear on the aircheck below (ironically, WABC-AM's Roby Yonge was fired for breaking format to talk about this very topic on the all-night show).

Enjoy Bob Lewis on WABC-FM (UNSCOPED) here.

Enjoy Bob Lewis on WABC-FM (SCOPED) here.

(The Don Shuttleworth Collection)

The Aircheck of the Week PREVIEW!



We're previewing the Aircheck of the Week on Facebook. Every Friday, we post the audio link to the Aircheck of the Week on Facebook with the full feature to follow on Sunday as usual.
---